Grenada
12° 00 N 061° 44 W
| | | |
| --- | --- | --- |
| Page 1 of 2 | | 30 March 2000 - 03 May 2000 |
HOG ISLAND

Hog Island is on the South side of Grenada. The water is not very clear, but it is quite clean. Every Sunday there is a barbeque on the beach. There is also a bar there, that is made of bamboo and palm leaves. Roger, the owner is seldom at the bar and you often find him in a hammock on the beach. The most work you ever do there is trying to wake him up, and once you have woken him the difficulty is trying to make him focus. The so-called "path" around the island is mainly covered with thorns, and it is advisable to wear shoes. Some of us, however, never learn. There is also another beach that is full of Coconut trees. If there are no nice coconuts on the ground, come again in a few days. It is also not advisable to climb the coconut trees, take it from someone who knows. There are quite a few calabash trees along the path. Roger uses them to make wind charms. Warning; Don't let children play in a wide hot hard brown area, unless you want to see a muddy mess climbing on to your boat. LIZ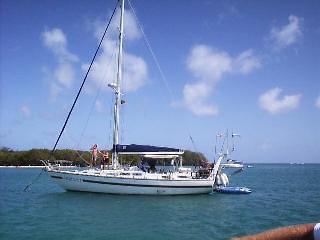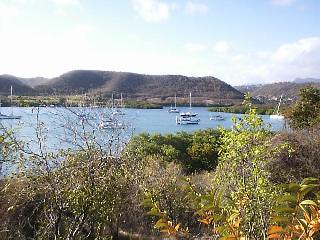 This is Steadfast, with Adrian, Gabby, Tristrum, and Ben, who have become good friends to Liz and we keep bumping into each other through the Caribbean. Hog Island anchorage as viewed from the top of Hog Island.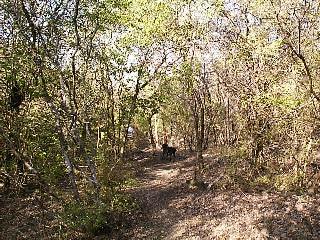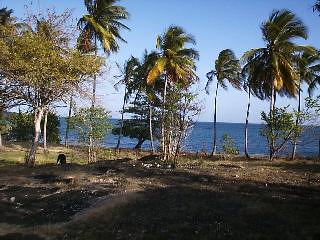 A different kind of undergrowth here, less of the jungle and only 90 miles north of Trinidad, much less rain.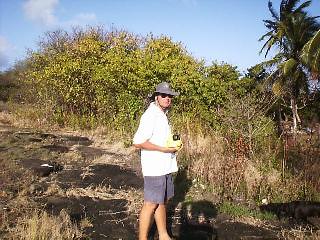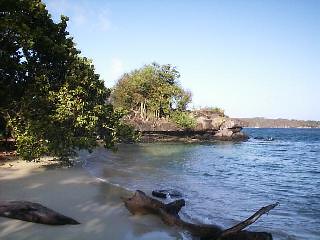 Nick in camera totin mode, on the way to the beach, Hog Island Grenada, on the shady side of the island.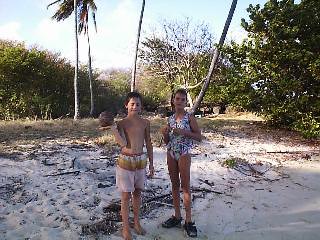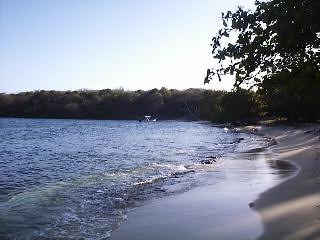 Liz with Jamie from Island Dancer, chuckin coconuts mon. Same beach different angle.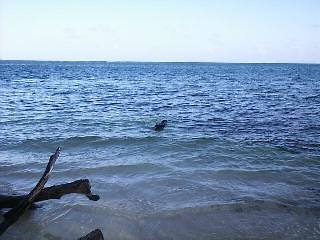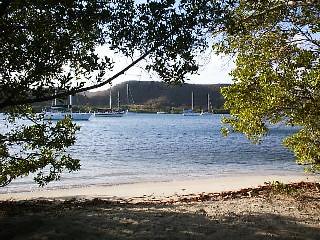 Jack goes fishing. The hog island anchorage from Rogers Bar.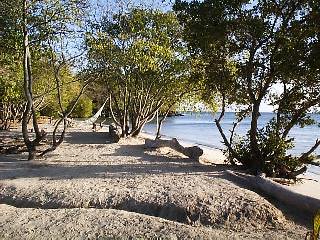 Looking South from Rogers Bar.