Margarita
10° 56 N 063° 50 W
| | | |
| --- | --- | --- |
| Page 1 of 2 | | 14 August - 29 August 2000 |
The water in Porlamar is green but clear. There are many shells on the beaches that surround the island. "Jackies Restaurant" across the road under the big tent is usually full, the prices reasonable and the meals superb. "Water Baby" is the water truck um boat, the man who sells the water charges you 20 BS per liter. ( which is about 20c back home).
Coche:
Choche hasn't got clear water, but there is a long white beach.The wind normally blows at 20 to 25kts. Dingy sailing is a breeze, there are also a lot of white horses on the surface of the water. Since it is normally windy, hang gliding and wind surfing are popular.
Isla Cubagua:
Isla Cubagua was the first European settlement in America. White sandy beaches surround the island. In 1492 Spaniards invaded Isla Cubagua and forced the Indians to dive for pearls. In one year Isla Cubagua exported over 820 lb of pearls. In 1520 a force of well armed Indians attacked Isla Cubagua and forced the Spaniards to leave. But the Spaniards came back in force and rebuilt the city stronger than ever. On Christmas day in 1541 a earthquake and tidal wave destroyed the city. Now all that's left is 2 foot high walls and a small fishing village.

Bahia Mangele:
We stopped at Bahia Mangle for an hour to do last minute shopping. But it was so unpleasant and we felt threatened. So we got water, petrol and left.

Robledal:
Robledal is a small fishing village We stayed there for the night to make
the passage to Blanquilla shorter, it was still 10h.

Liz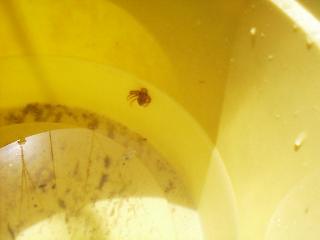 Liz dived out this little octopus, she found it inside an empty shell, it measured no more
than 25mm overall, and was fully equipped with that squirty black thing.
| | |
| --- | --- |
| The beach at Isla Coche, looking south. | The hotel on Coche seen from Gilana. |
| | |
| --- | --- |
| Ok I'm waiting to go to the beach guys... | Sunset - Coche |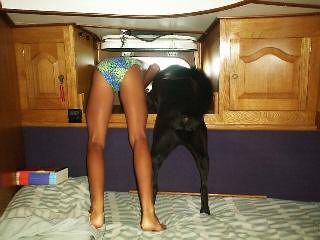 Fish! who said Fish!, Liz and Jack heard this splashing
out our scuttle (window) of course this is re-created for the camera. It was funny.