Cienfuegos Cuba
22° 07 N 080° 27 W
27 December 2000 - 13 January 2001

In, around, down, pull, I tighten the bowline and threw it with all the strength I could muster. Thud, it landed on the dock and Norm quickly slipped it over a rusty thing I guessed was a dock cleat. When we were close enough, I jumped off the boat and landed with a smack, the concrete hitting my bare feet. I took a walk just outside the yacht club. There was a big grassy patch which was scattered with weeds and the odd flower. Eating noisely on the grass was a family of goats. One was ginger-brown and its coat hair was longer than the others so I called him Taff. There was also a baby black one which had a white spot so I called him Spot. When dad got the bike together, I turned right at the corner of the street and there was a sculpture made out of bronze. I sped back to the boat, got a pencil and paper and returned to the sculpture, sat down on a stone near it and wrote this.......


BRONZE LADY
Bending, twirling endlessly shapes come into focus.
Different shapes from different plates.

One of many mysterious pictures is a woman still and,
yet in motion, it's difficult to understand her.

Although silent, still and dead she is full of life.
She's a book revealing her beauty, talent and confidence.

Yes, now I see it plainly.
A woman with hair of sunshine gold and pale white silky skin.

Reaching up to an arum lily nodding it's head - nodding in the wind.
The white flower with a center so yellow it shames the sun.

Suddenly a flash of colours meets my eye, why it's a beautiful butterfly.
Yellow, red, purple and blue are just some colours I'm mentioning to you.

The sound of a cars brakes on the wet road brings me back to reality
I look up once more expecting to see a beautiful lady many a colour,
but now she and her surroundings are just bronze.
My imagination has left me.
The book is closed she's told me her tale so now I know.

Liz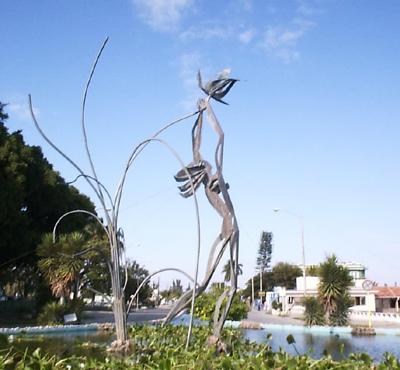 This is "Bronze Lady".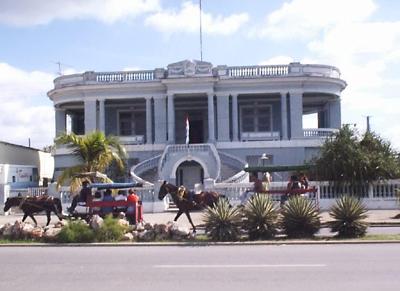 This is the local radio station, It was taken over by a band of
guerillas led by a 40 year old Fidel Castro in 1958. It was the first radio
station to be commandeered. The transport is still as it was then.
Lots of two stroke motors in Cuba. This is a JAWA
2cyl, 2Stroke, with a sidecar called a torpedo.

This, believe it or not is a Four stroke, Four legs, that is,
still in daily use.
| | |
| --- | --- |
| The famous Cuban Cigars, this is jar of Cohiba Splendidos, apparently what "El Compadre" used to smoke, cost a fortune. Vilma Sanchez displays them with pride in the state run air conditioned, humidity controlled environment. | The farmers market, where excess vegetables can be sold at controlled prices. We bought our veggies there. Right behind where I took this shot, a woman was having a pedicure at the chicken counter. |
| | |
| --- | --- |
| This is the view from Gilana at the Cienfuegos marina. It is an abandoned house which, without its windows and doors, forms the clubhouse of the rowing club who practice every morning at 7 am. Singles fours and eights are run. | This is a street scene in downtown Cienfuegos. No vehicles, hung-out here just "breathing the air". |
| | |
| --- | --- |
| A scene on the Plaza Jose Marti, do a search on that name, quite an interesting fellow. | The foyer of the seat of the local government, the City Hall if you like. For us it was a time warp, the art, architecture, and even the types of surface finish, in this case gloss enamel paint on the walls, just the thing for 1963. |
| | |
| --- | --- |
| This 'Chevy' is still in daily use, but it had a diesel engine. | Street scene in Cienfuegos, less tourists, but very real. The architecture is wonderful, but crumbling. |