North Atlantic Crossing
| | | |
| --- | --- | --- |
| Page 1 of 1 | | 12 January 2006 to 02 February 2006 |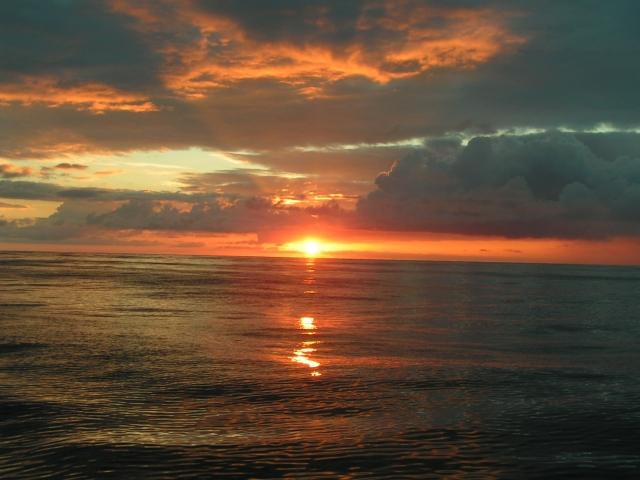 In all we had a great crossing to the Caribbean. This photo was taken on the evening of our departure. We left Las Palmas at 17h00Z on the 12 January. We went around the North of the island for favourable winds, but found very little.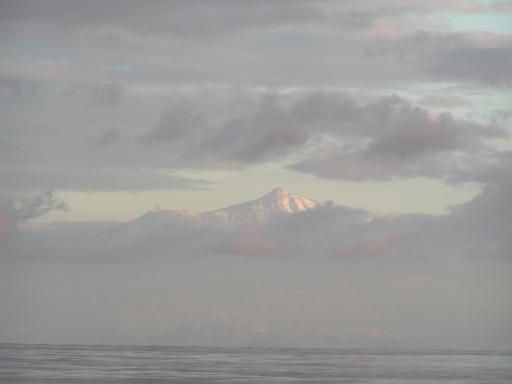 The next morning, we could still see the peak of the snow capped mountain on Tenerife through the clouds.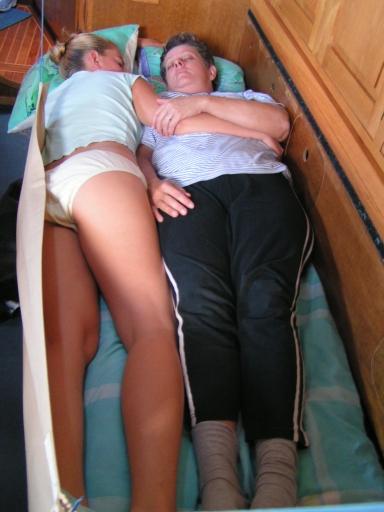 Laura and Liz snoozing in the most comfortable bunk on board.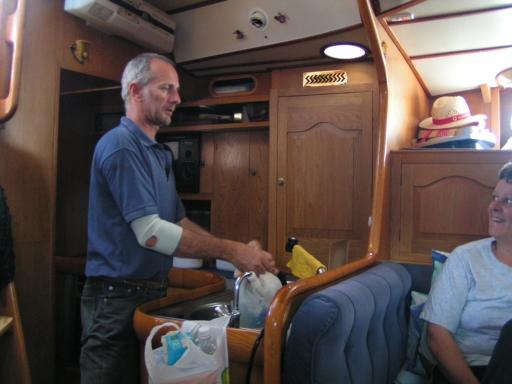 We compact all our non bio-degradable garbage into plastic capped bottles so as to avoid bad smells. It is amazing how many bags etc, can be pushed into a bottle.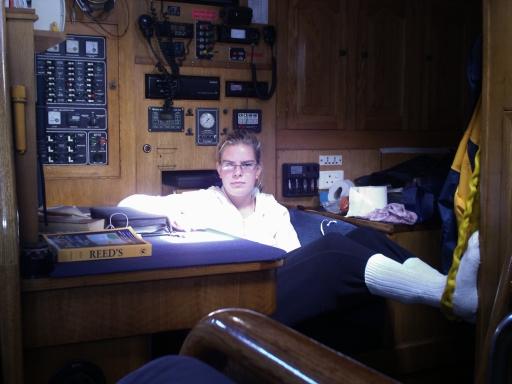 Liz on watch on the first day of her 18th year, Her 17th Birthday. Note how we are still wearing clothes "ugh" Photo taken with her new submersible digital camera, a present for this birthday.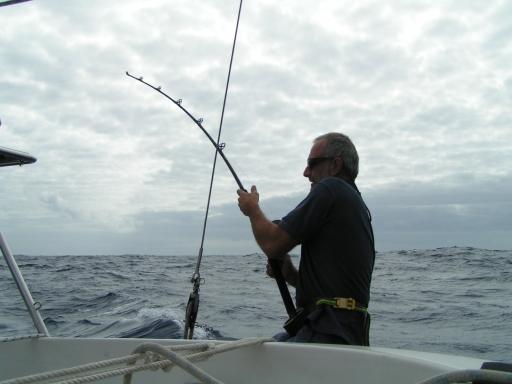 One of the joys of an ocean crossing is the fishing.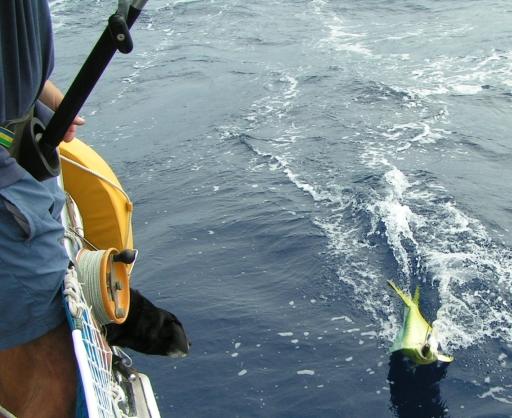 Jack, always present when there's fresh fish coming on board, is in his normal position, as close to the action as possible.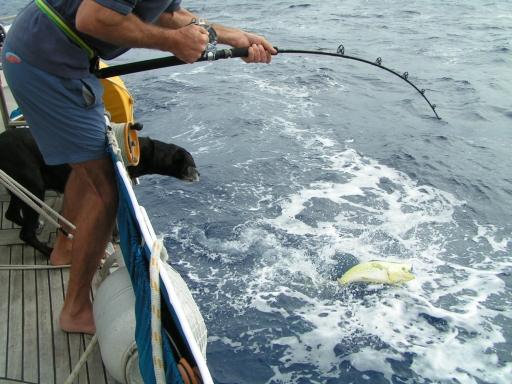 Nearly on board...the Dorado (AKA Dolphinfish, Mahi Mahi, or Llampuga) is a strong fighter.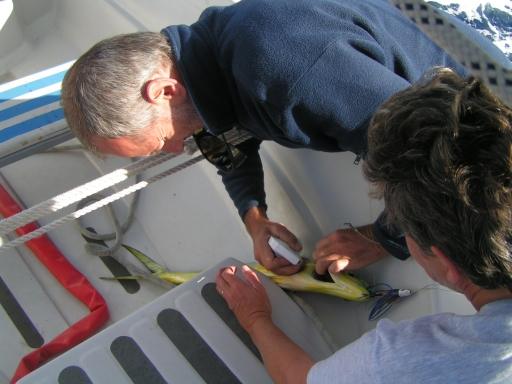 We euthenase all our fish with an alchohol spray directly to the gills. This improves the taste and is a less bloody and 'kinder' way of despatching the poor animal than bludgeoning it with a blunt object. We clean our fish in the dinghy to reduce the mess and make it easier to clean.
Jack looking for Flyingfish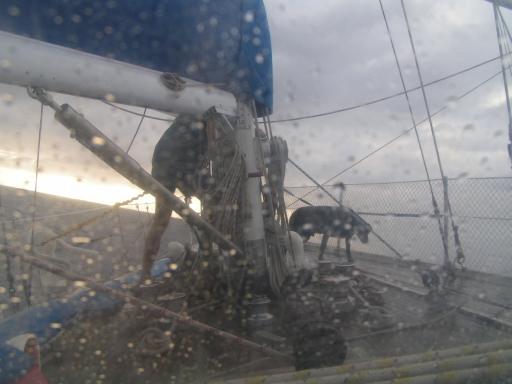 Poo Patrol with Jack on a faster and rainy day.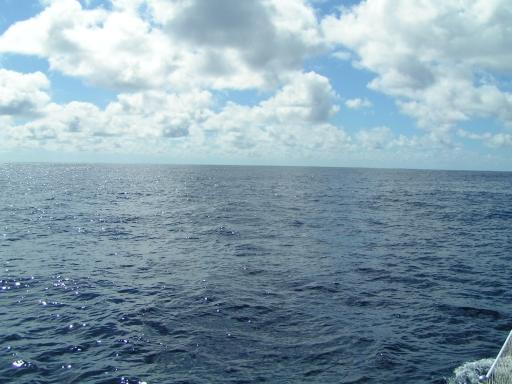 ...Then its calm again for a day....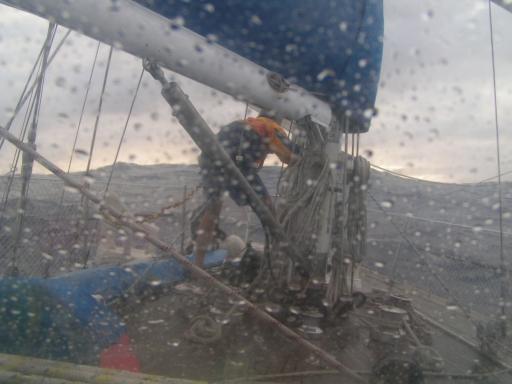 ...Before blowing up to a storm, in this one we ripped our mainsail...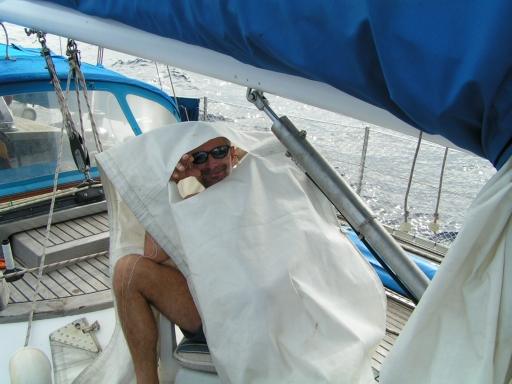 ...right here....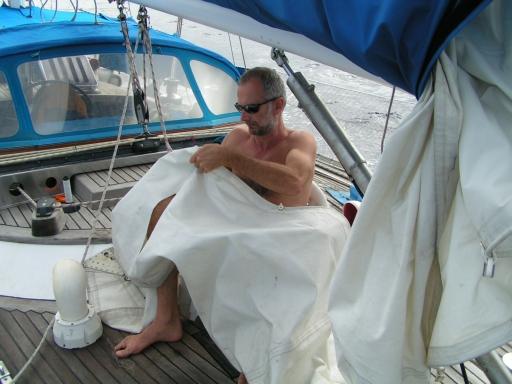 ...and had to be hand stitched...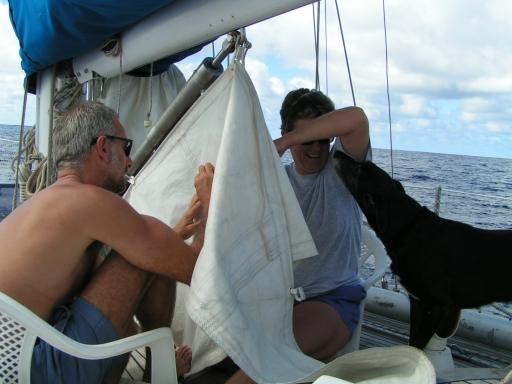 ...because we like to re-use the same holes so we don't weaken the fabric.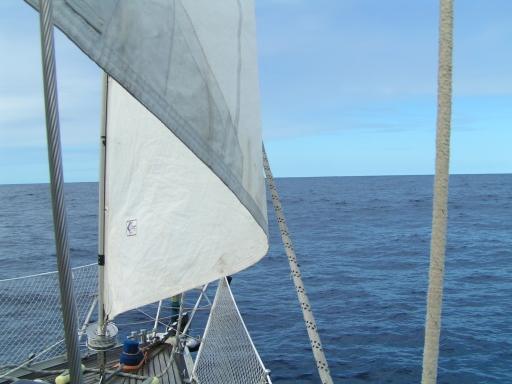 Then its calm again.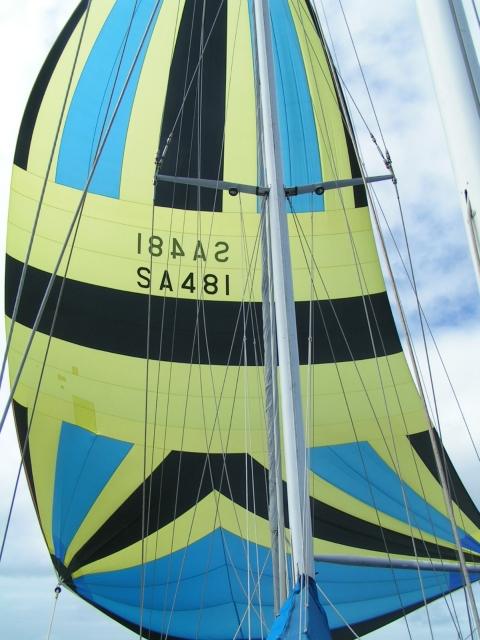 We flew the bag on the last 2 days.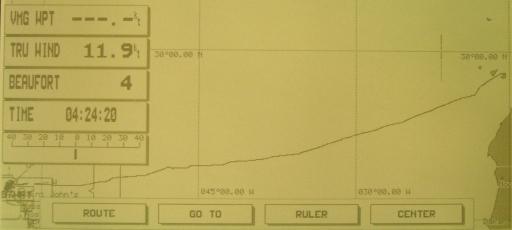 This is the actual course sailed, the changes are to adjust comfort and find the best wind on the day, as well as to cross a cold front. The table below contains all the 17h00Z positions and day-runs. The total distance covered was 2824 NM, and if we could pull that line straight we would have arrived two days earlier :)
Daily position reports tabulated from the Winlink system.
Date
Latitude/longitude
Speed
DMG
Wind
Comment
12 Jan
28-12.14N 015-34.59W
5.7
0
8 SE
Left @ 17h00 going round N of GC to STMartin
13 Jan
27-28.11N 017-07.71W
5.0
125
5 NE
Motoring in 5 kts wind. Squalls don't help much.
14 Jan
26-07.15N 019-08.35W
6.0
127
12 ENE
Nice breeze, rolly cross swell. All well on board.
15 Jan
25-11.85N 022-05.51W
6.0
140
15 ENE
All well, Liz's 17th Birthday tomorrow.
16 Jan
24-10.56N 024-52.55W
7.0
163
30 ENE
Bit of a gale, Liz's 17th Birthday
17 Jan
23-29.65N 027-22.18W
7.5
162
25 ENE
Seas still huge, better than yesterday
18 Jan
22-46.36N 030-00.00W
7.0
150
18 ENE
33.3% done 897 miles out of 2698
19 Jan
22-08.32N 032-09.31W
5.6
128
09 ENE
All well. Motoring, not enough wind
20 Jan
21-37.30N 033-44.65W
4.6
102
10 NE
Light NE wonderful wx. Sailing Nekkid :)
21 Jan
21-02.42N 035-59.60W
5.6
127
18 NE
Welded a broken bracket on generator.
22 Jan
20-39.89N 038-32.60W
7.3
144
20 NNE
HALFWAY!
23 Jan
20-24.48N 041-17.34W
7.4
153
20 ENE
Nice day. Poled Genny, Staysl, 1reefmain
24 Jan
20-01.29N 044-17.27W
7.3
160
20 ENE
Nice day. caught a Dorado.
25 Jan
19-48.43N 046-16.49W
6.0
128
18 ESE
No wind in morning Better now.
26 Jan
19-36.08N 048-32.09W
4.9
134
14 E
Expecting ligter condx tomorrow. Spinnaker?
27 Jan
19-02.15N 050-42.72W
5.7
125
14 SE
Better wind than expected,maybe lose breeze soon.
28 Jan
18-54.17N 052-34.05W
3.6
103
08 NW
Blew out mainsail while crossing C.Front
29 Jan
18-24.11N 054-44.23W
7.6
139
15 NW
Had a storm, better now.
30 Jan
18-07.60N 057-32.74W
7.3
159
20 E
Two more days by our calculations.
31 Jan
18-11.87N 060-06.63W
3.5
145
11 E
But then the wind died, now we need 1 more day
01 Feb
18-12.65N 062-14.21W
8.4
114
17 E
Flying under Spinnaker in gentle rain,flat seas,spooky
02 Feb
18-04.27N 063-05.61W
0
96
17 E
Anch.St. Martin. 2824 miles from Las Palmas. 20 days