Liz Update
| | | |
| --- | --- | --- |
| Page 1 of 1 | | April and May 2008 |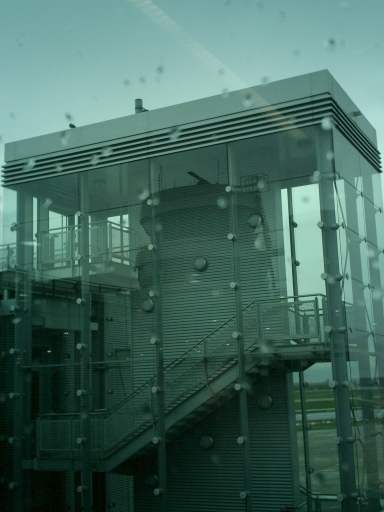 "DUSSELDORF AIRPORT"

The time had come again for Liz to seek her own fortune. In the last 17 months together we had seen so much, and enjoyed her company as a young adult. The lessons of life given to us by some South American natives will be with us forever.
We had ample opportunity to discuss her future and be supportive of her choices. The debate was fun and informative, sometimes lively but always fair.

Liz had decided to enter the world of megayachts again. The main yachting centres in the world are Antibes, Monaco, Palma, Ft Lauderdale and St Maarten. Liz had decided to fly to Palma de Mallorca to look for work, partly because the summer season was starting, and partly because of a support network of "friends-as-close-as-family". None of us knew how fortuitous this choice was to be. We emailed our good friends....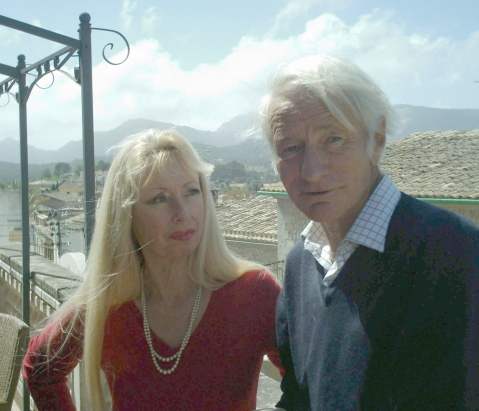 ...David and Jill, who live in Club de Mar, in Palma. If you have been to Mallorca you will know that Club de Mar is the yacht club catering to the largest yachts, right on the Paseo Maritimo. David and Jill have lived there on board "Flossie" aka. M/V Souris Rose for over 20 years. They have a wealth of knowledge and we deeply respect their opinion. We emailed asking if it would be wise for Liz to find accommodation there, and meet the boats as they docked in order to secure interviews. Their response was a surprise, but in character for these wonderful people. Yes, they said, the season was about to begin, and, they would host Liz on their boat right in the bullseye of yachting. We felt so relieved to let Liz go to the open waiting arms of dear friends.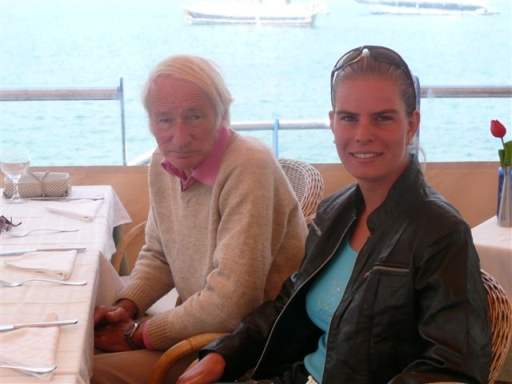 David and Liz in Rocamar restaurant Port 'd Andratx.
Liz had logged on to the internet while at Dusseldorf Airport and received an email from a Yacht's Captain who found her CV online. He mentioned that the ship was 120 odd metres in length, and was under construction in Kiel, Germany. Liz, Laura and I had been browsing the internet online a few days earlier. We discovered a 120 odd metre yacht in Kiel, on a website called yachts.monacoeye.com and we had commented on how serenely beautiful she was. I remember Liz saying "Imagine getting a job on THAT yacht?" We had a feeling that a curious co-incidence was about to happen. Liz responded to the emails and set up a date for an interview in Palma.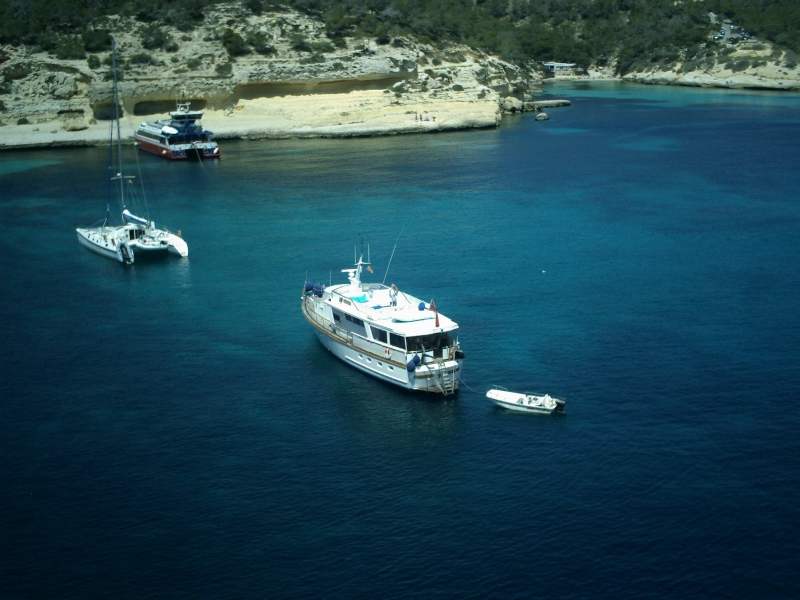 M/V "Souris Rose" at anchor in Portals Vells
Liz was being coached and guided by David and Jill, and while waiting for the interview Liz completed a few more formalities to put in her CV. When the day of the interview came, it was confirmed that the position was indeed on board the yacht we had guessed. We were so nervous that the interview had gone well. Liz has worked so hard to achieve what she has to date, and deserves every good thing that comes her way. The Captain that had interviewed her told her that she would know the outcome by the end of the week. In fact, the very next day her phone rang and they offered her the job. Liz was extatic, and we were a tad chuffed too (Truth be told we were doing back flips, we were so happy. She has waited a long time for this opportunity). She immediately set about getting another qualification that the vessel needed before starting work.
Liz outside the Admin Building in Club de Mar, with Phyllis. Her owner Michi took this shot. We were by now in West Palm Beach and nearer internet, so we were able to chat with Liz almost daily. What a treat!. We imagine you are wondering about the job and the boat she is on. Please understand that we fully respect and support the owners anonymity. We will not divulge anything about the boat except to point you to a picture of her. Click Here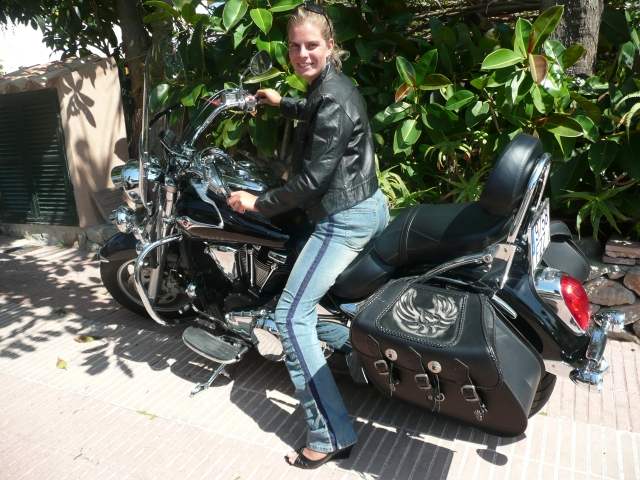 Of course Liz spent time with David and Jill. Here she mounts up in Soller, where they went for lunch.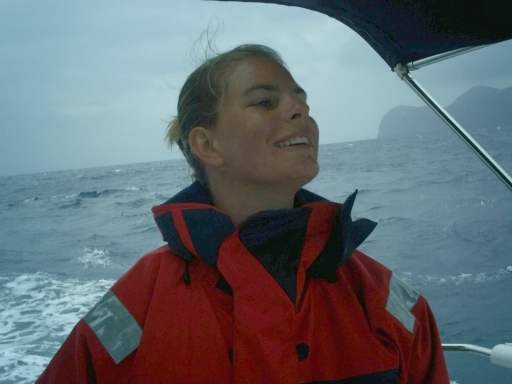 Liz also spent time on the water, here she helps move a boat from Alcudia around to Palma.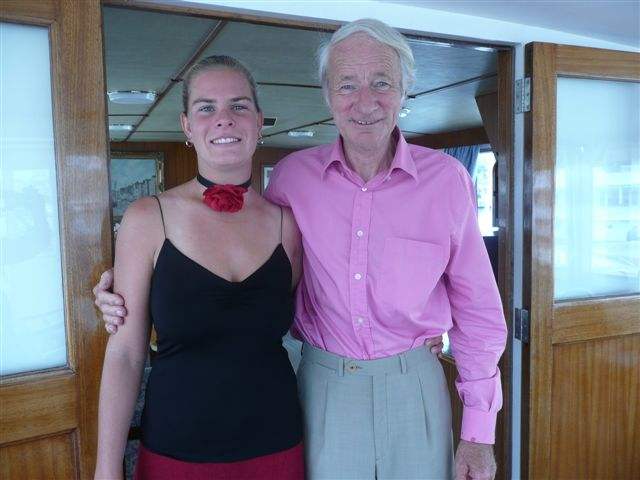 Liz and David prepare to have their last meal together (this time)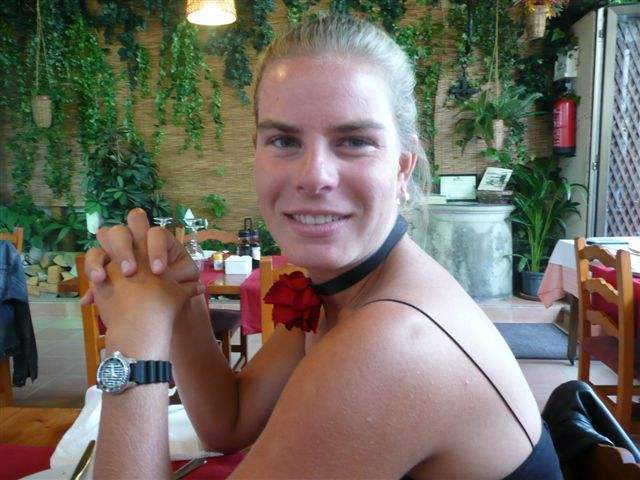 I still can't believe that I used to hold her up in the palm of one hand.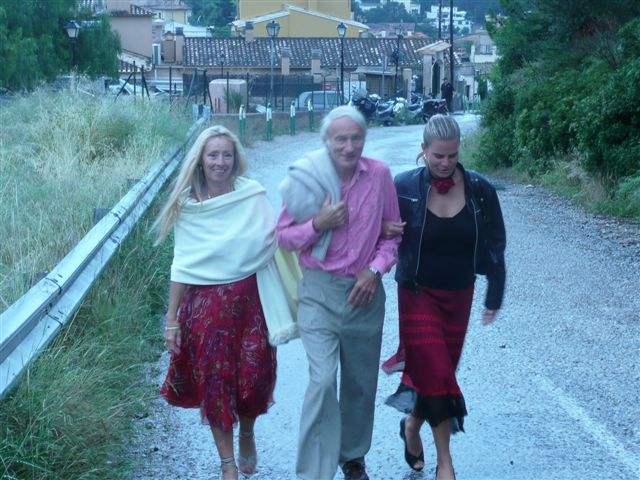 Jill David and Liz. Dear David and Jill, we are so grateful for everything you have done to help her and us. You are very special people and we are blessed to call you our friends.