San Blas - Words fail me (Again)
| | | |
| --- | --- | --- |
| Page 1 of 1 | | 14 May to 31 December |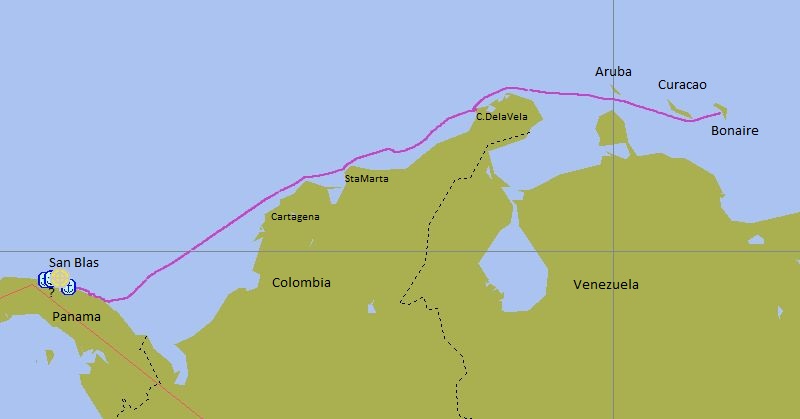 This is the route we took to San Blas from Bonaire. Some say that this passage is one of the worlds worst. We saw a little of that in 2007 when we came into Cartagena from West Palm Beach. There is this weather "thing" that lives off StaMarta. This time though, we chose a route much closer to the coast. We know the Pizazz route, and roughly followed that. Departed Bonaire @ 12h15 on 8th May, in 20 kts NE. One reef in the main and a poled-out Genoa. We saw wonderful speeds the whole way. We passed south of Curacao and Aruba, and headed directly between the Venezuelan outpost of Los Monjes, its a few rocks, or a tiny island of you like. From there we rounded the peninsula in shallow waters. 8th was a Wednesday, by 04h00 Friday we felt like a rest, so we pulled in to the anchorage in Cabo de la Vela. Yellow flag stop. The Guardacosta visited us with a dog, apparently looking for weapons. We had slept the rest of Friday morning, we slept some more Friday night, and left at 09h00 Saturday morning with just 5 knots of wind. We motored out to sea and the winds were waiting, 25 gusting 35, so we just kept closer to the coast in the 20 knot stuff, then that started fading and we went out again to find more wind....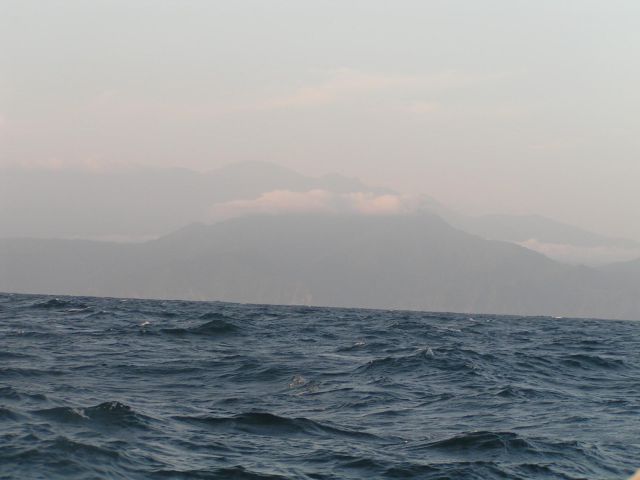 ...which we did. We arrived at the five bays just before Sta.Marta, usually one can see snow capped mountains from this area, but it must have been in the haze, we could not pick it out. We rounded the cape of Sta.Marta and made for....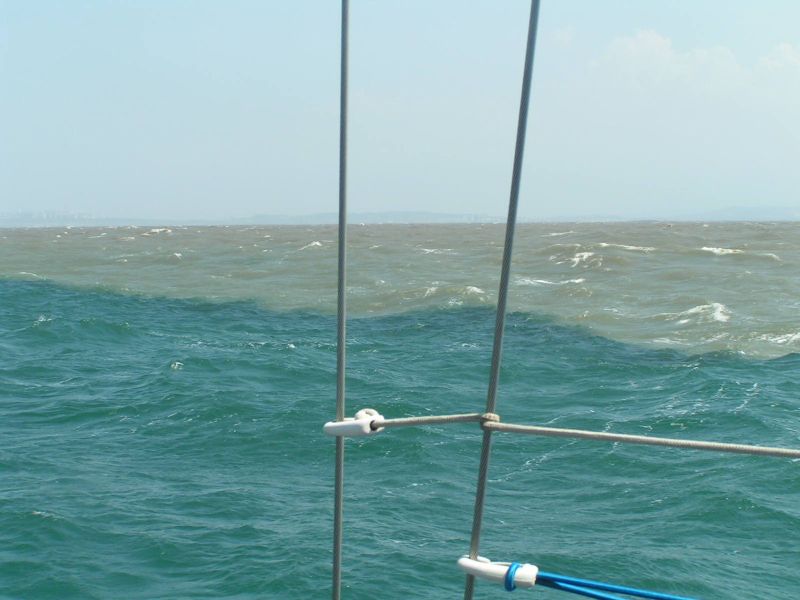 ...the mouth of the Rio Magdalena. This might look like a shadow being cast onto the sea, but it is not. The bluer is sea water and the brown is river water and the two don't like to mix. The line is the interface. It was wierd and choppy, still doing good speeds though, sometimes over 10 knots with current. We were going so fast now that we would have arrived in the San Blas at 22h00. Not a place to do a night entry, we dropped the main, and furled the genoa, still poled, till we were doing 2.2 knots and timed for...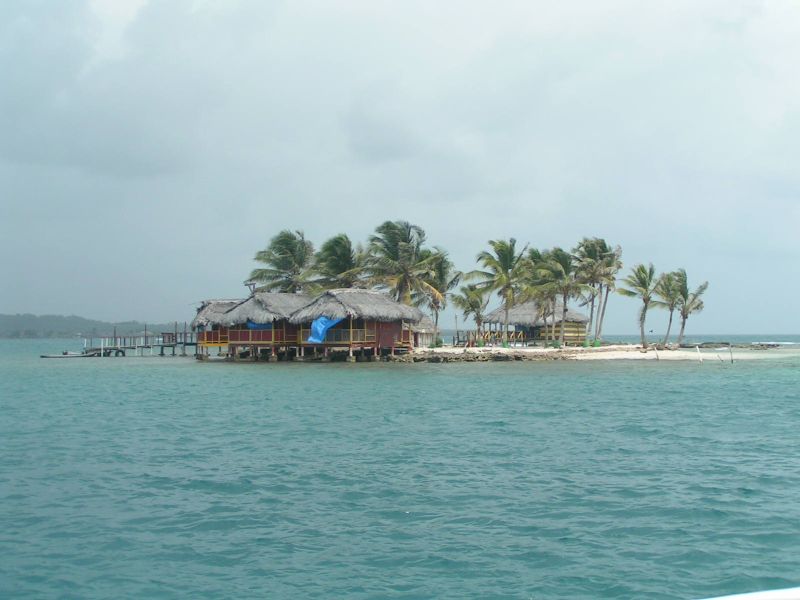 ...a 08h00 arrival at Warsupdupcua in the San Blas. We were escorted into the break in the reef by a pod of dolphin. We anchored here to rest and run generator....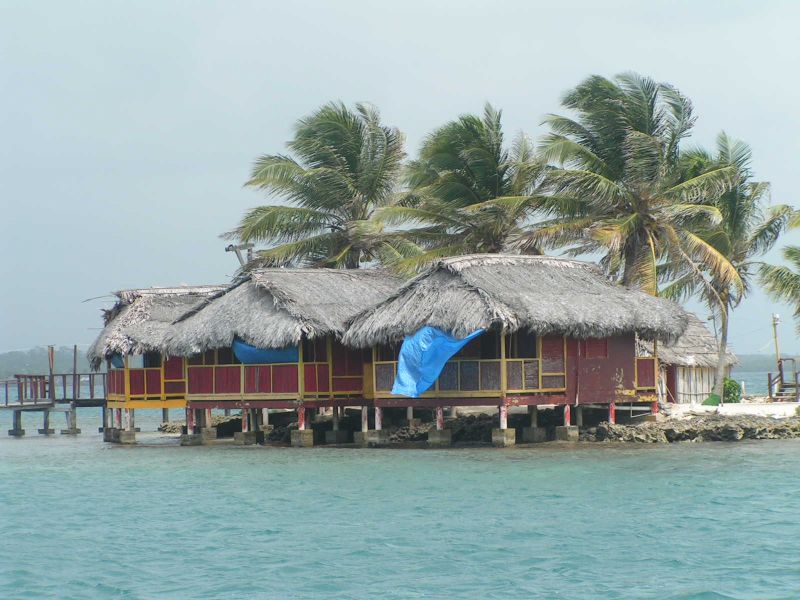 There was one Kuna lad working furiously with a large bowl carting sand from one side of the island to the other, replacing what was lost by erosion. This is a resort, I think the rates are $150 pppd. Not exactly luxury. We left again at 11h30 for Snug Harbour as there was no protection from the south here.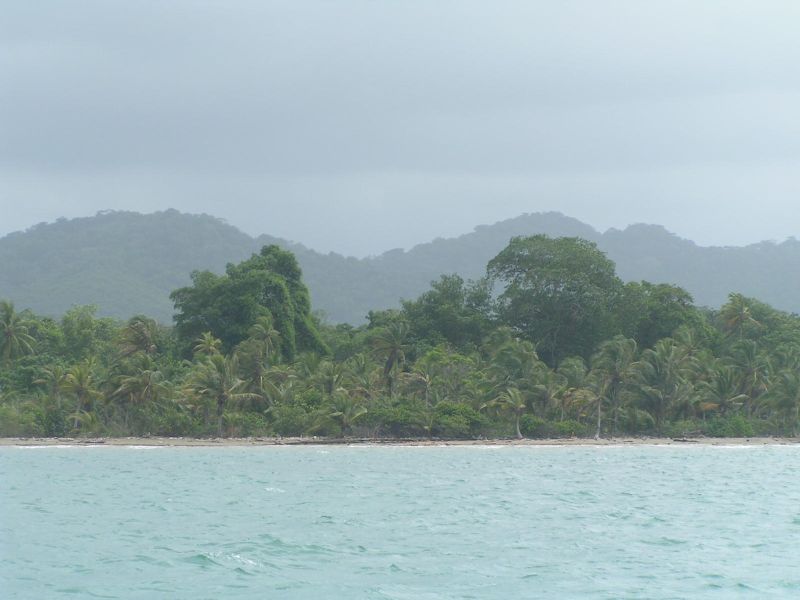 Motorsailing toward Snug Harbour along the jungle.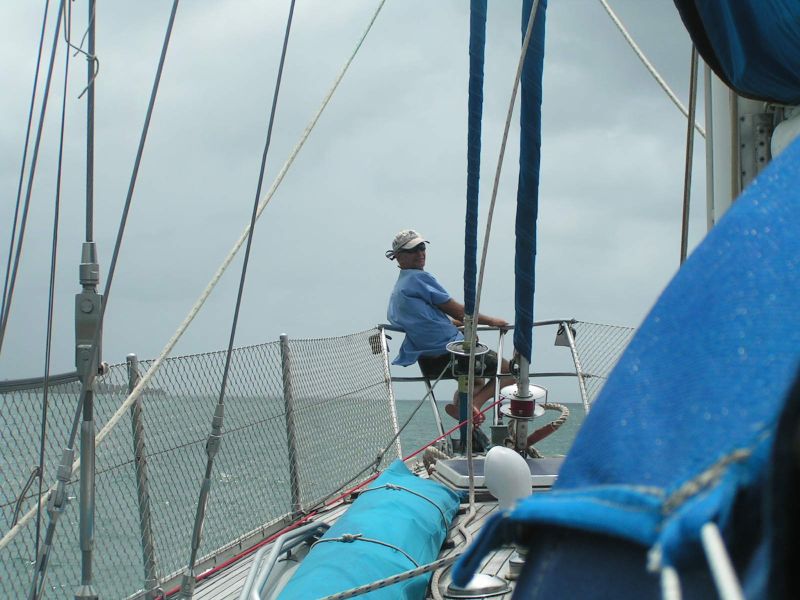 Here in the San Blas its best to keep a lookout for reefs, there are thousands here.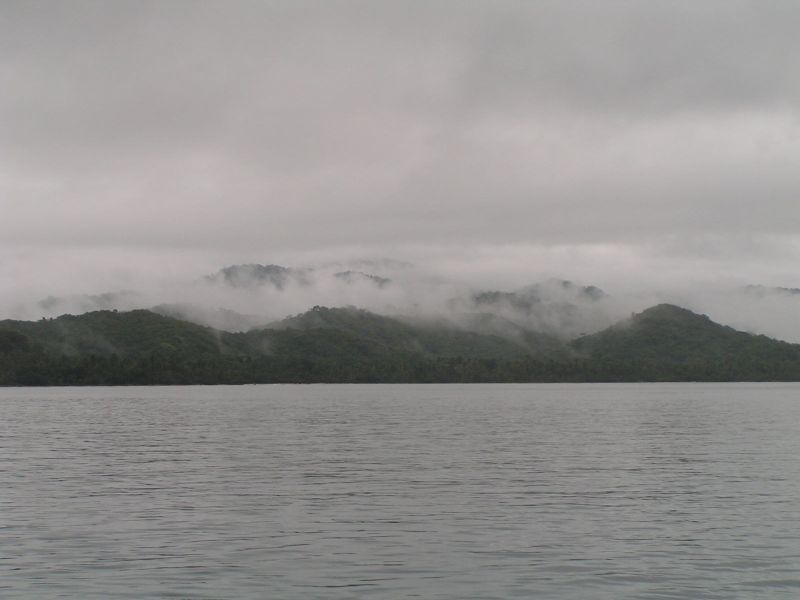 Until we anchored behind Apaidup in what is known as Snug Harbour.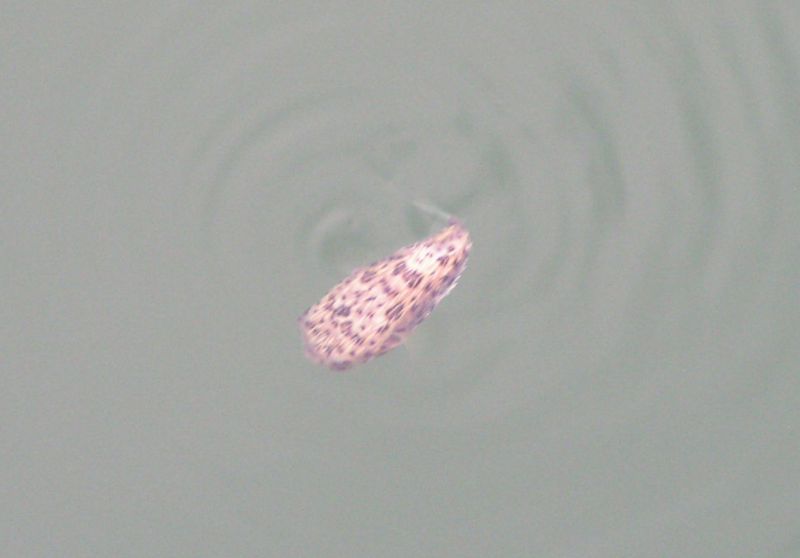 It rained heavily here, and this little puffer fish came swimming by in the current. I scooped him up to show Laura who is crazy about her little fishies, and he gulped air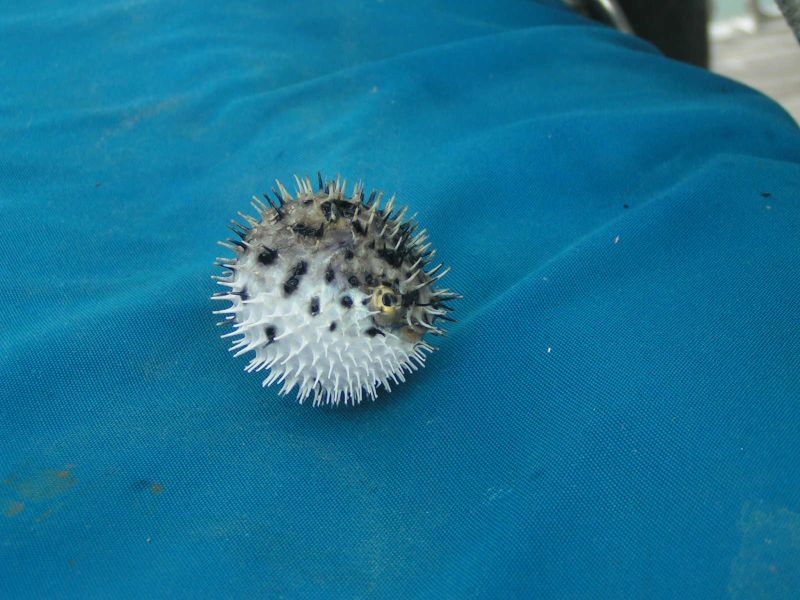 till he looked like this. He (She) is looking to the right, frowning...quite funny, we put "it" back in the water right away.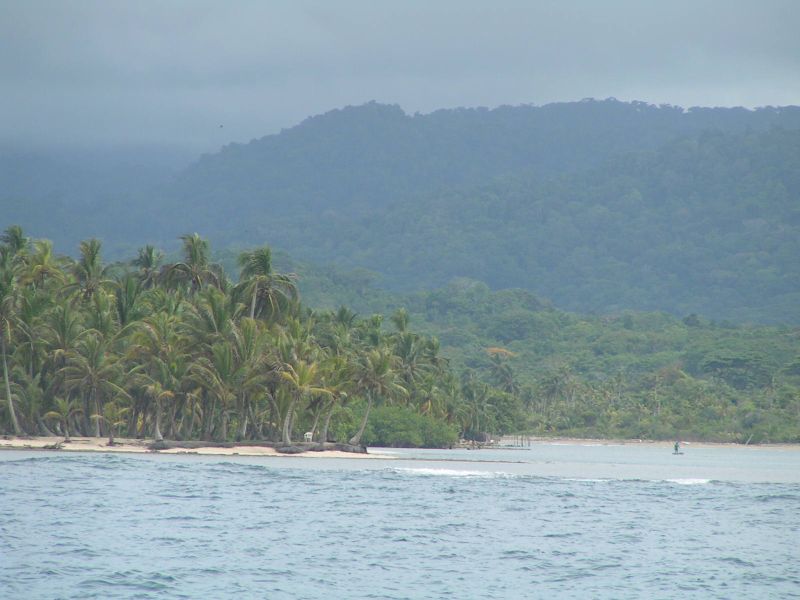 Leaving Snug Harbour a few days later.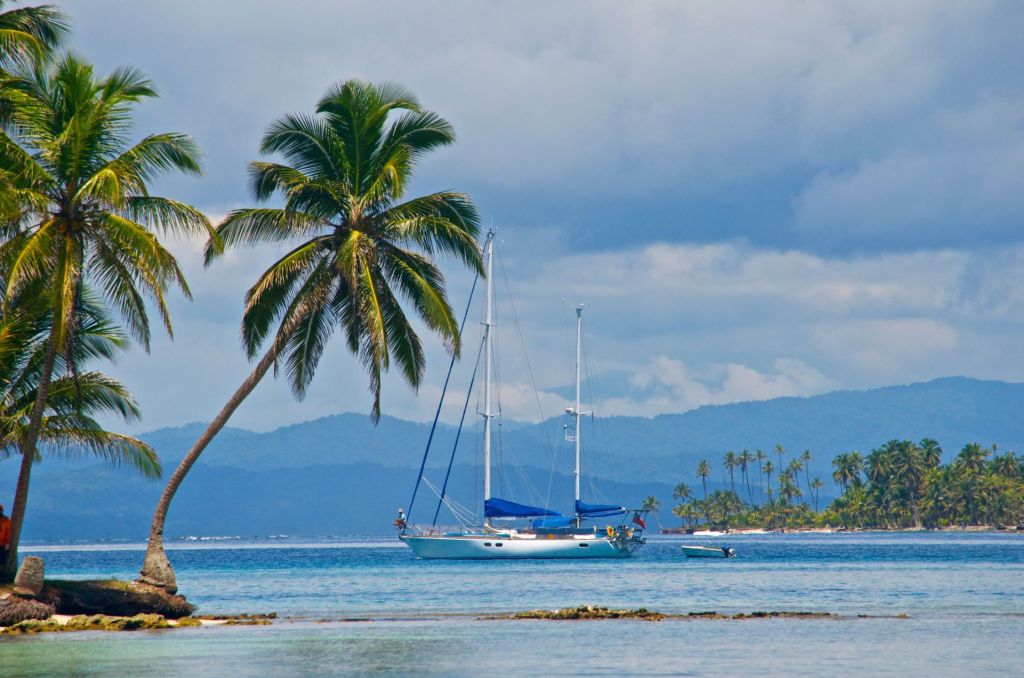 This picture taken by our friends (we met in Bonaire) on "Moonshadow" John and Deb. Its a wonderful picture at full resolution. As always, perched on the nose looking for bommies (Coral heads)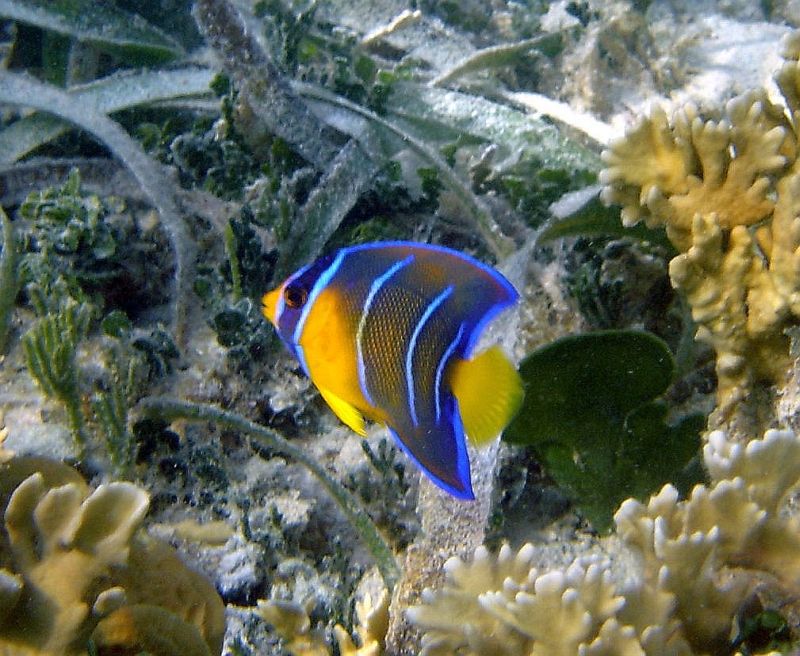 Now for some underwater shots..Juvenile Queen Angel (Holacanthus Ciliaras)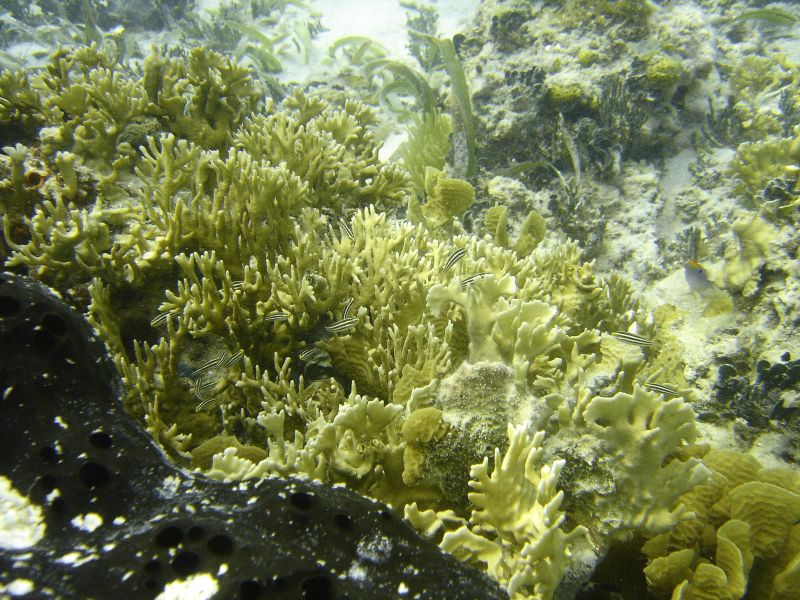 This school of juvenile Princess Parrotfish (Scarus teaniopterus) Hover around a healthy coral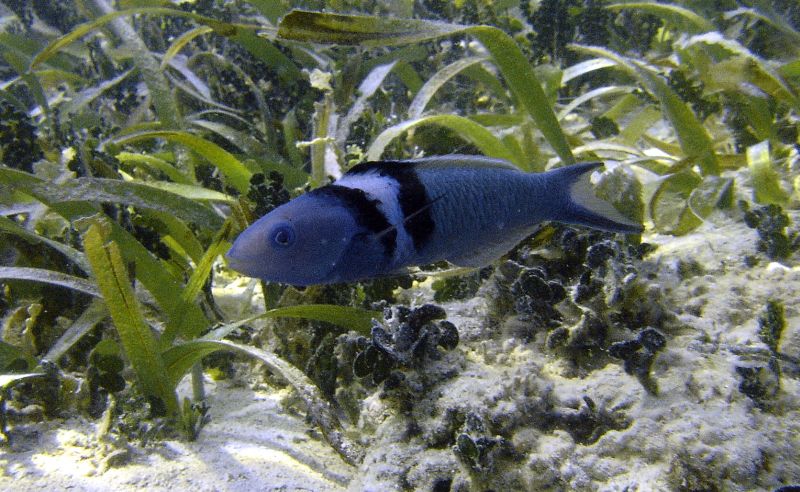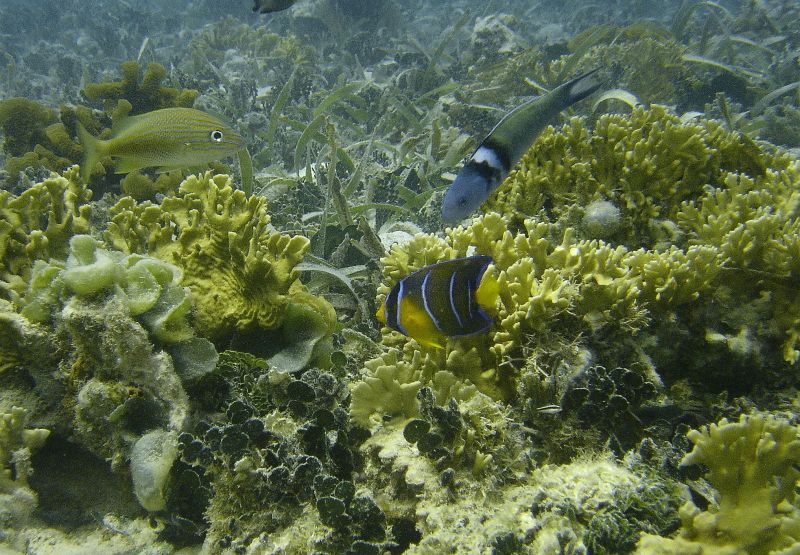 Bluehead (Thalassoma bifasciatum) and friends.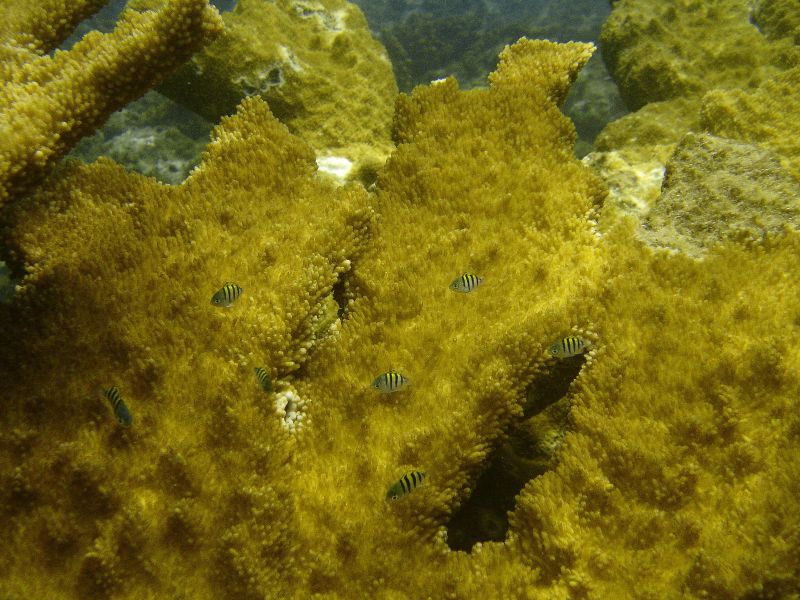 Juvenile Sergeant Majors (Abudefduf saxatilis) (Can you imagine calling your son that? "Abudefduf, come and do your homework!")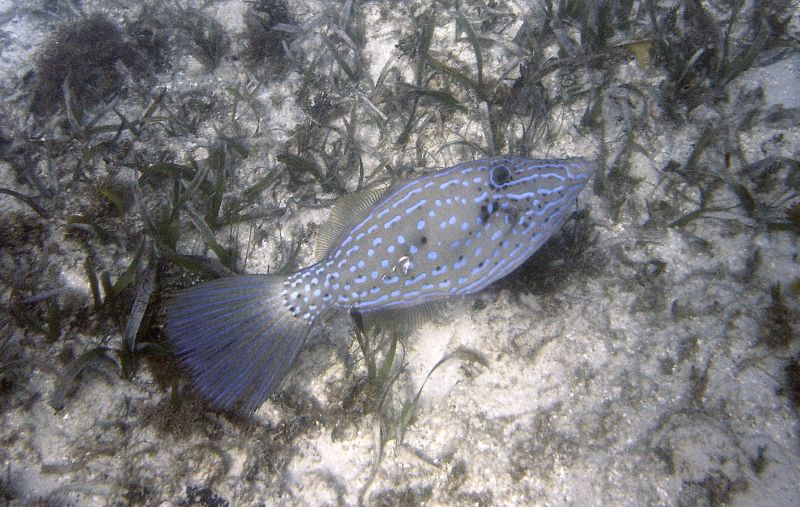 Scrawled Filefish (Aluterus scriptus)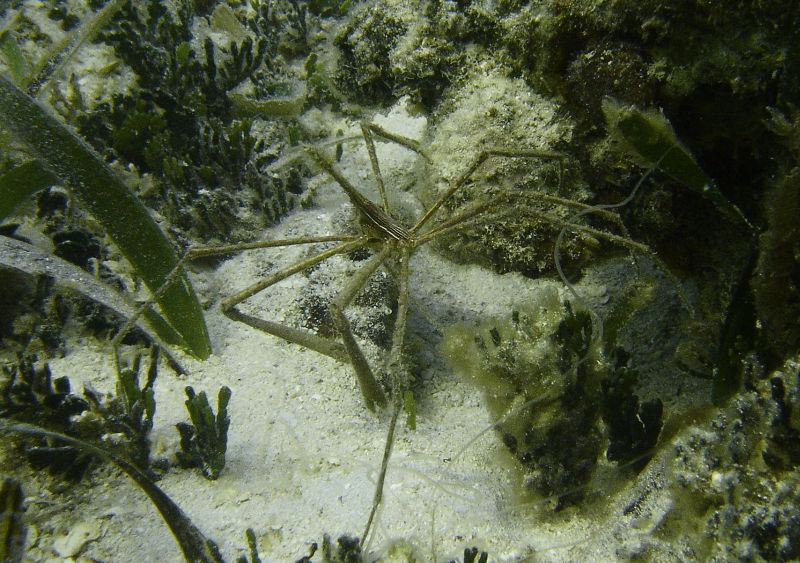 Arrowhead Crab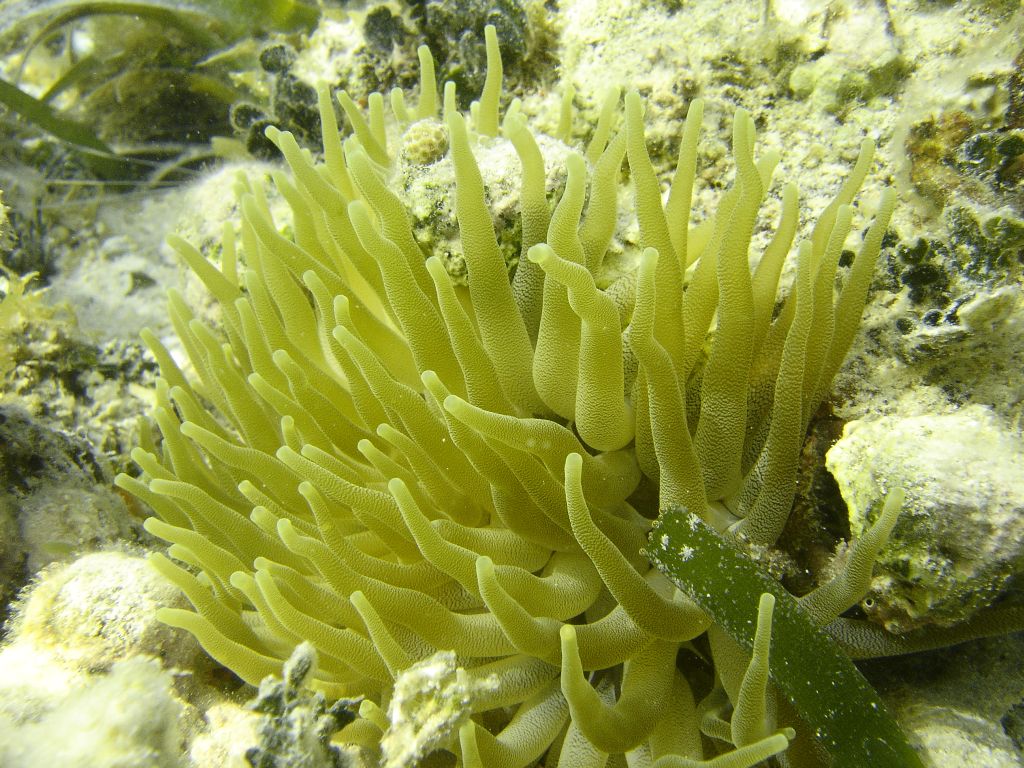 An enemy?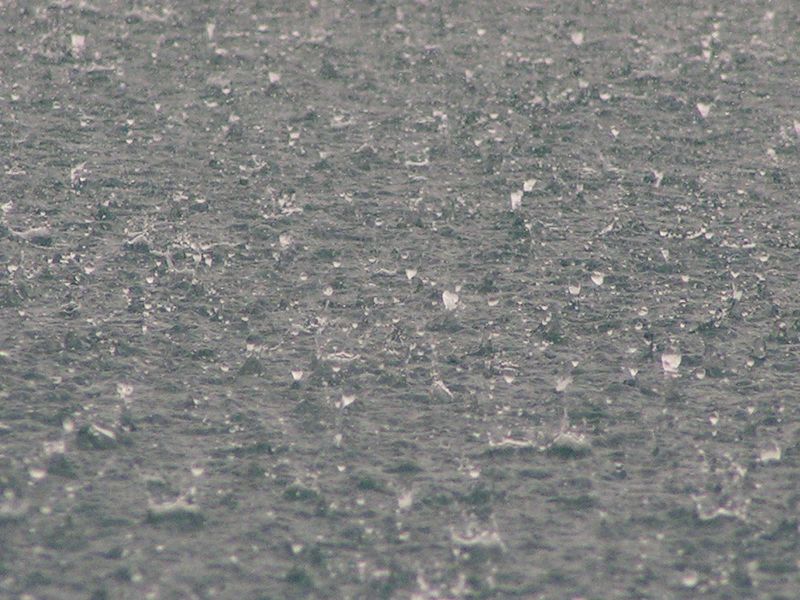 This is wet rain...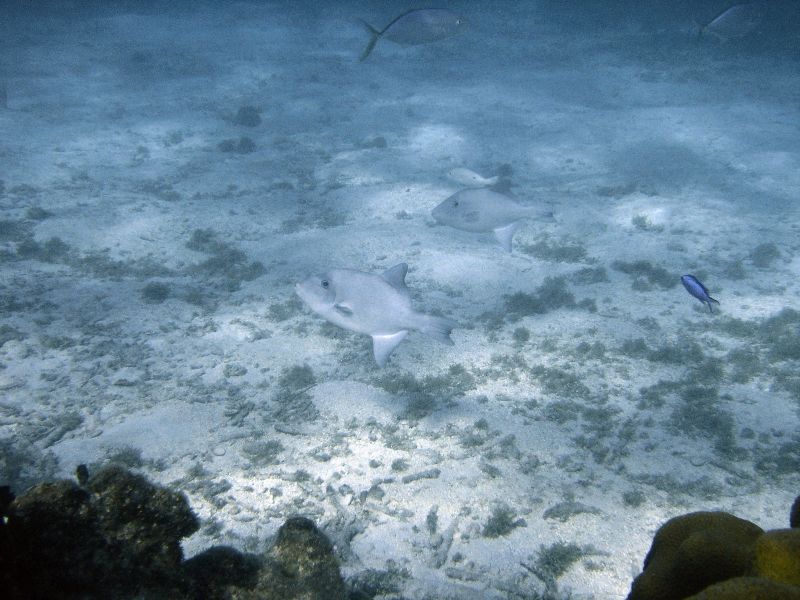 Ocean Triggerfish (Canthidermis sufflamen)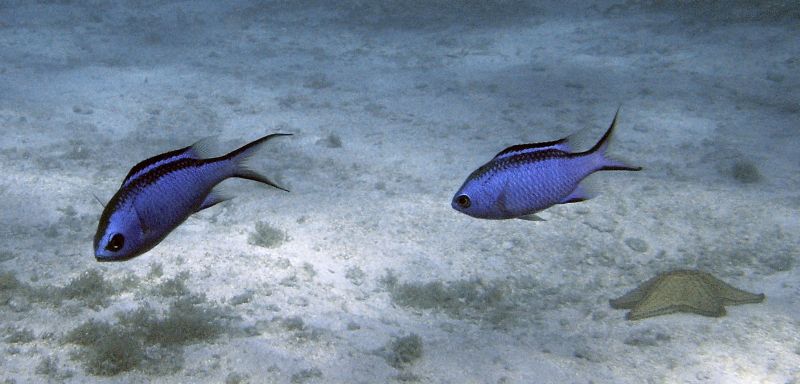 Blue Chromis (Chromis Cyanea)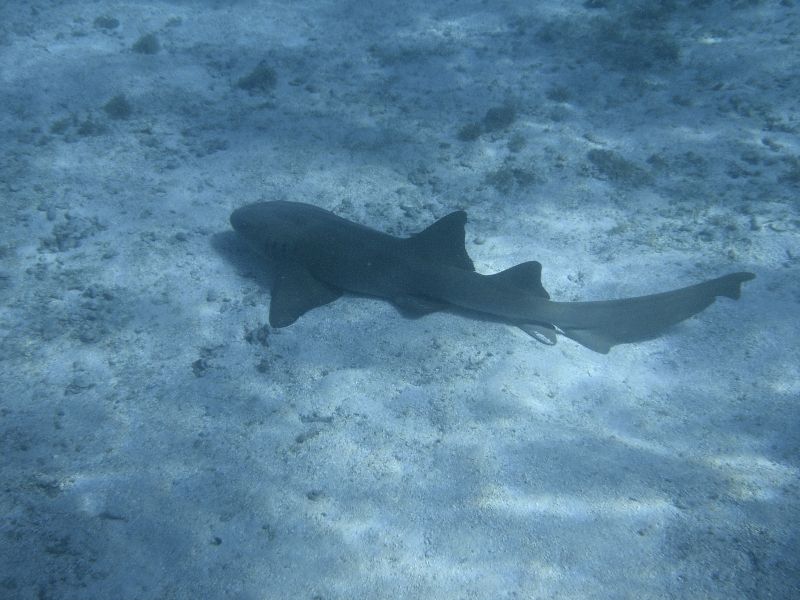 Nurse Shark (Ginglymstoma cirratum) lying on the bottom under Gilana.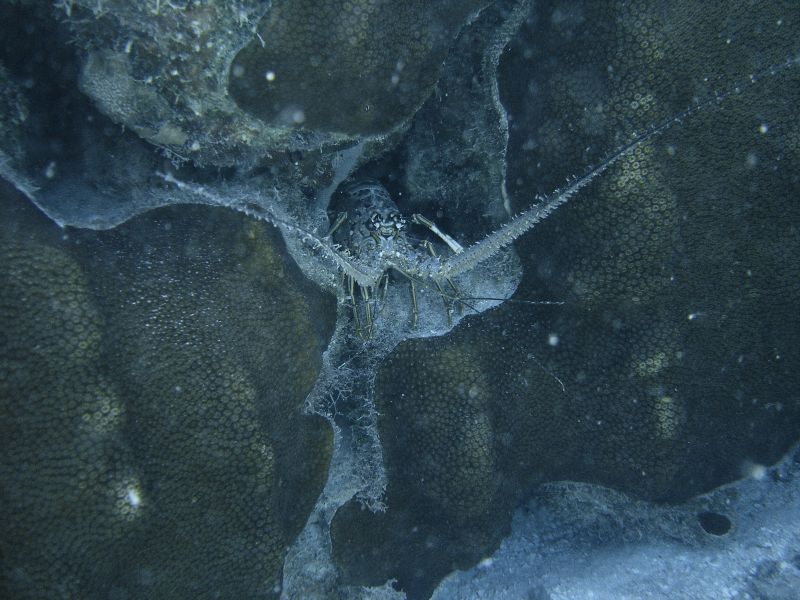 KREEF! or here they call them Spiney Lobster.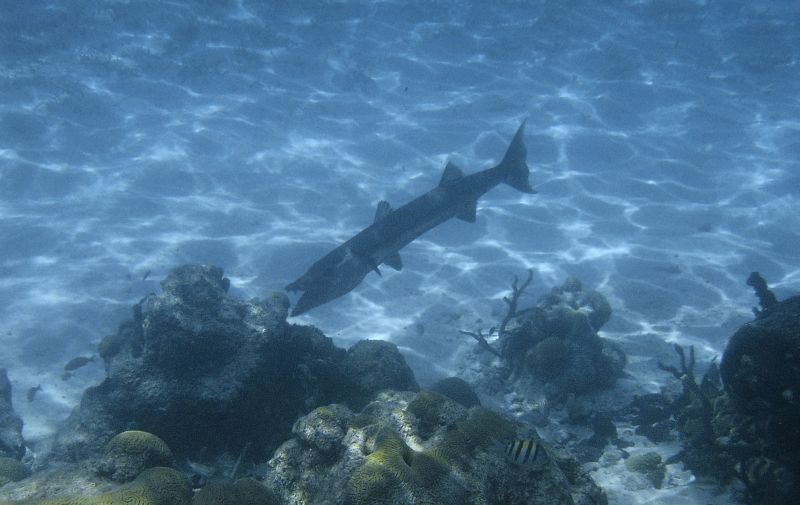 This Barracuda (Sphyraena Barracuda) is displaying threatening behaviour. Its a territorial thing. He tasted wonderful later...
Smooth wifefish (Bridus deliciousus) Cruising the reefs. :)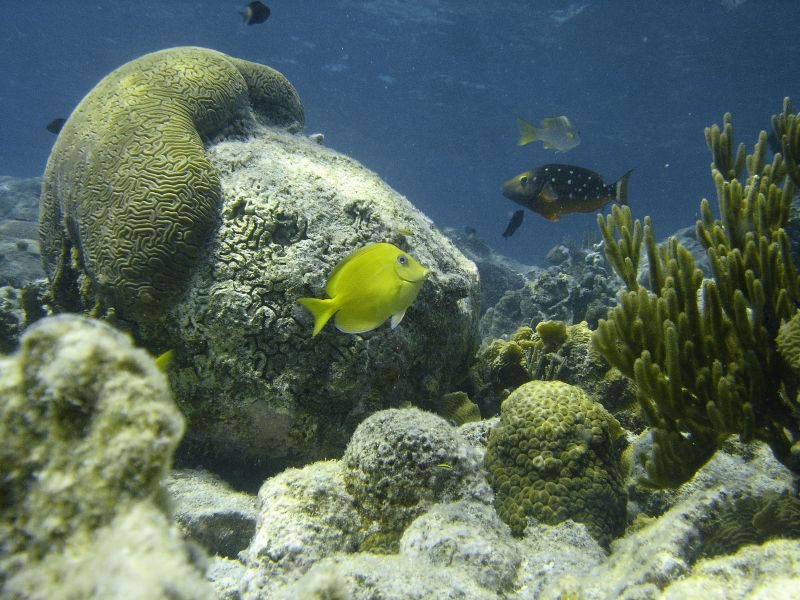 Juvenile Blue tang. (Acanthurus coeruleus)
Mixed school of French and Bluestriped grunt.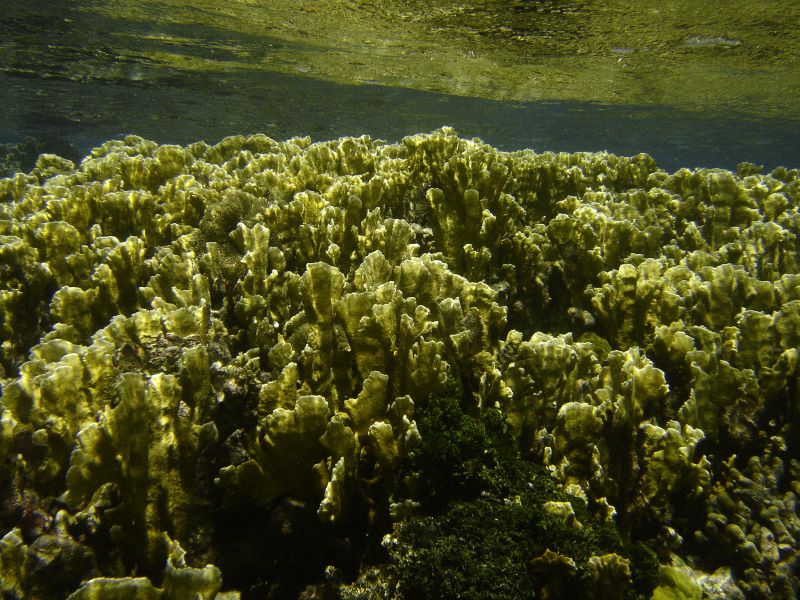 The corals here are very healthy we are pleased to say.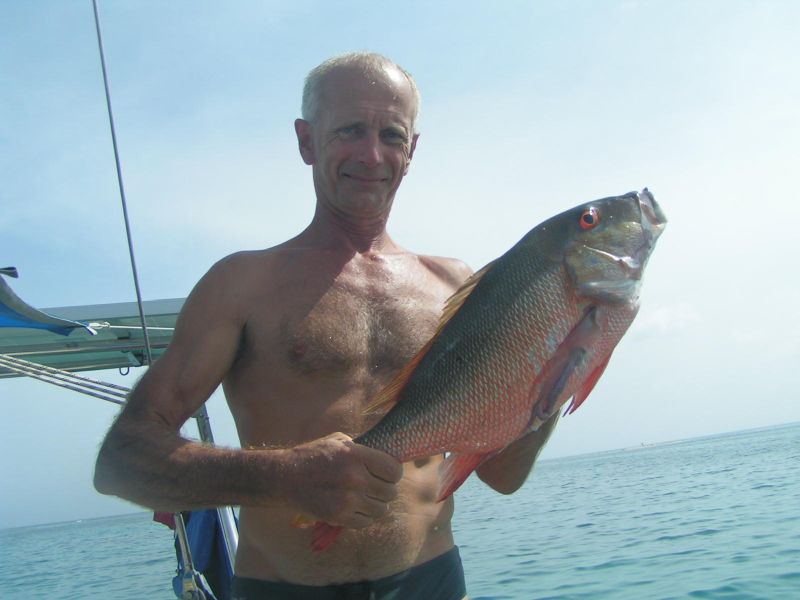 Red Snapper, (Lutjanus campechanus) although this one was a Red Napper, he must have been sleeping when we got him. We got four meals from this fish.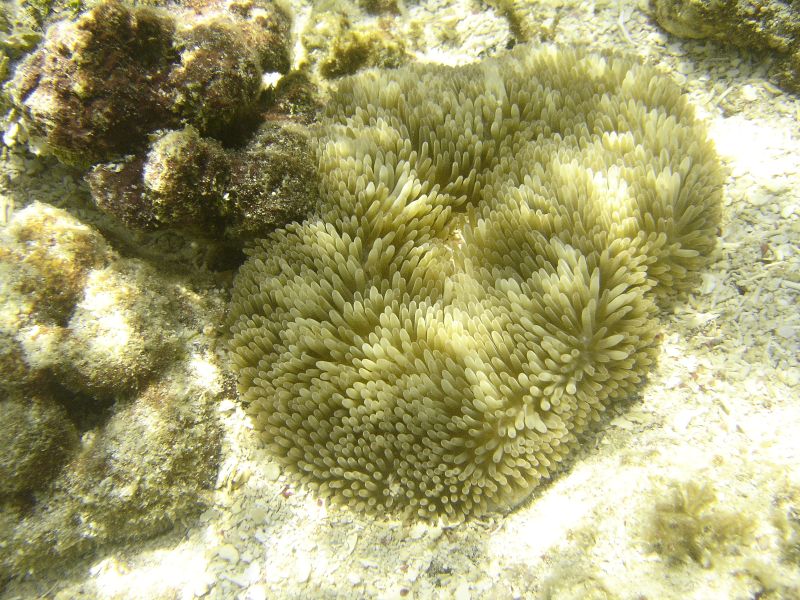 Another anenome.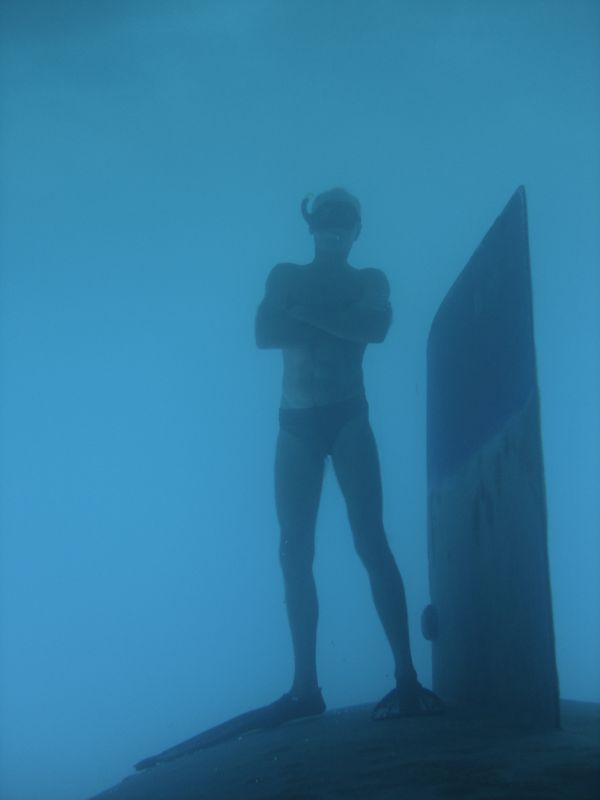 Standing upside down, umm, OK the picture is upside down and I am standing underneath Gilana's hull next to the keel, held up by buoyancy, and immune to gravity (almost)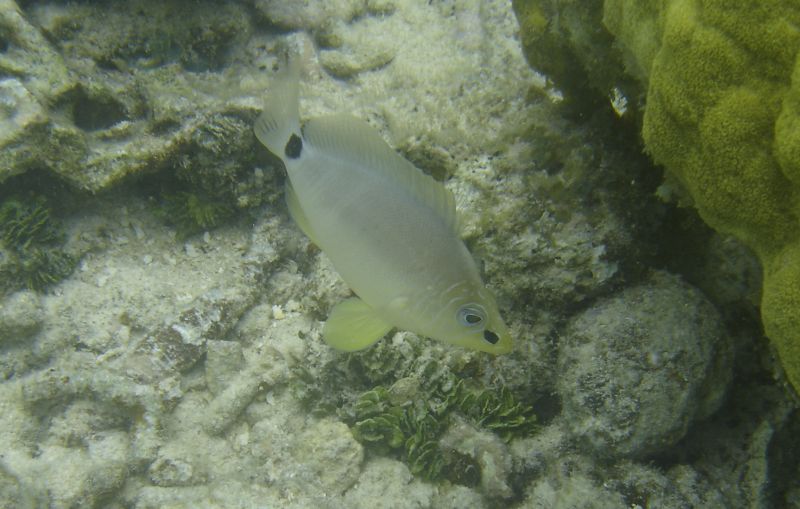 Butter Hamlet (Hypoplectrus Unicolor)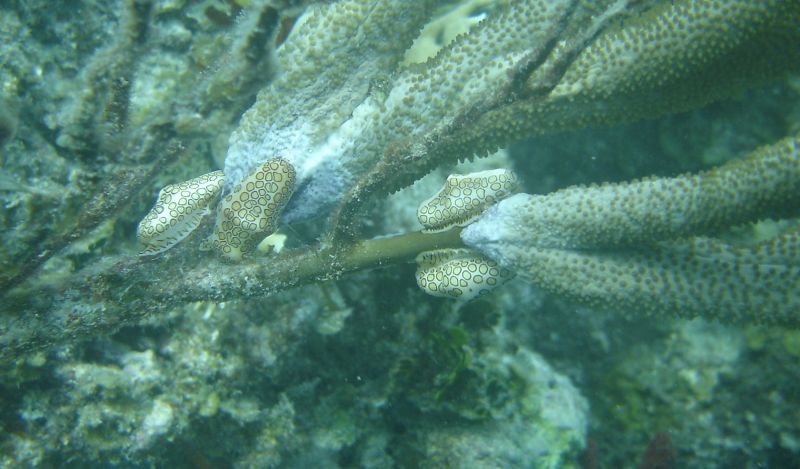 Flamingo Tongues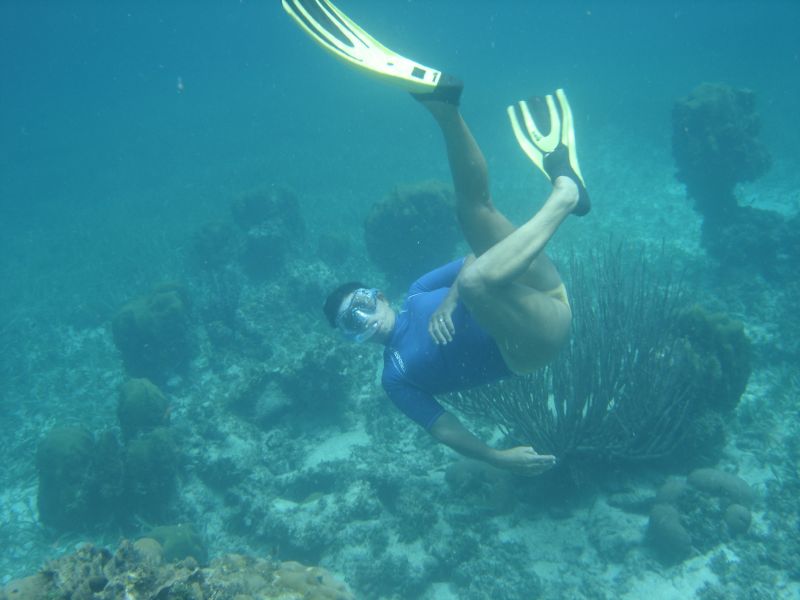 Smooth Wifefish (Pulchritudinis nudii)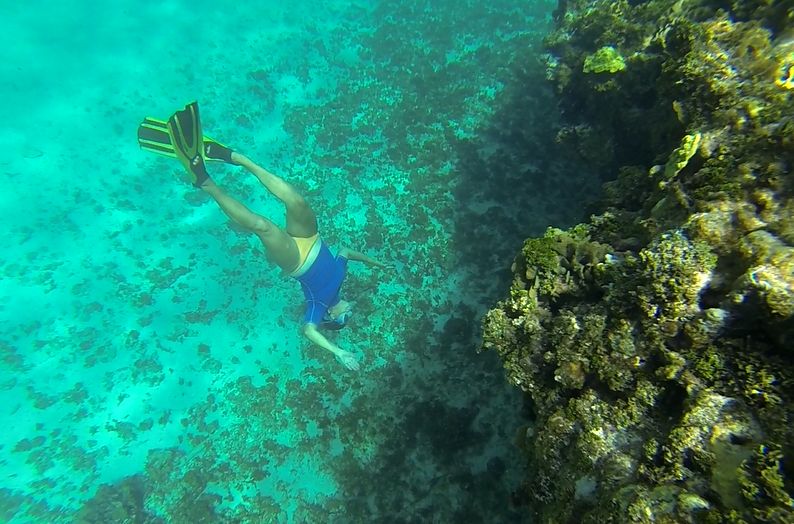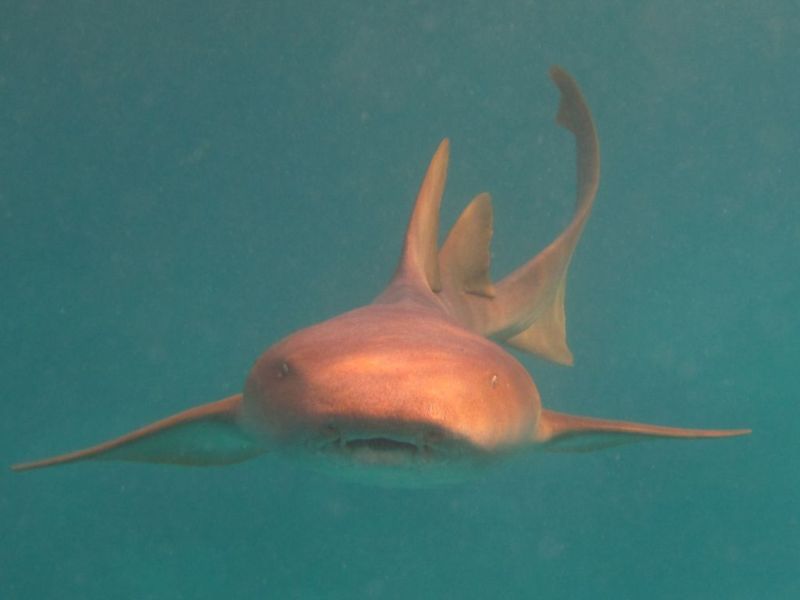 Nurse Shark (coming this way)(Ginglymostoma cirratum)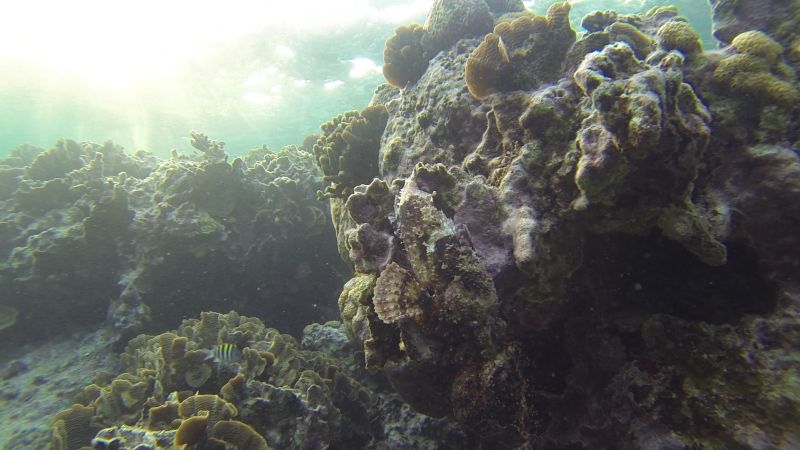 Hard to spot but there is a Scorpion fish there. (Scorpaena plumieri)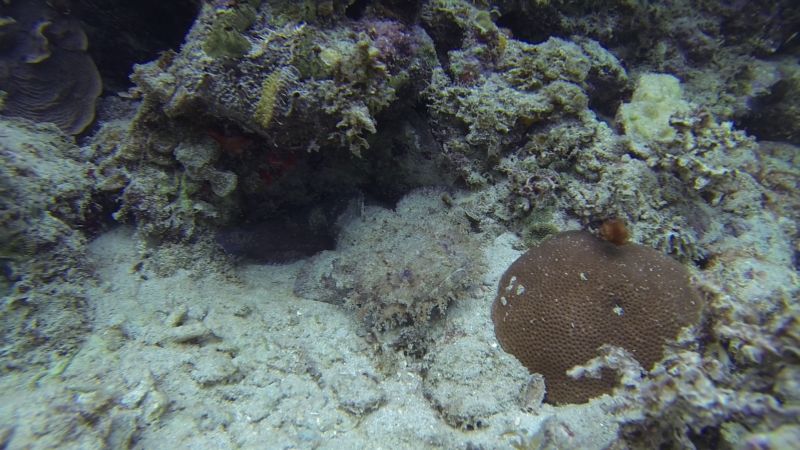 Large Eye Toadfish (Batrachoides gilberti)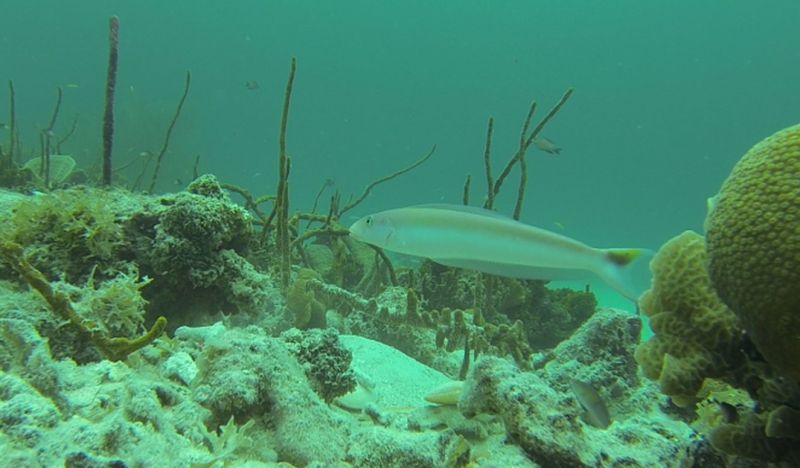 Sand Tilefish (Malacanthus plumeiri) This is the biggest one I have seen, measuring easily 18" they are very shy and its unusual to see them up close.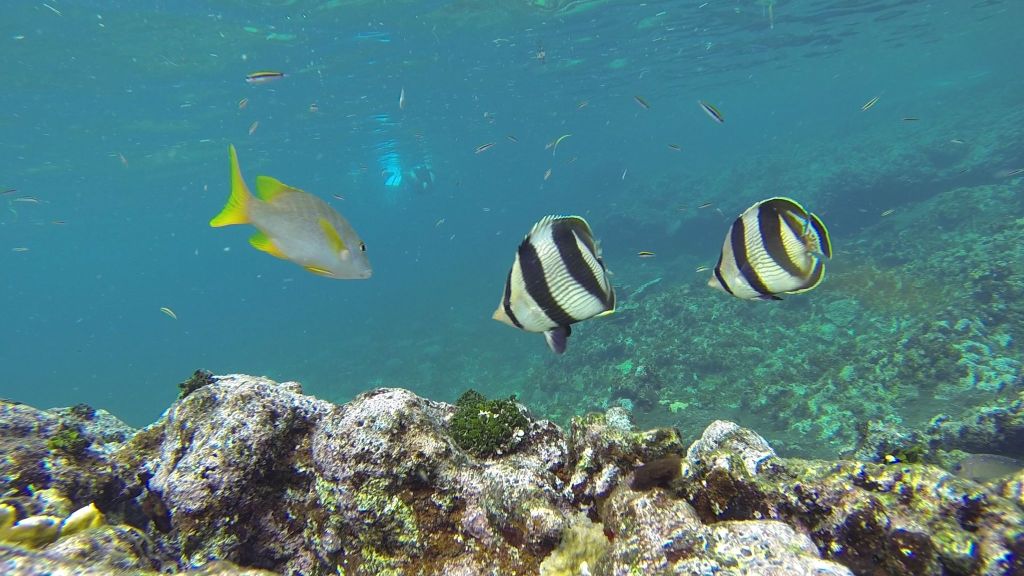 Always swimming in pairs the Banded Butterflyfish (Chaetodon striatus)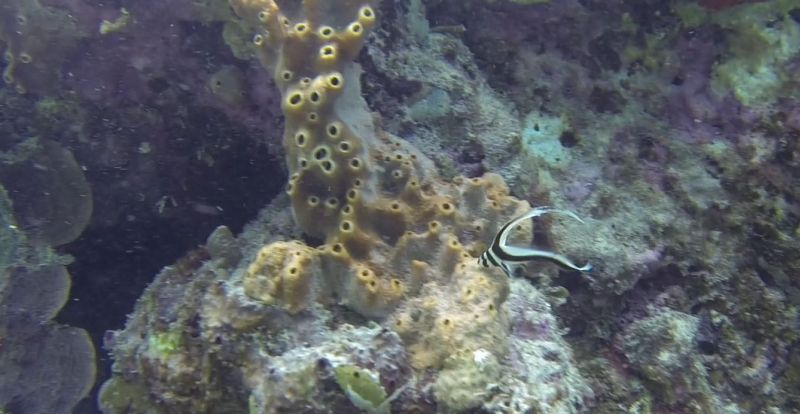 Spotted Drum Juvenile (Equetus punctatus)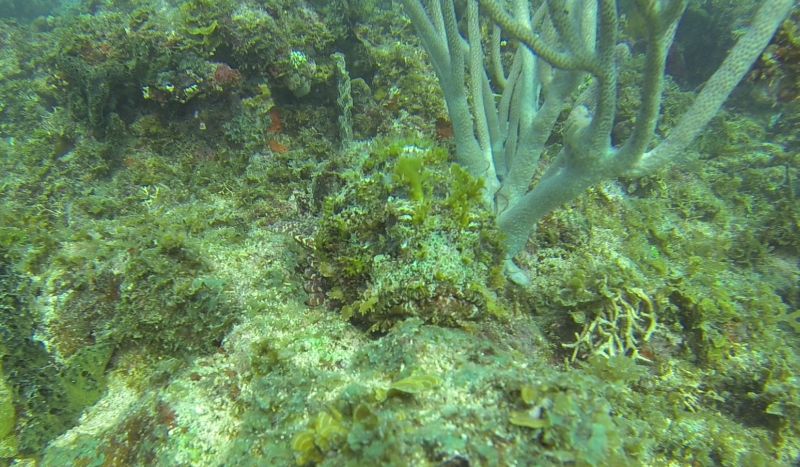 Spotted Scorpionfish, lies motionless, looking more like algae covered rocks than a fish (Scorpaena plumieri)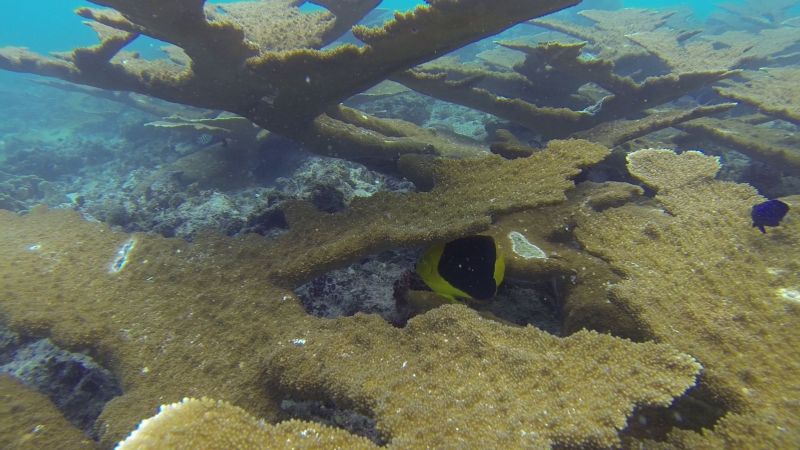 Rock Beauty ( Holacanthus tricolor)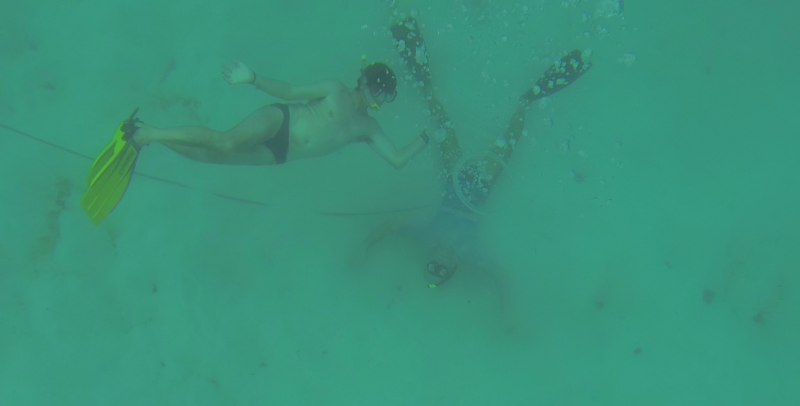 Aurelio and Mike blowing bubble rings

Wading across the shallows looking for a dinghy passage.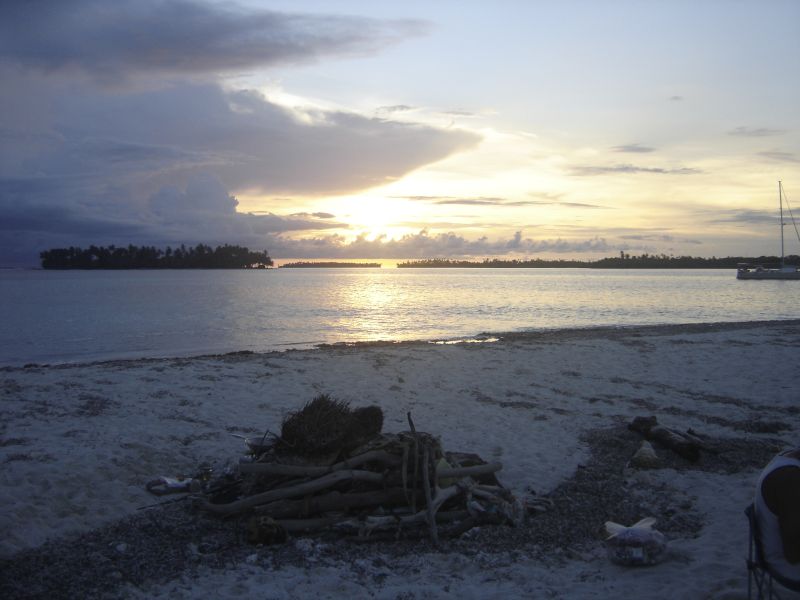 There is a small island called Mordup. We sometimes go there for a BBQ or to burn our garbage. In Summer, the rainy season, the skies are gorgous, sometimes awesome with thunderstorms to add drama.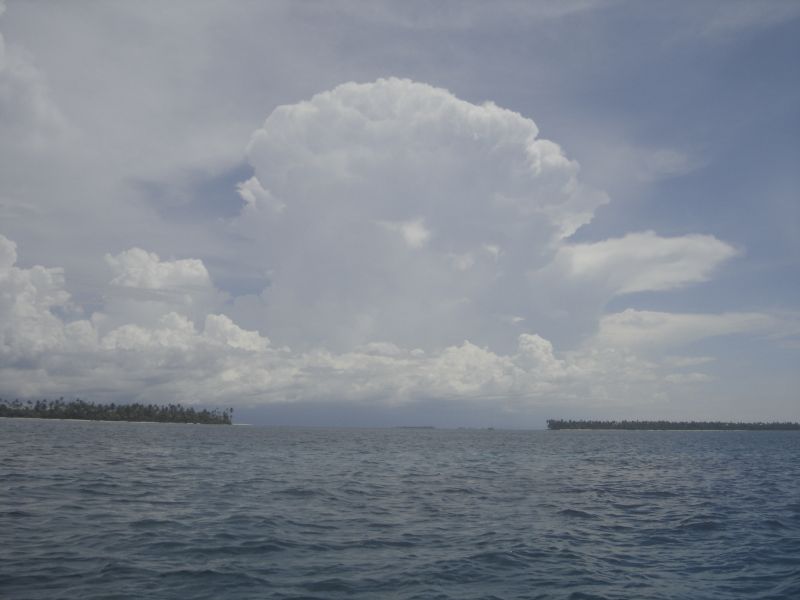 A thunderstorm brewing.

On a calm day in the Holandes cays, the outer fringing reef just visible, we tie the dinghy to a tree that floated countless miles. Close to here are amazing caves to swim through.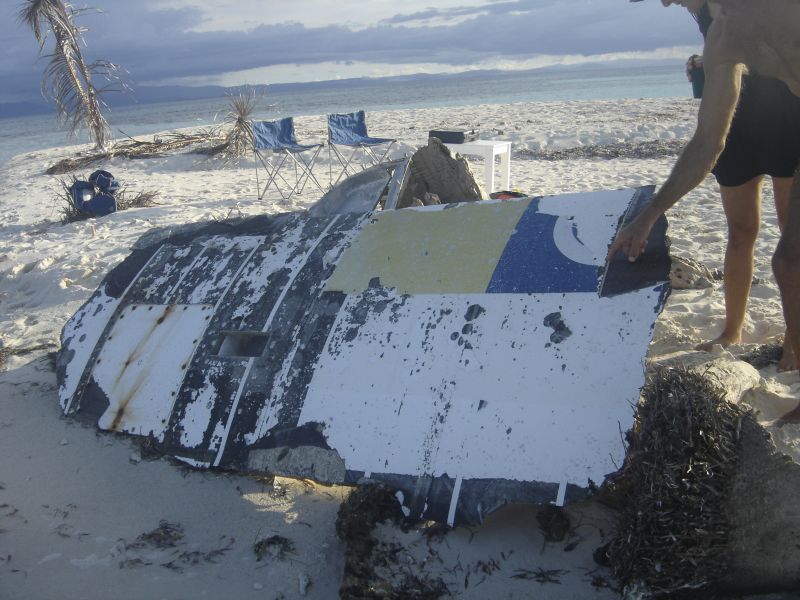 We found this piece of aerospace junk, and debated correctly that it was from a rocket. It turns out it was launched from Kourou on a Soyuz and carried two of the Galileo satellite mission. It was specifically part of the payload fairing.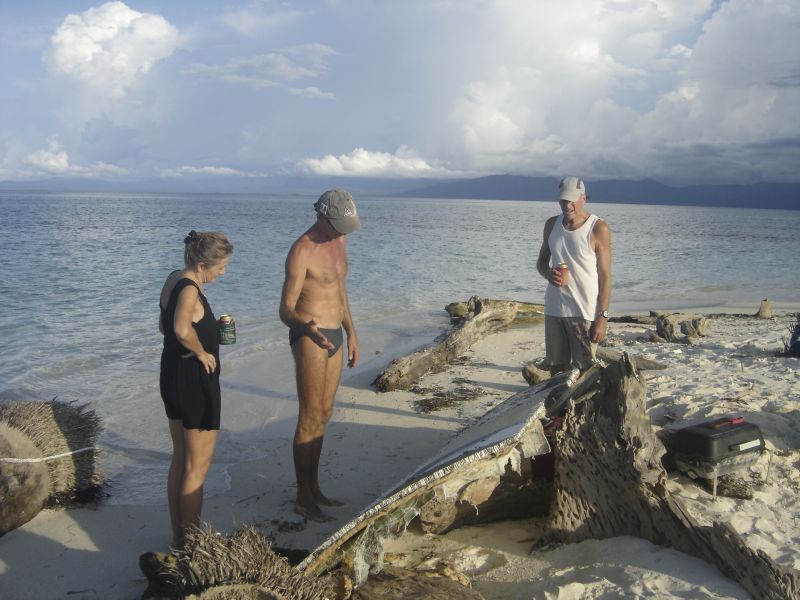 Sasha, self and Roger from Aussie boat Ednbal discussing the junk.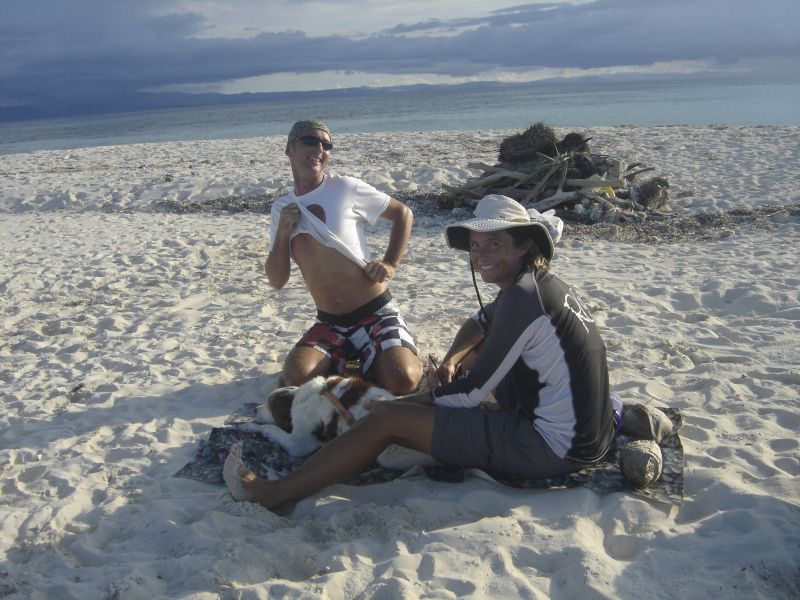 Stephan from Sawadi, always joking, and Gretchen from Infininty with her puppy Loki.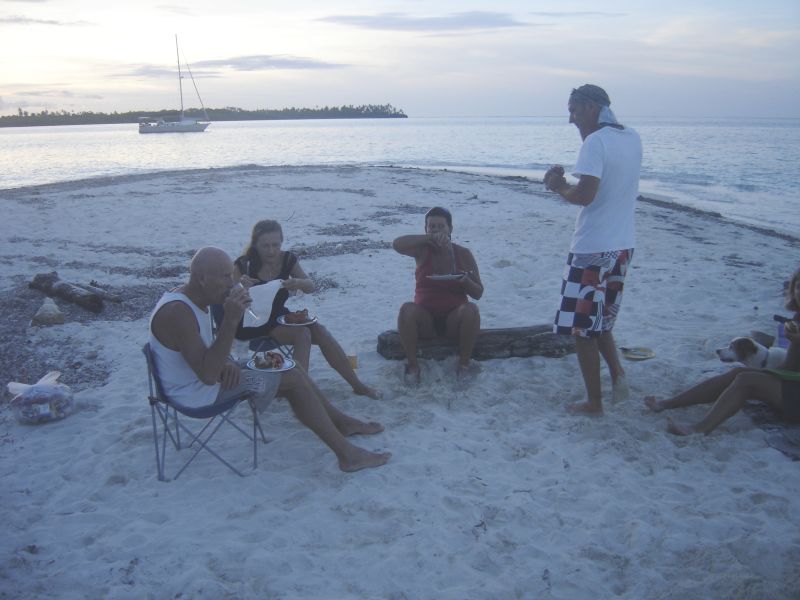 BBQ on Mordup.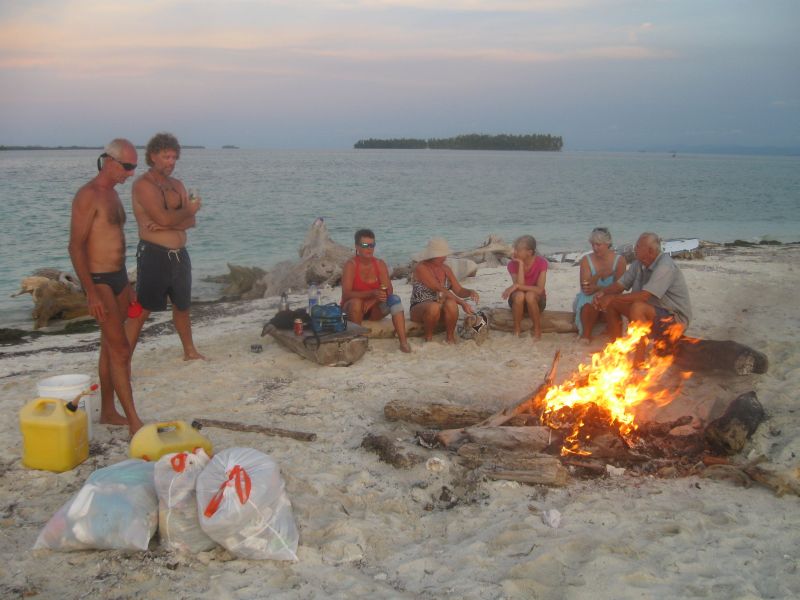 Different day, a garbage burn on Mordup.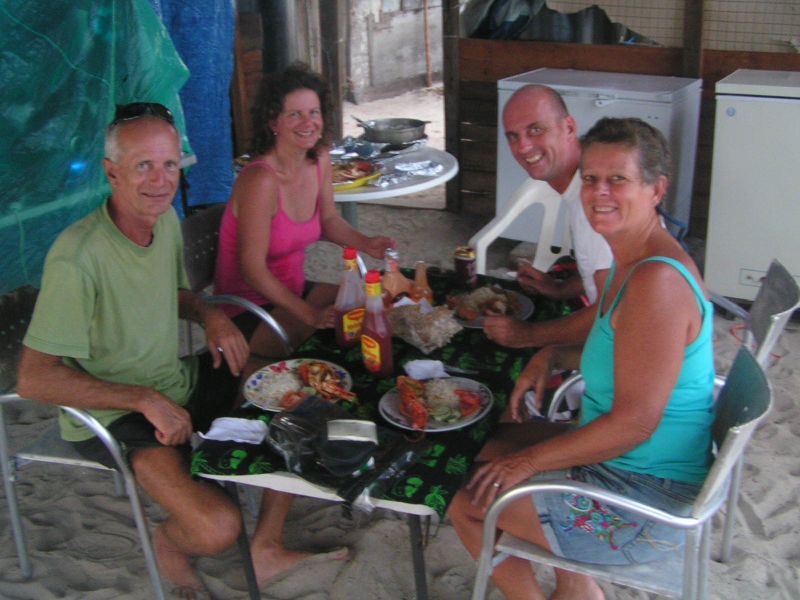 This is a restaurant, Kuna style. One table, and order the food the day before. Self, Rita, Stephan and Laura.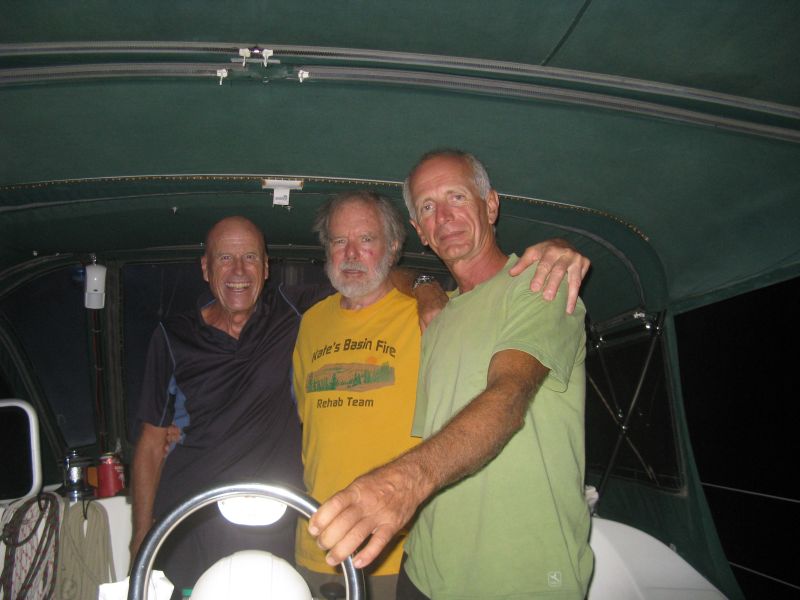 Roger and Eric (A visitor from Washington State) and self.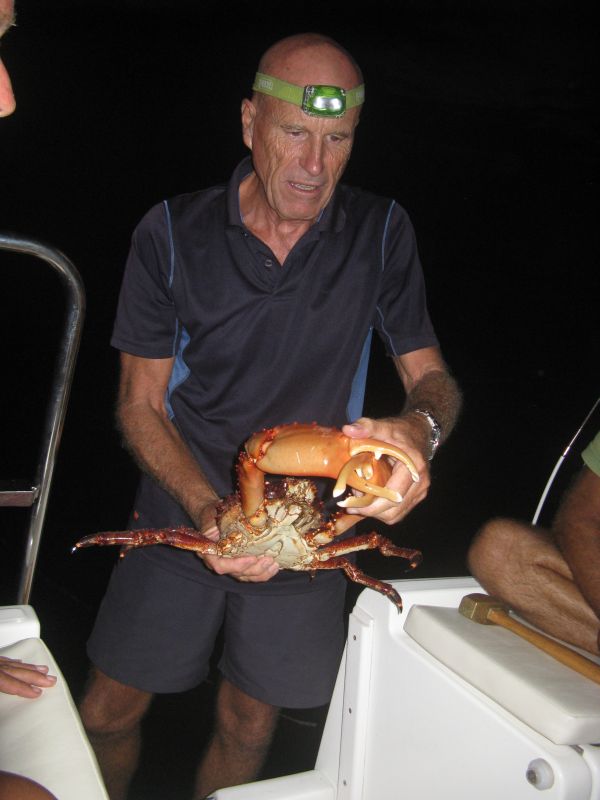 Roger prepares "Suga" crab. Note the hammer.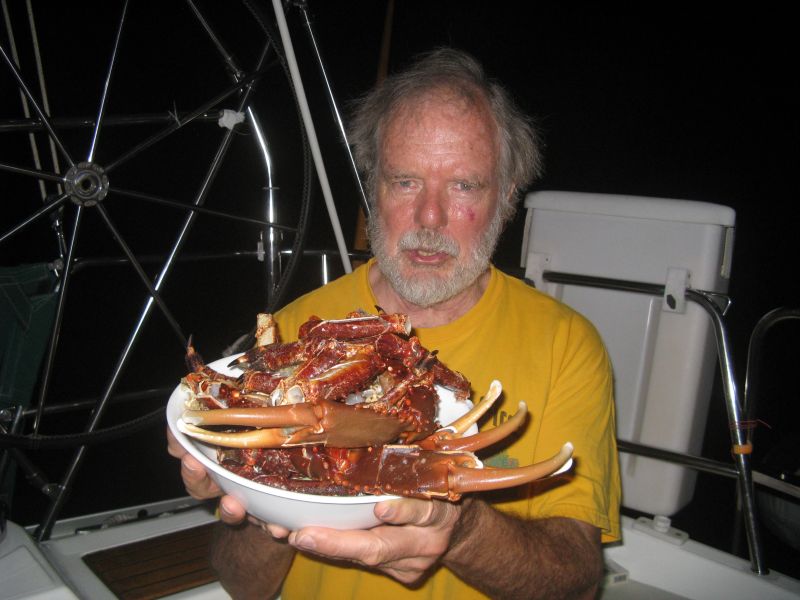 Eric with his portion.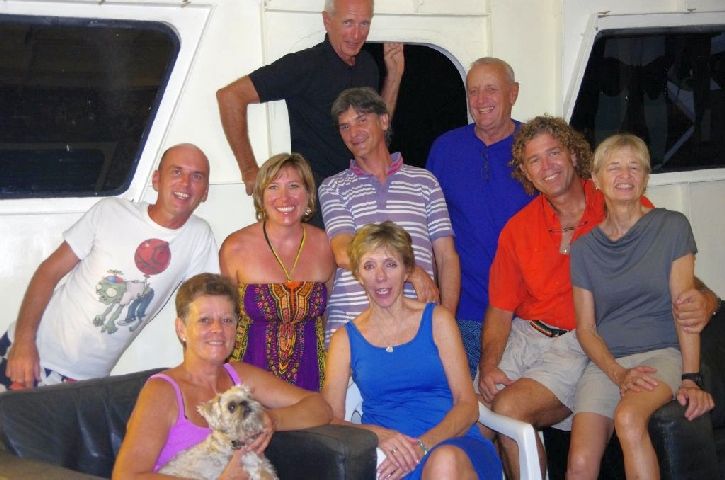 Lorenzo and Joyce are friends from the US, who have a boat called Eileen Farrel, she is a 63' steel fishing boat converted for cruising. There are going to be a lot of photographs onboard Eileen. Here, L-R Stephan, Laura, Duke, Reina, self, Aurelio, Deborah, Lorenzo, Clint and Joyce.
Aurelio studying an Ulu, probably thinking about buying some to rent out in Mallorca.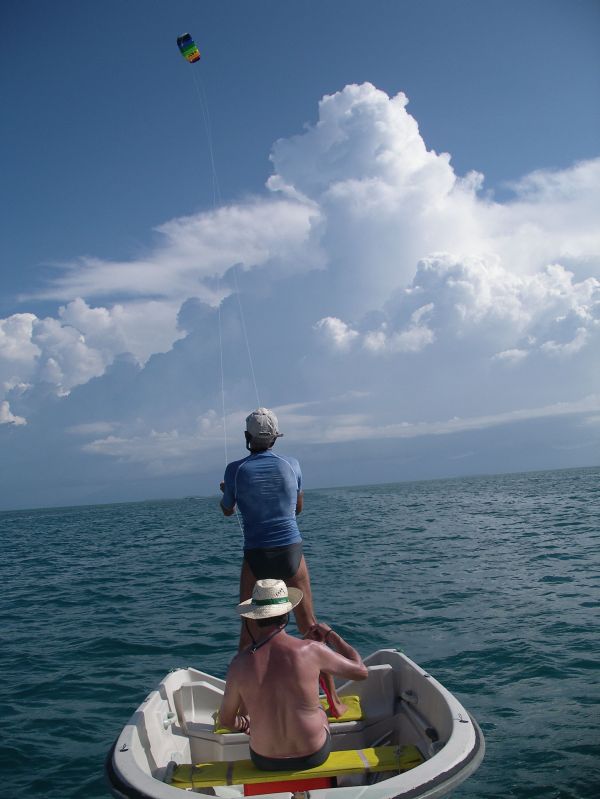 Aurelio and I learning to fly a kite. I was dying to try kiteboarding and this trainer kite is the first step of a long journey.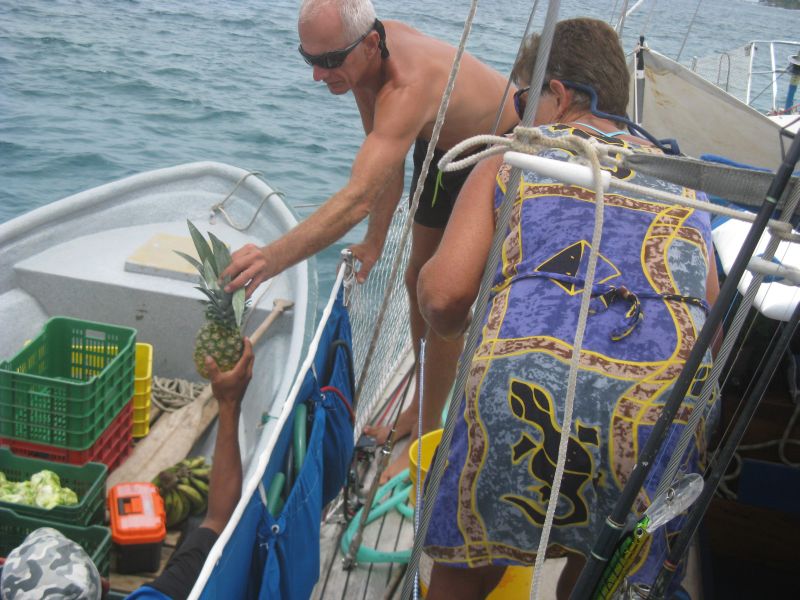 Fruit and Vegetable delivery. The quality is superb.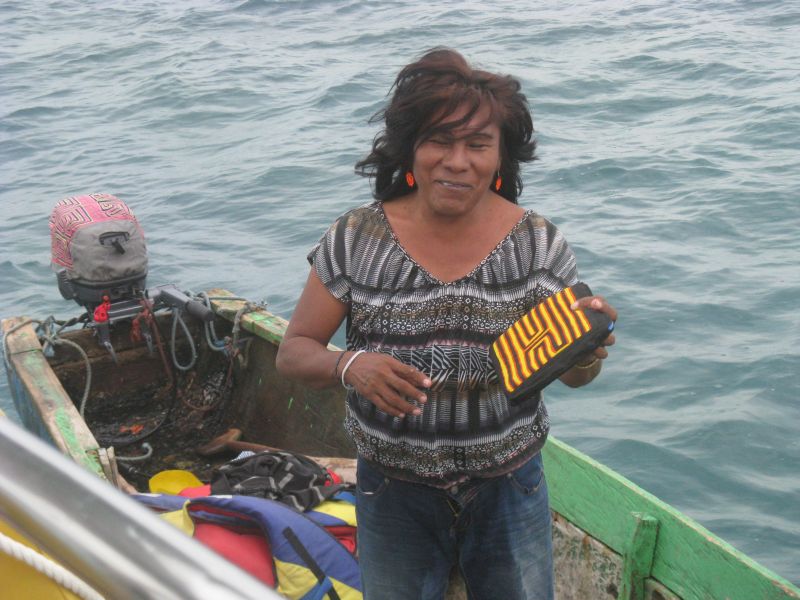 Lisa is a Mola Maker, there are photos of her in our 2007 section, when we were last here. In the past, Molas used to be mere works of art. Now there are iPad covers, Laptop covers, Cell phone baggies...aaaah change.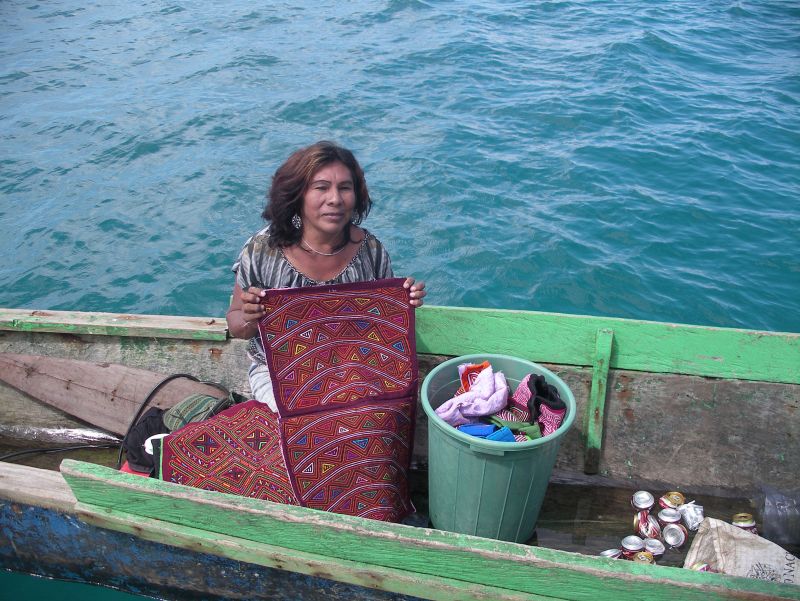 Lisa with more traditional Molas. No, she does not drink a lot, she collects Aluminium cans for recycling.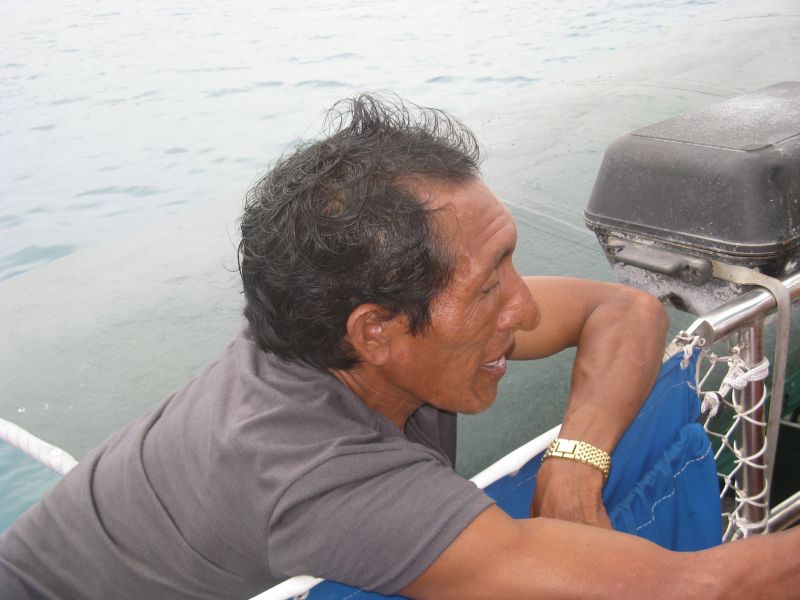 Venacio, another Mola Maker of renown.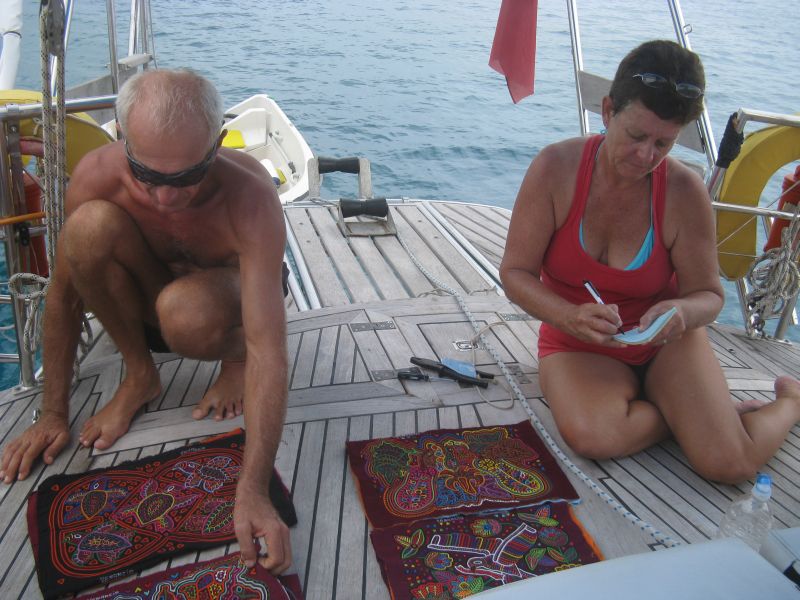 Laura and I helping Aurelio choose Molas.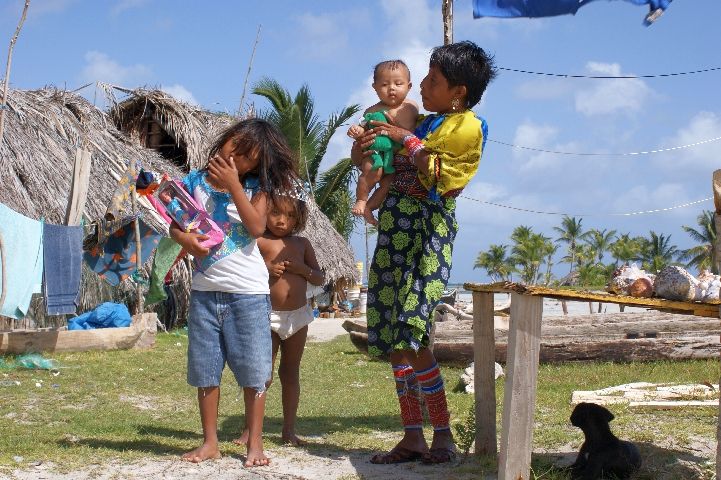 Clint and Reina's Daughter Courtney bought presents for the Kuna kids.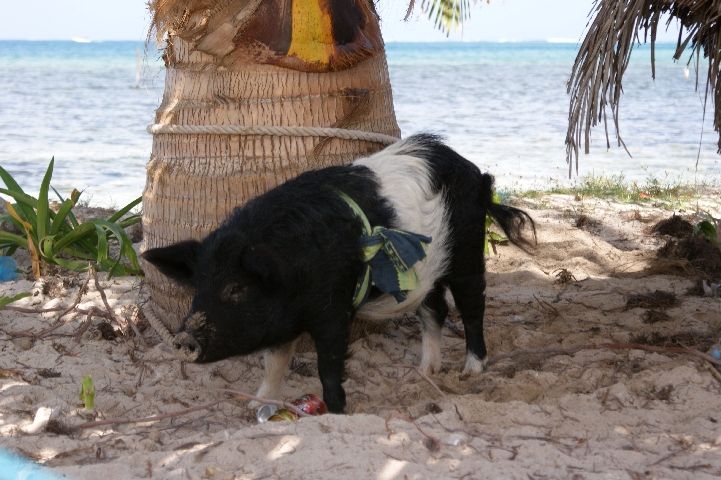 Rutillo's pig. We helped move him from one island to another, in Clint's dinghy.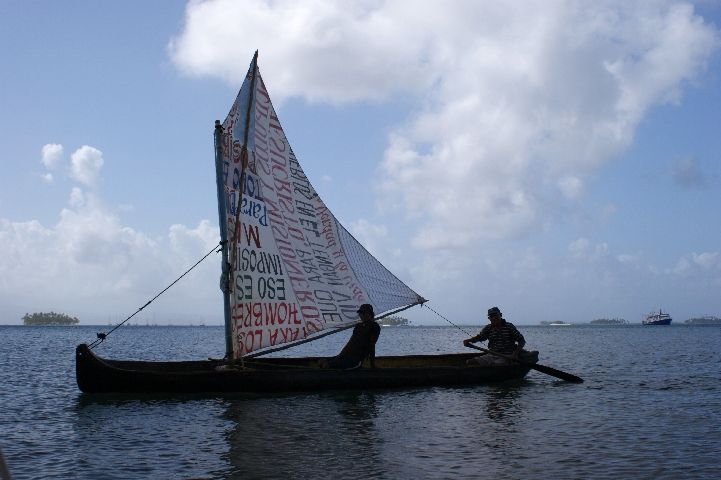 Ulu sailing by, with Eileen Farell in the background.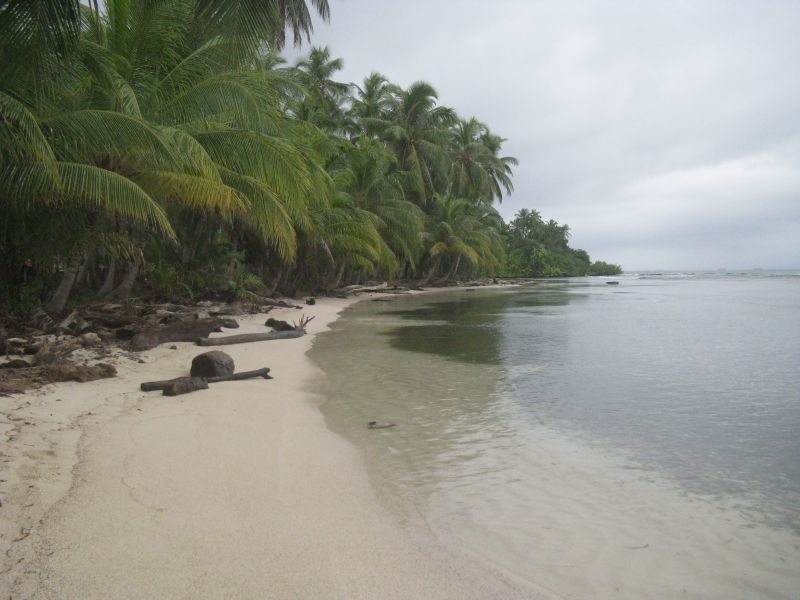 A Beach, one of hundreds.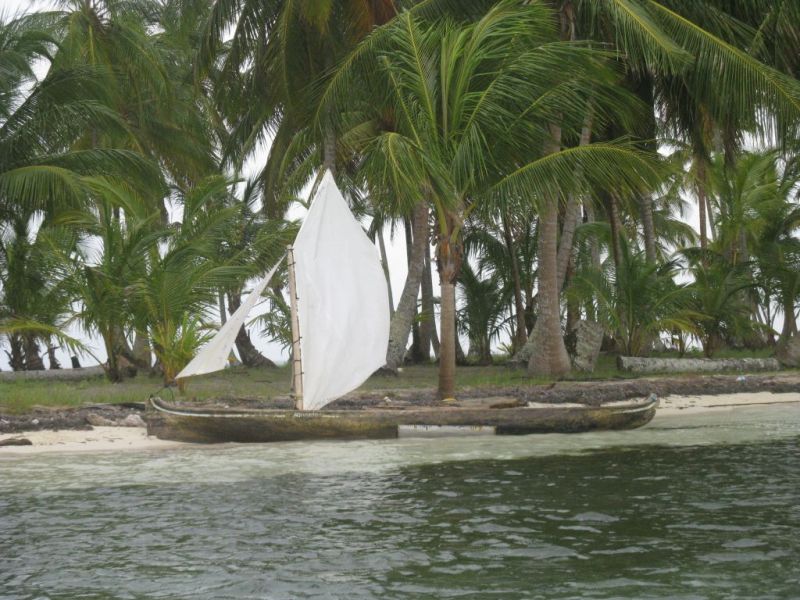 Ulu parking only.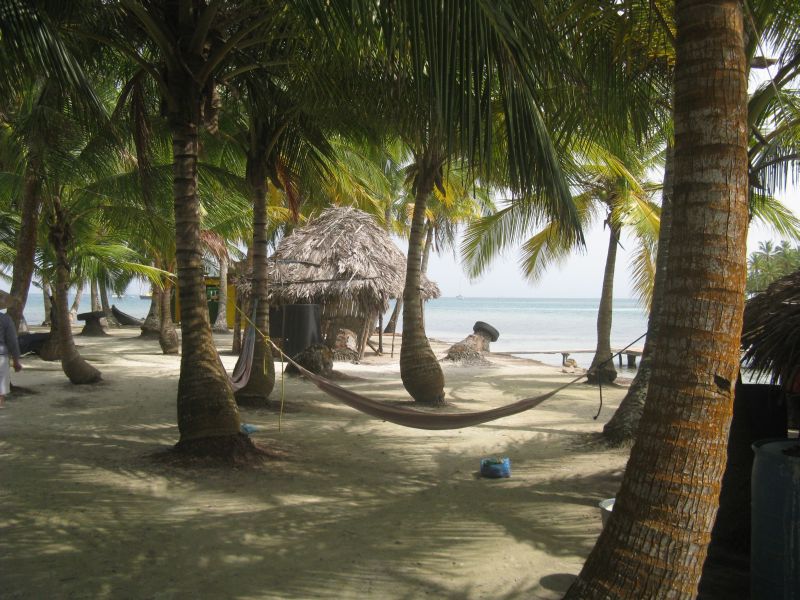 Banedup, the most touristy island in the East Lemmons Group.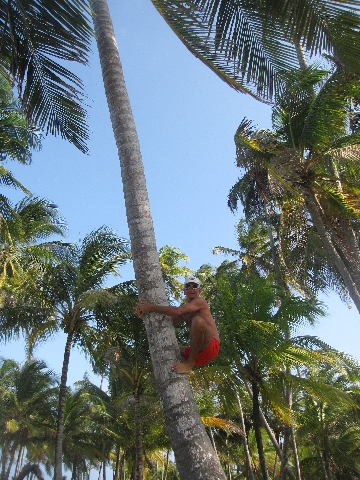 Up a tree without a monkey.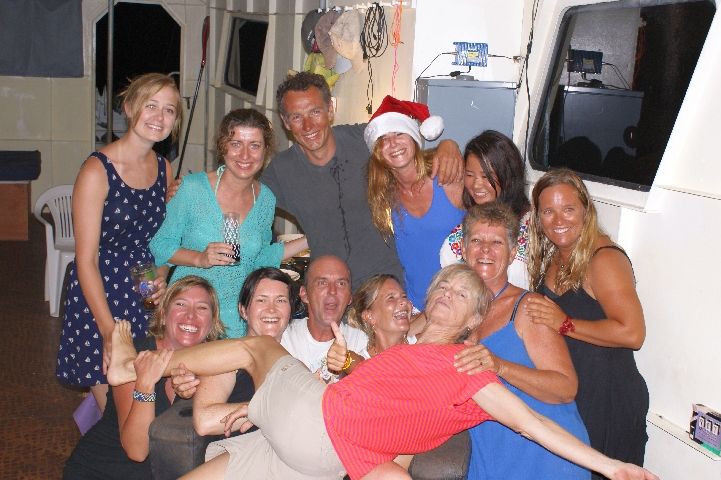 Another party, this time Xmas Eve. Back L-R Courtney, Annamaria, Oliver, Francesca, Mei, April, front, Reina, Maria, Stephan, ?, Joyce, Laura.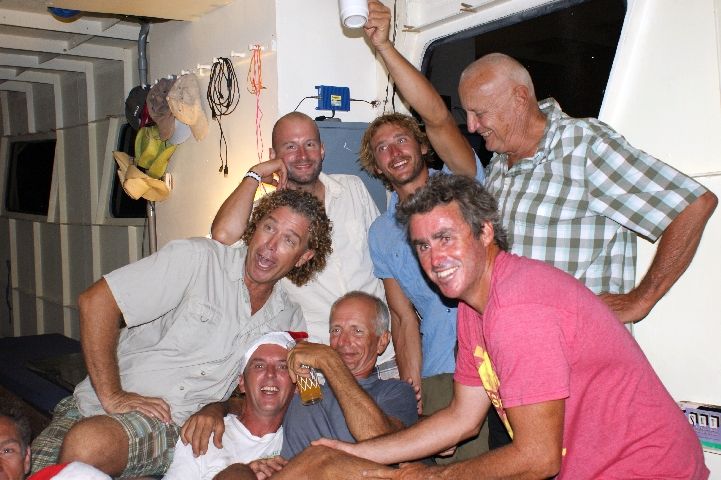 The boys.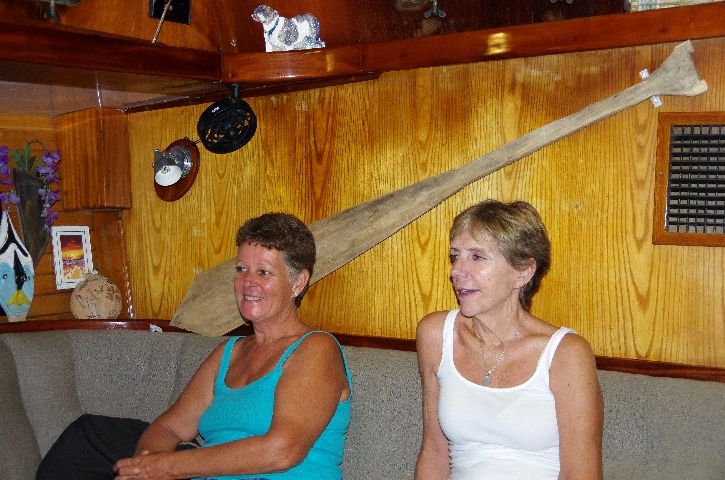 Laura and Debs, on board Karma.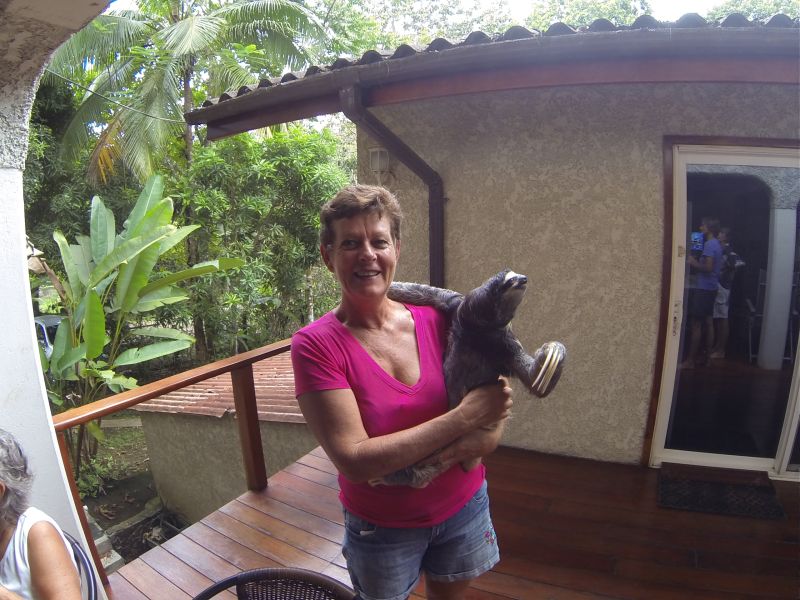 Laura and 3 toe Sloth at Binnies house in Puerto Lindo.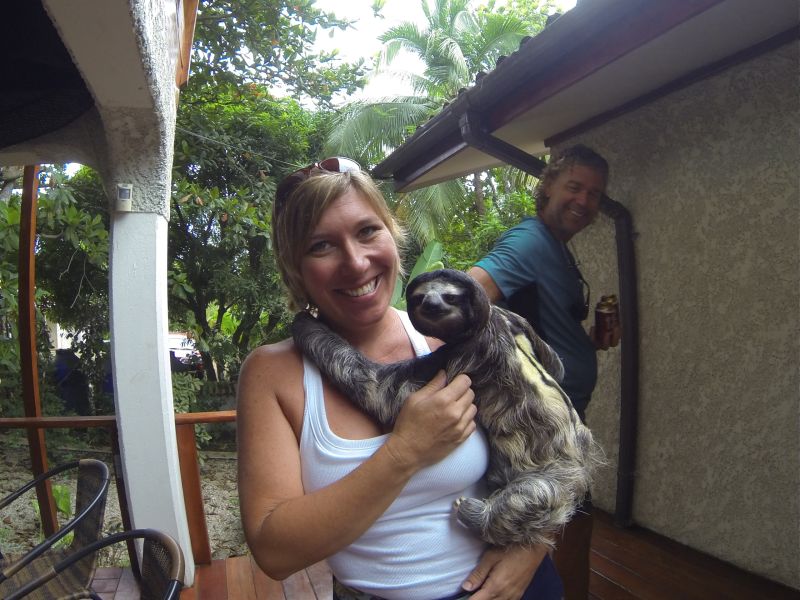 Reina and Clint.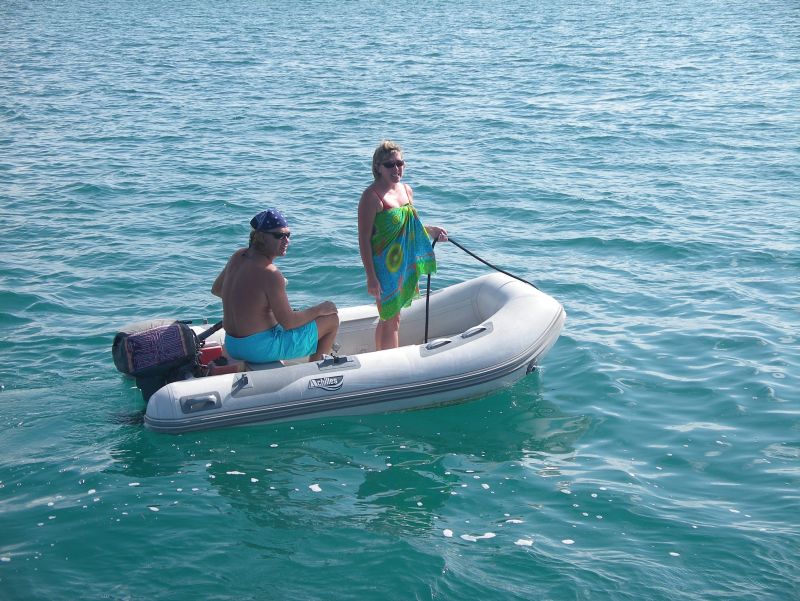 Reina and Clint.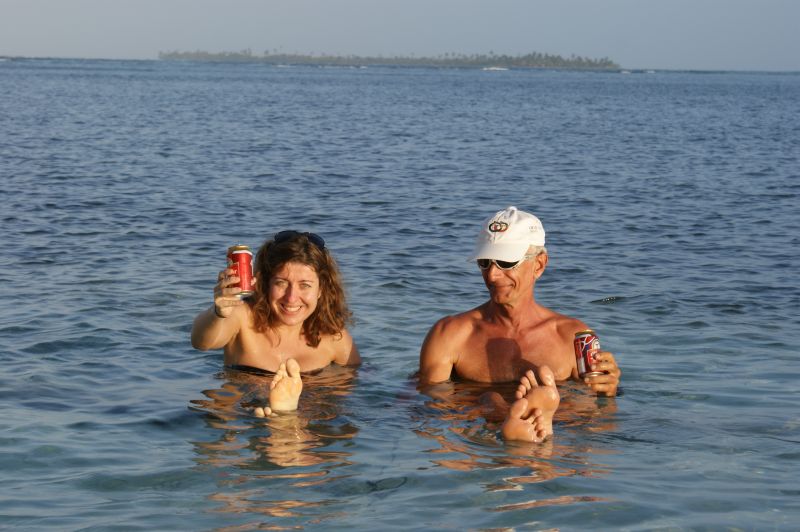 Annamaria and I balancing on a sunken log.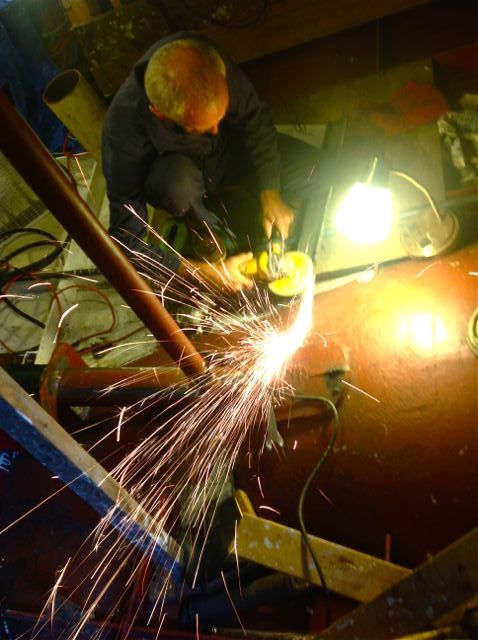 Doing a welding job on another boat.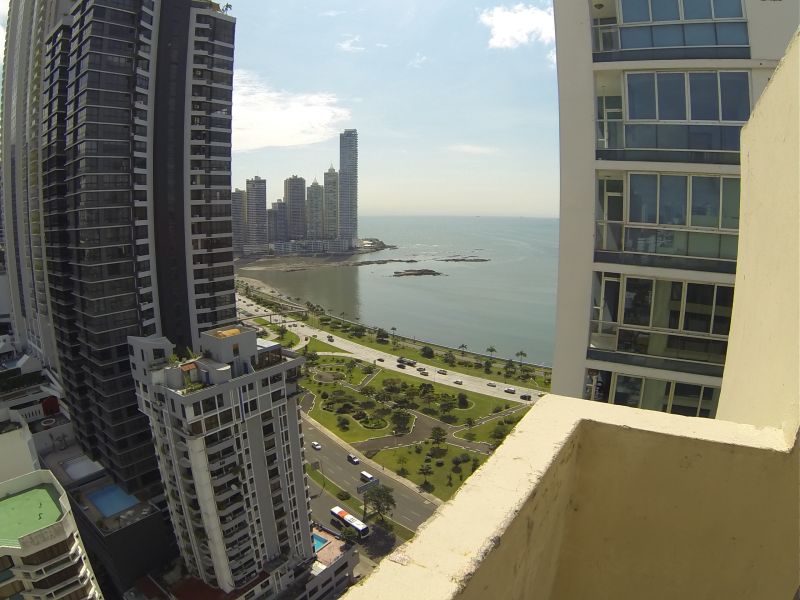 Panama City from the roof of Debbies apartment. This is the Pacific Ocean.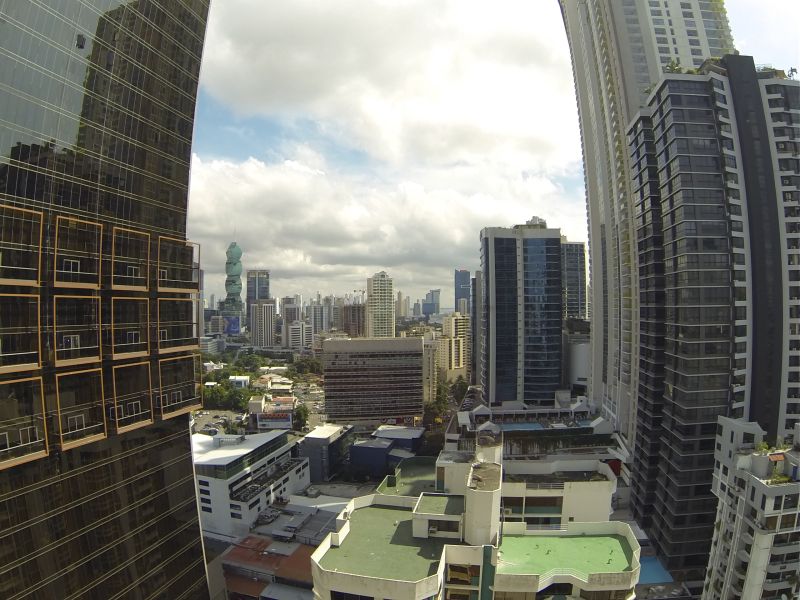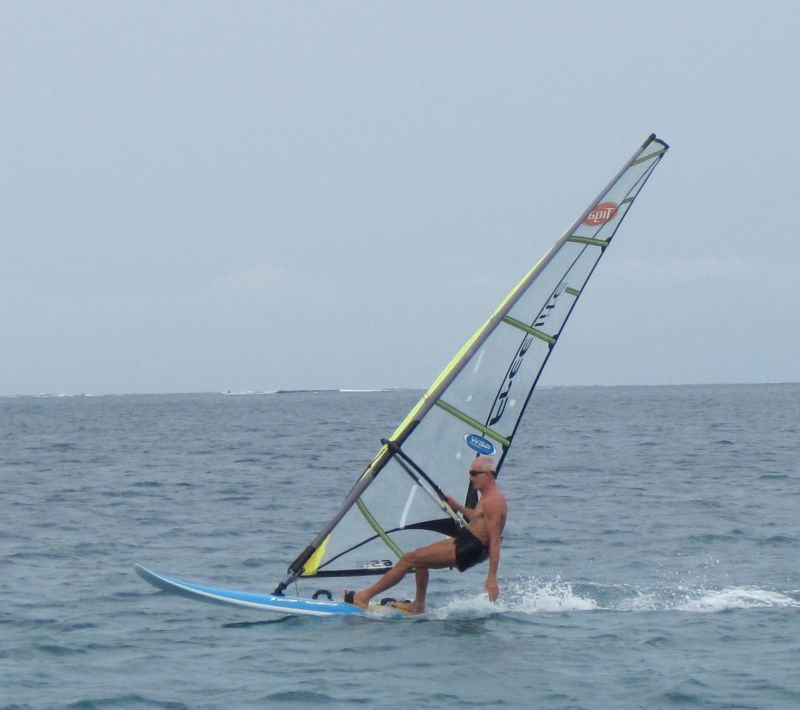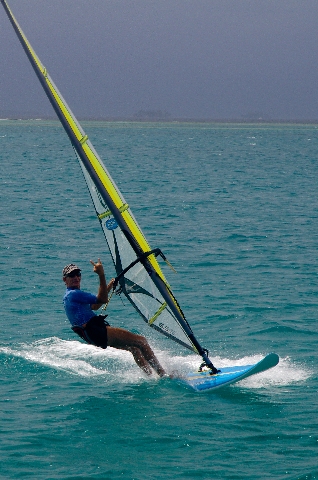 Really enjoying the watersports.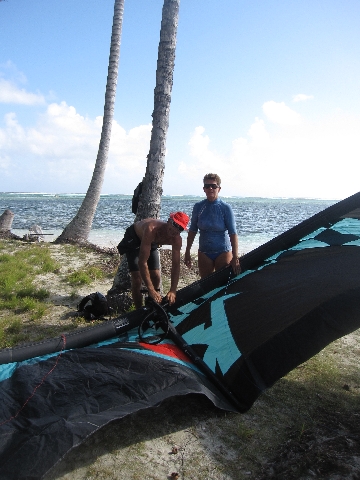 Then Oliver came to visit Stephan. They are both Kiteboarding fanatics. I had always wanted to learn this sport, so Oliver sold us a used kite for a very good price (Danke Ollie!) Here we pump it up for the first time.

Fast forward several dunkings, a few accidents, lots of cursing, and I slowly started getting it. I lost 2 pairs of sunglasses and caps, so made a cap with a strap. Lyk soos 'n doos!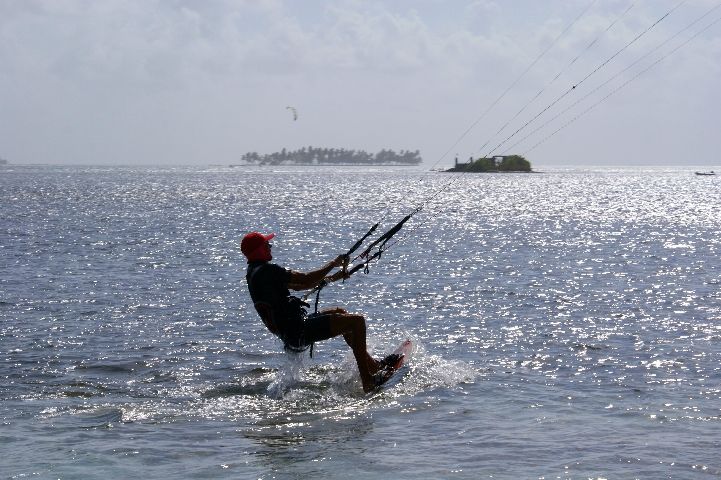 Slowly started getting it right, note, the wetsuit is not for the temperature, it was for flotation, as, at this stage I was spending a lot of time off the board.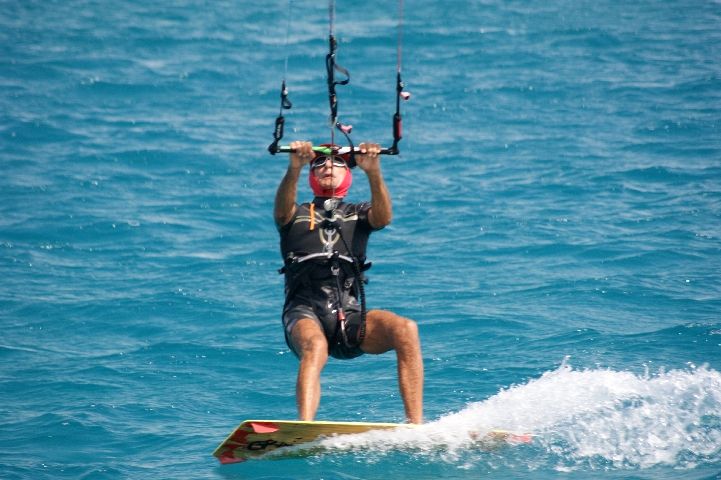 Bad form, bad posture, worrying about the kite position, and setting up for a turn.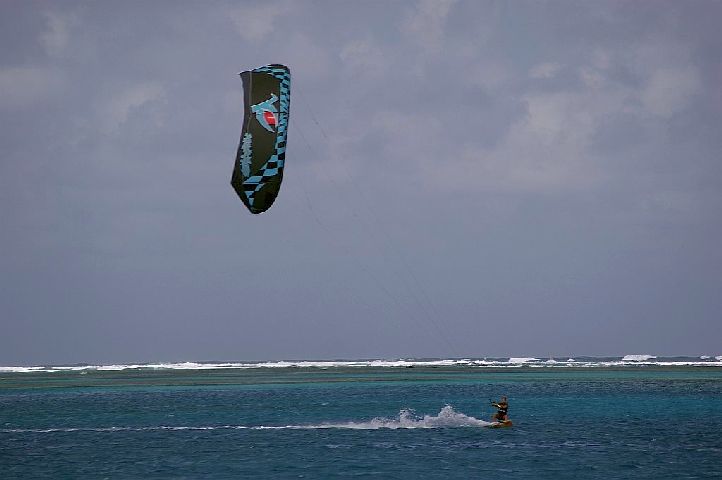 A few sessions later, and things are getting better.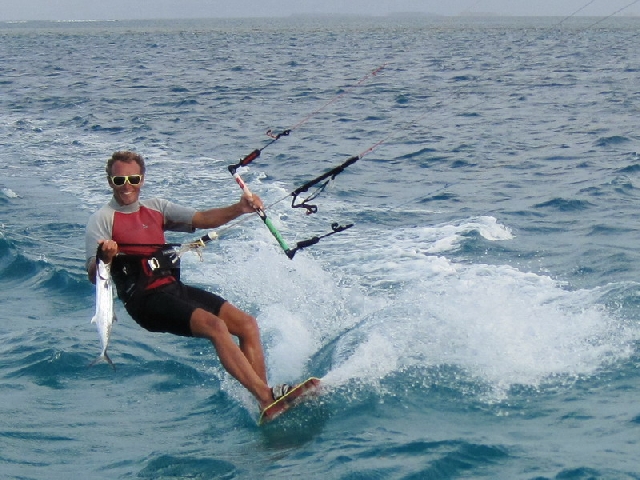 Oliver, meanwhile, is so good at Kiting that he goes fishing. He is a past world champion paraglider, so its not surprising he never looks at the kite, he just knows where it is, and he can concentrate on other things like fishing. (Picture taken in 2012)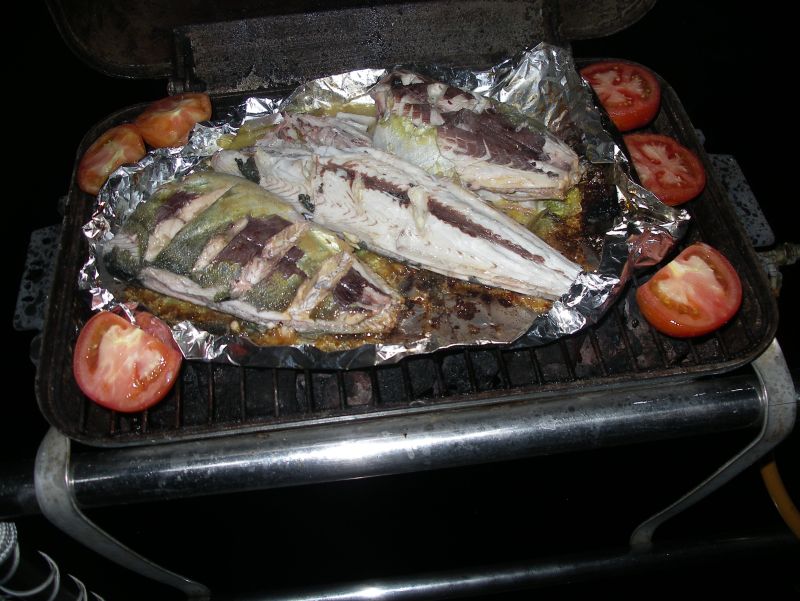 And the fishing is really good...See you next year!