Liz's Journal - Salvador to Recife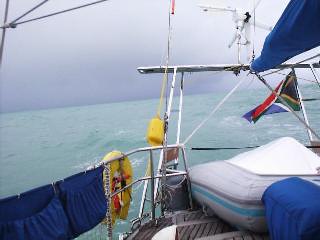 Page 3

We docked at Bahia Marina.

After a fifteen day crossing mom didn't feel like cooking, so without being able to speak Portuguese we went to a restaurant.

We did'nt realise that in Brasil a meal is ordered for two persons unless you specify. We ordered four meals, and they served enough food for eight! Needless to say they were puzzled at our appetites, but we could not possibly have finished all the food.

The water in Brazil is not very clean and not many people drink it. Therefore cooldrink is very cheap and we came to love a certain drink called Guarana. It is made out of berries that grow in the Amazon. Before we left Salvador we bought some Guarana seeds, which are probably the most natural stimulant and one seed the size of a dime will keep you awake all night, perfect for watches.

We left Salvador heading for Recife slightly north of Salvador. Out trip there was one of our worst, going slowly against the current and getting tossed around like a toy boat in a bath tub. When we were aproaching Recife a huge squall, black against the emerald green water engulfed us. Soon it was so dark we couldn't even see the nose of the boat. Mom turned the chart plotter scale up until you could see every detail of the channel, while mom was reading depths, and using the radar, dad used the "plus one" "minus one" buttons on the autopilot "Fred". Each plus one turned us one degree to the right and every minus one, one degree to the left. Steering the boat this way we made our way into Recife harbour.