Liz's Journal - Second visit to Trinidad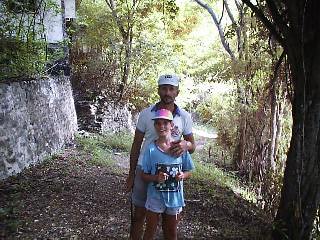 Page 9

I can't tell you everything about Trinidad only that, you must go to Chacachacare eight miles away. Chacachacare was a Leper Colony until the mid 1970's. Now only the ruins of the houses, hospital and church are left. The hospital was one of my favourite ruins.
When the cure for Leprosy was discovered everyone just left their personal stuff, medicine and hospital records.
Climbing up the rotten staircase and entering the hospital, the overpowering smell of sulfur reaches your nose. What really upsets me is that vandals have smashed windows, burned hospital files and even chopped up the pews in the church for firewood.
Each time I went in there I tried to clean up and to straighten stuff. And when I return it's in a mess again. When I last went there about two years ago it looked like the place couldn't stand it another month, so two years later, I don't know what it's like.

Scotland Bay, only two miles away doesn't have many ruins but must be visited all the same. When evening comes and you are sitting in the cockpit of your boat, with a drink in your hand watching the sun go down, you hear an eerie spooky sound as Howler Monkeys call, an unearthly sound like wind rushing through a tunnel. This is one sound I cannot describe to you in words.

It's a three-day annual festival of colour, sound and creativity, taking place down town Port of Spain. Carnival was truly one of the most important reasons to go to Trinidad.
Flashes of colour, feathers, glitter and paint. Sounds, people and shwooshes of clothes. These are only a few elements of carnival. We went to "Kiddies' Carnival", Indians, Queens, Kings, Sailors, court jesters. You name it they have got it. While marching in the streets, wave after wave of different themes come alive. Running between the people you can pick up different arrays of costumes, personally I have a great collection stored under my bunk shhhhh!!


We left Trinidad on the 8 August 2000 at 9.30 am, Island Fling and Southern Terrier at our side, heading for clear water, white beaches, jungle and snorkeling. By that afternoon we were sailing through Venezuelan waters.