Liz's Journal - Florida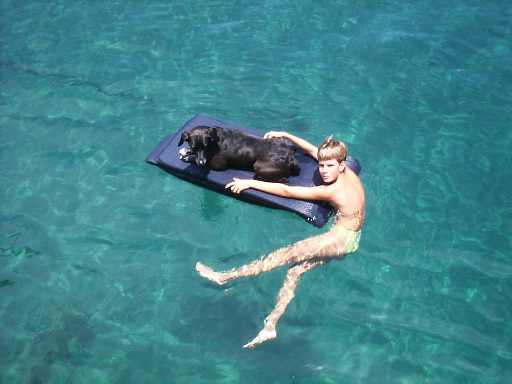 Page 21

Land Ahoy came at about two on 30 March 2001. A line growing steadily longer a line of mist fog and little specks of sunshine, we were finally in America.
We were planning on touring around America in an RV but when we arrived at Singer Island, West palm Beach, Florida, we had made so many friends, that we stayed anchored in one spot for a whole year. I fortunately got to have a bit of a look around Florida, as Granny Billy and Auntie Carol came to visit and took me to Disney world for three days. I also went to Tampa with Darlene and Kim, then down to Miami with my best friend, Lee-Ann, on her boat.

We stayed near the Blue Heron Bridge which some of you pass every day. You might have even seen my boat anchored there.

Every second day I went up to a little super market on Singer Island called the 'Greater Gater', near the Ocean Mall. It is small, but has the daily necessaries.
Singer Island Avenue has a tunnel of tall trees with benches and lovely cut grass to sit on, although I prefer climbing the trees. The water here is green and murky on the out going tide, but when the water rises as the tide comes in the water is crystal clear and you can see the fish dodging in and out of the rusty chairs that Jim fishes out whenever he has guests. Max, the cat got thrown out of his home when his ex-owners children got a Ferret. Now Jim is looking after Max. Jack and Max are best buddies.

I spent three days in Disney world at three different parks. Magic Kingdom, MGM Studios and Epcot.
The Disney Castle that you see at the beginning of any Disney movie is situated right at the entrance of the Magic Kingdom theme park. In the courtyard of this blue and white castle is a statue of Walt Disney holding hands with Mickey, one of his first cartoons. My highlight at Magic Kingdom was this one attraction where you sit in a circle around a big glass tube and by accident an alien monster gets teleported into the glass tube, the lights go out and when they come back on the tube is smashed and the alien walks free among the viewers. You can feel air down your back as the alien tickles you neck with its slippery tongue.

My highlight at the MGM Studios was "The Tower of Terror", you were dropped free fall 21 stories before amazingly recovering before your doom.

At Epcot my favorite attraction was the "Honey I Shrunk the Audience" exhibit. You are miraculously shrunk while being terrified by a huge snake the size of a house, while rats the size of sumo wrestlers scurry under your chairs, definitely a leg lifter.

If you are going to Florida, one of the places of interest you must visit is Lion Country Safari, located just south of Belle Glade. Lion Country Safari is miles from anywhere and is just the place you want to go to get away from all the noise of the city. The park has over 500 acres of wild fun for the whole family and you can even bring your pets if you are going camping. The campsite is in a small clearing in the forest, so you are sleeping right with the animals. The Safari Drive through is over 4 miles long and you can drive with the animals as they wonder freely around you car. You will see more than 1200 wild animals from around the world including Llamas, Monkeys, Elephants and Lions.

Starting your trip you should see some chimpanzees playing on an island. Pelicans and Marabu storks are also here. Under the trees a few hundred yards away Llamas sleep in the shade. While Emus walk around staring at the new intruders. Separated by a few rolling poles the hoofed animals live, including Springbuck, Gemsbok, Kudu and many more.

Separating the prey from the predators are yet more poles and automatic steel gates, this is where the lions are. Walking freely around your car you get a good idea at how big and strong these animals are. An empty oil drum has been placed in their enclosure, it is frightening how these creatures can tear apart the drum with the greatest of ease.

After the lions, yet another section of buck greets you, yet this time there is a sign saying "Please Keep Windows Closed" why? .. not more lions. No not lions but ostriches. For those of you who don't know, ostriches are incredibly curious and immediately come to see who you are. Along with the ostriches are elephants, which are in an enclosure surrounded by water, wildebeest, and Zebra.

The next gate has a big warning sign saying, "Do not stop too close to Animals' and 'Rhinos have the right of way'. You have no idea how huge these animals are until you are right up close. My first viewing of the rhinos was a mother and her four month old calf, weighing in at nearly a ton, incredible. The mother decided to cross the road right where we were and we had to floor on the gas before a one foot horn complete with rhino stuck through the back car door. The road was the ordinary one lane width yet the mother rhino only had to take one step to cross it. Accompanying the rhinos are zebra, much smaller than the common horse and only slightly bigger than a Shetland pony.

At the next gate you don't need a sign for you have been seeing the necks of these animals since the elephants, yes you guessed it, the Giraffes. These animals can see you from eighteen feet above, with their long necks they can see what's coming before any of the other animals. That is maybe why you always find other game grazing near Giraffes, because you get a head start on what's coming. One of the bigger Giraffes came over to the car, I put my finger on the window and the Giraffe thinking it was a fly tried to get it off. It was the weirdest sight, these lips and tongue squished against the window.

We came to the end of the drive, where the lady in charge told us not to open our windows in the Giraffe enclosure because they will bite off our ears. Needless to say it was the most ridiculous thing I had heard in my life and had to hastily turn my laughter in to a hacking cough. At the end of the Safari Trail there was a whole new section called the petting zoo, and that is what we did next.

The petting zoo is one of the main attractions in the interactive safari route. I didn't think much of the petting zoo, which only held a few goats. Perhaps I'd been spoiled living in Africa. But next to the petting zoo was an enclosure, which held a few Llamas that you could feed at your own risk. Along with the Llamas we also saw some Iguanas, parrots, crested cranes, Marabu storks, and of course the Florida Alligator.

Out of the petting zoo but still in the same section was the Dinosaur Park leading on to the Loerie Feeding Exhibit. These birds are in a huge tent and when you walk in they crowd you looking for food. They are particularly fond of honey and shiny things such as jewelry. One lady came in wearing loads of jewelry and all the birds just swarmed around her.

Along with your entrance fee you can play miniature golf and ride the Carousel as many times as you want for free. On the waterside, there are docks were you can have a ferryboat ride or use the paddleboats.

The lake in the middle of the park not only enables you to have boat rides, but you can also get right up close to these monkeys which live on the islands in the lake. One island will be designated to the Spider Monkeys and the other for the Seaman's.

If you follow the nature trail you will see Squirrel Monkeys, and an assortment of birds including Flamingoes, Spoonbills, Crested Cranes and Scarlet Ibis.

These will be the last things you see for the nature trail leads you right into the car park, where your car is waiting for you ready to go home. But you must admit you had a wonderful time at Lion Country Safari.

I also went to Tampa, during the Strawberry Festival with Darlene and Kim, it was loads of fun playing games and going on the rides. I won a scooter and two stuffed animals. The elephant ears were delicious pastries filled with strawberries and syrup. Outside the fair ground there are kiosks after kiosks of people selling huge trays of strawberries. We bought some, and even now a month after our trip to Tampa the car still smells like strawberries.

My highlights in America were my jobs. My first and favorite was my work at the Alzheimer's Community Care Thrift Depot with Cookie, where I volunteered every Saturday to help around the shop, tidying books, folding and sorting clothes but my favorite, my ultimate favorite was when we were having a big sale, we got so many donations we could hardly get into the back room to sort everything out.

My other two jobs included working for Barbara at a Cookie Shop and a hairdresser. As payment for working at The Cookie Lady, every Friday I would get bags and bags of cookies that lasted us ages. And as payment for working at the hairdresser I got my ears pierced and highlights in my hair. The weekend was looked forward to as old times when we would have two sailors and two cruisers on our boat and we would go snorkeling, or just relax in the sun. I also baby-sat a Sugar Glider named "Sweetie" whose mom is Chris, a good friend and one of our first in America.

Sweetie is originally from Australia if I am not mistaken and looking after her was not only a learning experience but also loads of fun. Many of the people that I have mentioned in my stories would be reading this along with you and I just want to say thank you for making my stay in America wonderful. We left Florida with new friends, happy memories and two extra crew. Yes Darlene and Kim sailed down with us to George Town, Great Exuma, Bahamas where yet another friend, Beth, came to visit. But that is another story.