Liz's Journal - Bermuda.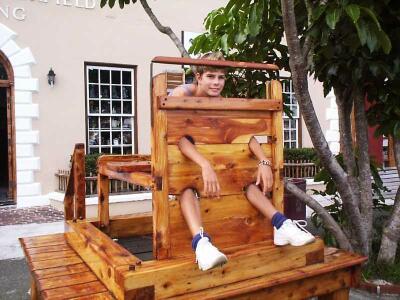 Page 23

Bermuda prebriefing:
The island of Bermuda is made up out of some 200 islands covering a total area of only 21 square miles. The capital of Bermuda is Hamilton, which is one of the world's smallest cities, with an area of about 180 acres. The island lies in the shape of a huge fishing hook. The Royal Naval Dockyard is the tip of the hook, Spanish Point is the barb and St George's with the lake is the eye of the hook, which is where the fishing line is attached.

I don't know if the island catches many fish, but it sure catches about 600,000 tourists each year, mainly from the United States and Canada. The roads here are very narrow and I wonder how huge buses and trucks get around corners that lie at 90-degree angles. Palm, Casuarinas, and Swamp Mangrove are among the common trees. Hibiscus, Oleander, Poinsetia, and many other flowering plants and trees bloom lavishly.

Acres of Easter Lillies are cultivated for export and for making perfumes. These flowers get sent to the Perfumery on the outskirts of Hamilton. The roofs of the houses are built of stone, for they are used to catch rainwater, the chief water supply.

The Bermuda Triangle is in an area of the North Atlantic Ocean bounded by Bermuda, the Greater Antilles, and the southern U.S. coast, in which more than 70 ships and airplanes are said to have disappeared; though no scientific evidence or wreckage has been found to substantiate claims, reports of unexplained occurrences have continued from the 19th century to the present.

We arrived at 09h00 on the 21st May 2002. After spending seven days at sea we were glad to make landfall for the last 36 hours we had seas of 14 to 18 feet and winds gusting 40 knots. We cleared customs, an hour later we were anchored in Convicts Bay, St Georges Harbor. As always our first day at port after a long crossing we clean the boat and do laundry. I was the lucky one who did the laundry, which means I got to go ashore and have a look around while the laundry was busy. The town is set in a very old style, which will be explained since it was founded in the 1600's. The Town Hall and tourist shops are set in a square, and in the middle there are two platforms with stockades. Today, people pose in these old ways of humiliation taking photos to send back to family and friends. Another old way of humiliation is the Re-Enactment, a women who annoyed her husband would be set in a chair at the end of a long pole, and would be dunked constantly in the sea water until the woman would admit to being a nuisance and a nag, apart from getting wet, the whole town would show up for this event and the humiliation would stay inflicted on that women even after her cloths were dry.

One Wednesday 22nd and Thursday 23rd May it was raining and we did little jobs around the boat, I also did some schooling to catch up for the days at sea that were to rough to do anything.

On Friday 24th May, Mom, Junia and I went the Bermudian Carnival in Hamilton. The bus ride was a little nerve racking for the roads are very narrow as I said above in the history section of my journal. In some parts the bus actually skirts the edges of the trees which as I said 'Helps you get a closer look at the plants and animals. The carnival wasn't that great and had no creativity and imagination, there were 36 drummies, 40 Twirlers and 50 traditional costumes which all look the same. The only thing worth seeing was one section that had very colourful costumes and they were from Trinidad!

Granny and I went to the Crystal Caves on Saturday the caves weren't very big and I think on the post cards they use trick photography. We then went to the Perfumery, which I enjoyed because they had a lot of nature trails that I could walk along, I saw quite a few different flowers and birds, which was great. I also found a tree with Surinam Cherries, I picked a few and enjoyed munching them while I walked along the little trails. I then went to see the Glass Blowing, unfortunately the ladies were on their break and I had to be content with just looking at the magnificent works of art. By then end of the day I was very tired from walking and nearly got of the wrong bus, luckily Granny said 'Oh are we going to The Royal Naval Dockyard now ' that brought me to my senses and we quickly got off the bus.

On Sunday Mom, Dad and I went to the Royal Naval Dockyard on the West end of the island. Bermudians are full of tradition, like much of Europe. The shop windows are made in an old fashion style, with the little box windows. The glass is hand twisted and every now and then you will find a panel with a twist and a bump where the glass was pulled off the casting stick. The Royal Naval Dock Yard is much like the Waterfront in South Africa, a collection of little shops and places of interest to tourists. There are many horse and carriages and what better way to tour the island then by horse drawn carriage. We took the ferry to Hamilton, and then took the bus from Hamilton back to St. Georges.

We were planning on leaving Bermuda for the Azores on Tuesday so Monday was spent cleaning the boat and once again doing laundry. This time mom went ashore and did the laundry while I cleaned the boat and dad fixed a leak that had occurred above the ceiling in the galley. The winds were supposed to be out of the southwest, and seas of three to four feet. The weather, obviously did not read what it was supposed to do and we ended up staying for a few more days, which was great for I still had stuff to do in Bermuda.

After finishing school on Tuesday I took a walk with Junia around the Eastern tip of Bermuda over to the north side of the island to have a look at Tobacco Bay. On the way there we had a peak at one of the many forts on the island. We passed a few farms seeing some livestock, probably the only ones on the island. Wanting to do some rock climbing I climbed up a rock face near the farm, near the end of the climb I slipped and just managed to hold on. Dragging myself on top of the ledge, I bent down and dusted the sand off my clothes. When I looked up what a sight I saw, I fully grown bull about five feet away from me. He had a ring pierced through his nose it is amazing how popular body piercing is getting and no rope or chain holding him back. I climbed down the rock face so fast I would have won an Olympic medal. No more rock climbing near farms for me.

Tobacco Bay is a pleasant little beach, protected from waves and current because of the rock islands that surround the bay. Glass beach really lives up to its name, the entire beach is covered in beach glass. Ground down and smoothed by sand, the glass is an excellent material to use for art.

I woke up mid morning on Wednesday expecting to have breakfast and start school, instead mom told me to get dressed, we were going out. I didn't know where we were going so I excitedly got dressed and went ashore. We caught the bus on route to Hamilton, and waited to see which stop we would get off at. "The Bermuda Underwater Exploration Institute", crackled the conductors voice through the loud speaker, this is our stop said my mother and we got off the bus. I was so excited for I had wanted to go to the Institute ever since we arrived in Bermuda. We saw lots of interesting things, including the Lightbourn Shell Collection, which houses many beautiful shells from the shores of the Caribbean to Japanese Coasts, and Artic waters. An exhibit, of a smoke model of a hurricane was amazing. The smoke is blown out of four holes in a circle, this develops into a chain of rapid twists and then into a hurricane. My two favourite interactive exhibits are 'The Dive" and "Shark Cage". A trip under water in a movie that involves the watchers intensely. The chairs move, smoke fills the air and you splash into the water and dive down to thousands of feet. You see animals and plants never seen before, including sharks and some of the most incredible fish. At the end of the movie and you get attacked by a… I shouldn't actually tell you for it spoils the surprise.

I am going to warn you about Shark Cage for I was not warned and got a most awful fright.
You are in a cage and all around you are television screens, with real underwater photos of sharks.
The sharks swim around you, not curious enough to attack. Then from behind you a giant Great White Shark attacks the cage, the floor also gives a jerk at the same moment and you are practically flung off your feet. What happened to me was, I was standing in the cage and nothing happened, then just as I stepped off, one foot still in the air, the floor gave a jerk, yikes!.
We took a walk into town when we were finished and went up to the Hog Penny Bar. There is a tale that the penny was the least valuable coin and therefore had the picture of a hog on it. Other people say that the hogs were the main source of food, and the real extreme say that that breed of hog only has three legs, but I doubt that very much. We then walked around town before catching a bus to an unknown destination.

The Aquarium, Museum and Zoo were where the bus stopped, and I was so surprised for I thought we would never come here. The Aquarium was really small and mom said it would take a lot to beat Cape Towns Aquarium, even though we do not have tropical fish because the water is too cold. I took quite a few pictures, but unfortunately the digital camera malfunctioned and all photos were lost. I saw lots of fish I already knew from sailing, but also some others that I had not spotted on coral reefs that I had dived.

The Zoo, I must say was a lot more interesting, there were strange creatures from Australia and New Zealand, including Wallabies, Kangaroo Rats, Koalas, Kiwis and many more. From Madagascar, Ring Tailed Lemurs, which are very playful and I spent quite a long time looking at them, it turns out that when they are happy they purr like cats, strange. The Caribbean exhibit included, Shrews, Birds, and Golden Gibbons. I am sure there were many more animals hiding in the rain forest like bushes watching me and other passers by. Museum, well it was rather small and didn't turn out to be what I had expected but it was okay. Mom and I, now very tired, headed for home, looking forward to putting our feet up and enjoying a nice cup of tea, what and exciting day we had.

Thursday and Friday were relaxing days, I did my schoolwork, wrote post cards to family and friends and had a go at Sim City 3000.

On Saturday we prepared the boat for sea and dad and I went to clear Customs. Unfortunately Customs was closed and departing was delayed. Reading took priority until we cleared out. Before leaving we filled up with water and topped up the diesel tanks, we were now on our way to the Azores.

Our first day out at sea was relatively calm and every now and then we would get knocked by an out of line swell, but all was well on board. My watch was from 9pm to 12pm, mom was from 12pm to 3am and dad 3am to 9am.

On Sunday our second day of the crossing we caught a Dorado, while dad was cleaning it we got visitors, three Sea Gulls. They circled the boat catching pieces of fish that we threw to them. Of course we also had to give some to Jack who was very upset that his fish was 'Going to the birds' We had fresh fish for dinner and with full stomachs started our nightly routine of watches. Bad weather came that night and we turned back to Bermuda our tail between our legs.

Our sail back was amazing, flat seas, light winds and gliding along at a grand old speed. I was tanning on the deck, peeping over the toe rail at the Indigo Blue waters lapping Gilana's hull. All of a sudden Jack seemed very interested in the water and started whining, I got up and had a look at what he was moaning at. A tuna, swimming about six feet below the water was gliding along in Gilana's bow wave. I called my mom and dad to tell them that there was a tuna swimming with the boat. They didn't believe me at first but came to the front of the boat anyway.
The Tuna were there, I say Tuna plural because another one joined the first and we now had two tuna swimming in Gilana's bow wave. After about half an hour the Tuna suddenly dashed off into the wild blue yonder. Later that evening a single bird was gliding in and out of the waves, wings never touching the water.

We arrived in Bermuda at 4am Tuesday morning. The sun rose at 6 that morning, but I didn't care I was going to sleep until at least 9am. The routine as always after a crossing was clean up day. For a change Mom did the laundry and I cleaned the boat, after that sat down and relaxed.