Liz's Journal - Mallorca 2005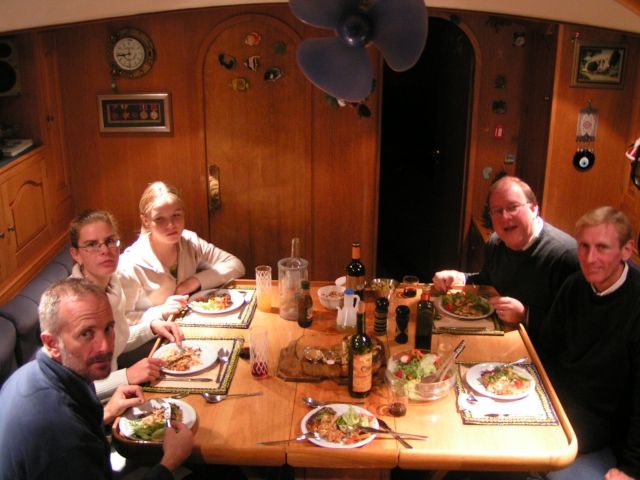 Page 42
New Year:
The 31st of December in Puerto Andratx was quiet, but then again who wants to start the New Year with a splitting headache. A few fireworks and flares were set off from the dock and you had to watch your feet as kids threw 'Bangers' at the ankles of passers by. My New Years resolution was to make no New Years resolution, which was a catch twenty-two, as I was breaking a New Years resolution, by making a New Years resolution to not make a New Years resolution.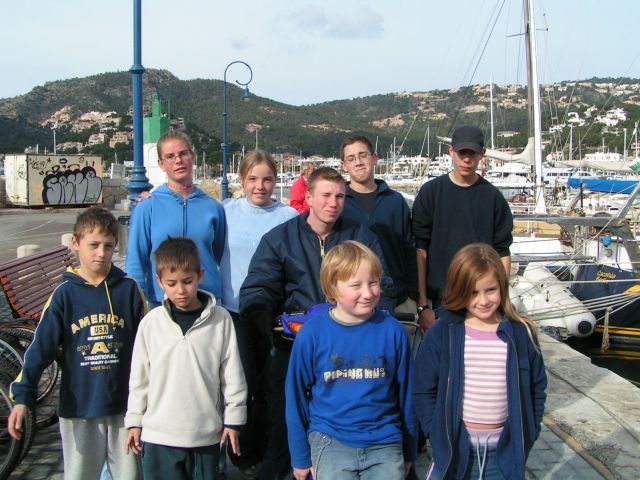 Sweet Sixteen:
I decided to take dad's advice and not plan anything for my birthday, quite a feat, as everything is normally organised. As luck would have it, my birthday was on a beautiful sunny Sunday surrounded by friends and family. The extremities of the ages of my friends were defined by the two Marks, one six the other nineteen. The problem of what to do was quickly solved by soccer. So that is how I spent my sixteenth birthday, up at the sports centre with my friends. Later that day more kids came to hang out with us and I am pleased to say that new friends were made and old friendships strengthened, what a perfect present, who could ask for more.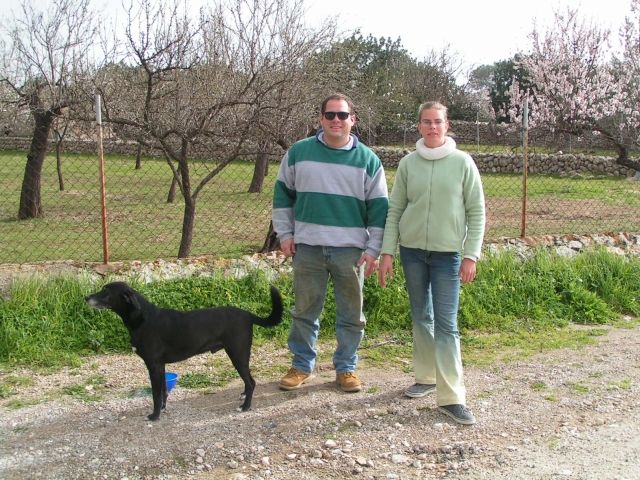 Andy's visit:
Andy, who we met in Florida in 2001 came to visit us from the Sunshine state and was welcomed by beautiful weather, the temperature soon dropped dramatically and it began snowing in the mountains as well as on deck. We decided to take a scenic mountain drive to see the sights and for me to see snow for the second time. As we were driving up the twisted road to Inca it started to snow, even though I had seen snow once before I had never actually seen it snowing. My happiness was so extensive that dad had to pull over so that I could run around in a nearby field with my mouth open catching the tiny flakes as they drifted into the wide void that is my mouth.
Anniversaries:
This is just a tiny note to tell you that my parents celebrated their twentieth wedding anniversary on the 9th February. They have been celebrating this date for the last nineteen years so I don't know what the big deal is. My parents spent their twentieth anniversary sanding, stripping and varnishing my cabin (Aww, romantic).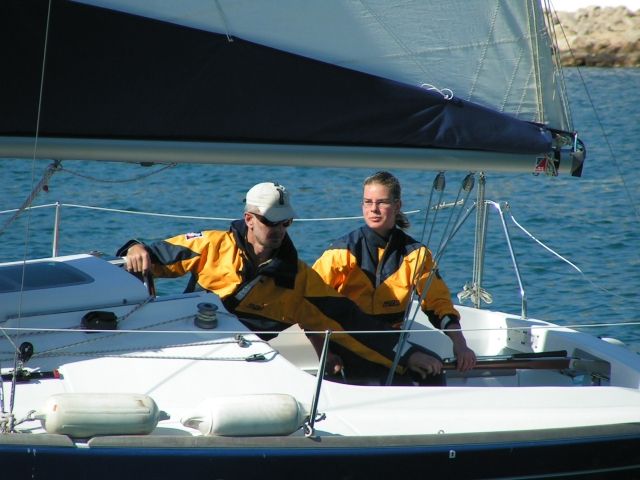 A whale of a time:
Dad takes every opportunity to hone my sailing skills, for this reason he decided to take me sailing on 'Orca' a blue hulled Beneteau 211. As is customary with my parents, particularly my dad, I was dropped in at the deep end as far as handling Orca was concerned. I had to manoeuvre her in and out of her berth between two motorboats under sail. Out in the bay dad decided that I needed to feel a bit of stress for once in my life (yeah right) and decided that I should tack around the navigational buoys. The catch was that I was to head straight for the buoys and was not allowed to turn until dad gave the order, which resulted in a lot of shouting and some very near misses.
My second trip on Orca was with Aurelio (the owner) and his son Aurelio. This is going to be a short paragraph as we were only out for about two hours and the sailing conditions were rather bad. Apart from the confusion with the names Aurelio can't speak much English and in an emergency like an uncontrolled jibe every other language besides Spanish and English comes out of my mouth, oddly enough it was Afrikaans (one of the eleven official languages of South Africa), which is rather funny, as I don't speak Afrikaans at home.
The skate park:
Since I last wrote about the skate park a lot has happened and I have made good friends with both the skating and the football kids. I really enjoy playing football and the boys often let me join in on a game when they are a player short, although if another boy arrives I voluntarily sit out.
Mom aloft:
It's ironic that in our seventh year sailing mom ventures to go up the mast. Ironic still is the fact that four years earlier her own mother went up the mast when we were in the Bahamas. Being the photographer in the family, mom went up with her camera to take some panned pictures of the port. The only problem was that we have no evidence of her ever going up the mast and I am afraid you are just going to have to take my word for it. I am ashamed to say that although we winched mom up the mast with the anchor windlass, I had the privilege and great satisfaction of letting mom down by hand a bit faster that she had anticipated.
Birthday wishes and lots of dishes:
They say it's rude to ask an adult their age, and no wonder, the number is rather embarrassing. When I was younger the question was always greeted with the same answer, "I'm as old as my tongue and a little older than my teeth." When I was a little older the reply came somewhat along the lines of, "A lot older than you will ever be if you don't watch it." I must admit, now that I am old enough to fend for myself I am rather apprehensive about quoting the age of my father, to be on the safe side I will just mention that he is actually a lot younger than he looks.
For his birthday my dad got two books that he had been wanting for quite some time delivered from England with a friend. Being the reader in the family I will let you know what the books are like, as the chances are I will read them first.
Both mom and dad took a break from work today and spent the day pottering around the boat as old people do. I on the other hand was polishing scratches and rust marks out of the car that Leo had loaned to us. I enjoy working on the car, Jack was spread across the back seat keeping me company and I had the radio on listening to music.
That evening we went to Nagoya, a Japanese restaurant with Brett, Jill and David. The best part is the conveyer-belt of various dishes. All in all I think dad had a good day, I know I did.
Scooters and Skateboards:
Across the road from the skate park is a doctor's office which is only open during summer and mornings, so if you are going to need a doctor while in holiday in Puerto Andraitx make sure it is not in winter or after midday. The hours of the doctor's office, although odd, provide an ideal hangout place for kids with motorbikes. It is there that Alex and Fernando two of my skating friends were hanging out with two of their friends Jose-Luis and Alejandro. Tired of roller-blading and playing football I borrowed a skateboard and headed up the hill that runs between the sports centre and the parking lot. At the top of the hill I mounted the skateboard and started my trip down. Thankfully the wheel bearings were a bit dirty and I didn't fly down the hill but progressed in a rather stately fashion. Apparently the boys had expectations of seeing me fly down the hill at break-neck speed and were not impressed by my slow progress. To rectify this Alex hopped on his scooter and came up behind me with his arm sticking out. As soon as his hand touched my back he opened up the throttle and I went down the hill as one would with a 50cc skateboard. It became known that the only problem was braking and when Alex pulled the brakes I kept flying down the road, round a blind corner and finally came to a halt at the gas station, much to the amusement of all filling their cars up. It's not everyday you see a girl come flying down the road on a skateboard at that speed, looking over her shoulder shouting. The boys were rather surprised when they saw me run up the road, apparently unharmed shouting "Otro vez!", another go. They happily complied and each took turns pushing me down the hill until my legs became numb from the vibration and I had to stop.
Even more Birthday wishes, but not as many dirty dishes:
Mom and Dad spent the day relaxing, taking life slowly and being waited on hand and foot by yours truly. Naw, actually mom and dad spent the day working on Maggie, a motorboat, and I spent most of the day at the skate-park. We went to Memphis for dinner and spent a lovely evening in the company of Brett, David and Jill talking about boring stuff like, oil prices affecting boat prices, how pumpkin and butternut are not the same thing even though they belong to the same family and how unwise it is to hit a metal bath with a sledgehammer.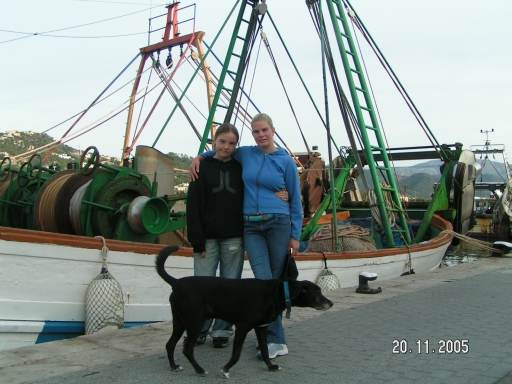 Friendship:
This is just a little section to say a special thanks to Kayleigh-Moon.
When I was down or feeling low, she always showed me which way to go. She lifted me up when I was down, not by force but by being a clown. There are certain people who come into your life for a reason and I believe Kayleigh was one of those people. I can't say it's been a smooth ride we've had our ups and downs but then again what relationship doesn't?
Always bubbles . . . never troubles
After a late night at Kayleighs house, I called mom on the two-way radio and asked to be picked up for Gilana was now out at anchor. Sitting down I was greeted by a look that could have melted anything. Hesitantly I inquired as to what was wrong, some how dreading the answer. Mom then reminded me about the appointment I had had at the Dive School across the bay, which was set for nine that morning. I glanced down at my watch and felt my face drain, eleven fifteen. I wondered if my dad would still be willing to take me but mom explained that he was taking a motor apart and could not and would not take me. I decided to try my luck swaying his decision, after all what father can refuse a daughters pleas. . . .
Apparently mine.
Being a teenager I naturally rebel against anything and everything so when my dad said that he would not help me, tough luck, I missed the bus and a whole lot of other things to emphasize that I had thrown away my opportunity. I kicked back full force saying to mom as we drove back that I didn't need him and that I could do it by myself, anyway who needs their father to hold their hand to do something so simple?
As we approached the dive school I felt a dawning sense of dread and by the time mom had dropped me off and I was walking up the steps I was shaking and crying. Quickly, before anyone saw me I hid behind a tree, dried my eyes, controlled my breathing, gave myself a pep talk and, as a last thought slapped myself across the face so hard it almost got me crying again but it made me pull myself together.
I had passed panic and was in shock as I walked into El Buceo introducing myself to the first person I saw who, thankfully was Lothar the owner and he was expecting me. Maybe not all watery eyed, runny nosed and with a hand mark on her cheek, but he was expecting me, and sent me to go and get my diving gear on Gilana as quickly as I could.
Half and hour later I was back at the base with my diving equipment, getting ready for my first dive with the school.
Quite honestly my first dive was terrifying, not the actual diving part but the pre dive part. Here I was, alone, on a boat with a group of adults who were all qualified divers, Lothar and a woman who was doing her Open Water Diver course and myself. Now (four months later) that I am familiar with diving equipment and the diving environment I forget how terrifying it actually was putting your diving gear together ALONE for the first time, with no mom or dad to help me, and knowing I was under intense scrutiny. I got my gear assembled and on without too much trouble donning a 'Monkey see, monkey do' attitude and copying those divers that looked the most qualified. As expected Lothar checked my gear before we entered the water and gave me the final 'Ok' before I did one of the most terrifying things I have ever done in my life, rolled backwards off a bouncing dinghy with full scuba gear.
The qualified divers went off in a group and I was left with Lothar and the OWD trainee. I had a funny feeling as soon as we started the dive, that I was being tested, more so than the woman doing her OWD course.
Later, much later, I found out that I was being meticulously tested and not only on that dive but throughout all my dive training each of the instructors and dive masters at el Buceo tested me in their own unique ways. Once or twice they caught me out and I found my 'limit' the hard way but I soon learned my lessons and because of it I believe I became a better diver and a better judge of my 'limits' and those of others.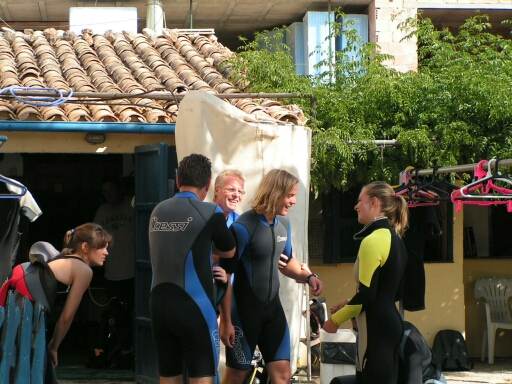 My Open water Diver course was mostly a blur as I did a lot of diving and even more studying. Not having taken a 'school' type exam since I passed fourth grade I was so scared that I was going to fail that I spent all the days leading up to my exam diving and all the evenings studying. Still, as I wrote the exam I felt ill, things didn't improve when my teacher and examiner for this course, Steven Hofmaier walked in with my answer sheet, looking at it with an unreadable expression and chewing his lip. He started the conversation telling me that 75% was the passing mark and that (here it comes) if I failed I was allowed to take the exam again. He also said that if I failed a second time I could take the exam once again. Failing a third time however would require enrolling for the course again. Looking down at my exam he said ' Good thing you got 100% then, I guess'. Steven must qualify numerous divers per season so the monotonous tone he used was expected, what he didn't expect was the huge embrace he soon found himself in.
For the rest of my courses I was assigned a new instructor, Matthias Meurer.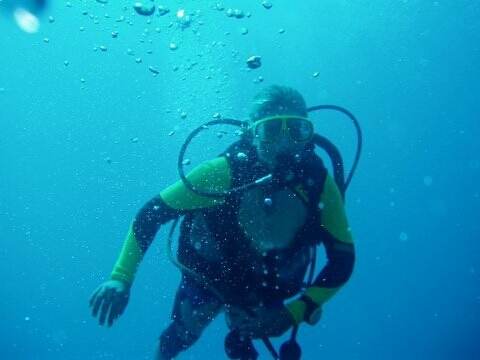 My Advanced open water course took a lot longer to complete than I had expected. This was because the school was extremely busy during the peak tourist season and most of my time was spent assisting other divers and helping improve the schools efficiency. I had no complaints as I got more than enough practical experience, which in my opinion is priceless. To make things easier I have divided my AOWD course into seven groups, the seven different types of dives I did.
Originally I had wanted to complete the PADI Dive Master course but was unable to because of my legal age status. PADI requires Dive Masters to be eighteen or older, thus indemnifying the organisation in case of a lawsuit. I was allowed to complete most of the course work but was unable to take the examination despite written petition direct to PADI HQ in Switzerland.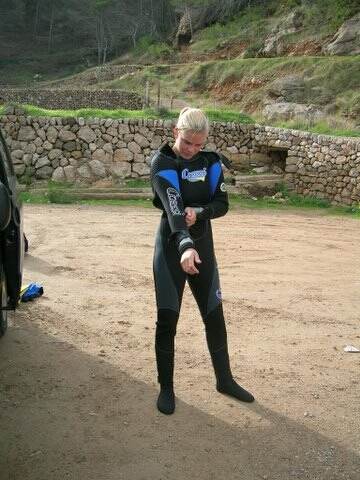 Deep Diver:
By far this would have to be one of my best types of dives, ask any one who knows my diving history and they will agree. Although I live on a boat and have become completely at home in the water environment there was always a certain part of me that needed to know what was down THERE. It is natural for the human, or any land animal for that matter to want to know what's going on where they can't see and I am no exception. There is also a sense of adventure in deep diving almost a 'Go where no man has ever blown bubbles before' feeling. It's not all fun and games down there though and lots of preparations lead up to a deep dive, among them telling others that you are doing a deep dive, taking special care with briefing emergency procedure and securing a spare tank and octopus at a depth at which a safety stop will be made. I also learnt that while the limits for recreational diving are around thirty meters, technical divers go to depths of forty meters or more and I believe that when they dive with a recreational diving school such as PADI, NAUI and SSI they are briefed on the dive site and emergency procedures like the rest of the group but they are also warned that by going deeper than thirty meters the school is not responsible for anything that might go wrong and they will not jeopardise the safety of divers by coming to look for them. This is why there is an unspoken rule; do not touch the equipment of divers preparing for a deep dive.
After completing numerous deep dives I can safely say that, unless there is something particular you want to see, stay shallower, it warmer, lighter, there are more fish and best of all if you get a cramp or get tired just signal to someone that you are having trouble and you get a free lift back to the boat.
One of the tests I had to pass was completing a mathematics question at a depth of lets say, thirty-seven meters. Let me tell you that its not easy, what's more Ben, my instructor for this dive asked me about my home schooling and what subjects I liked and was good at. Like an idiot I told him that Maths was my strong point. Big mistake as I soon found myself scratching my head underwater looking at an equation unlike any I had ever seen before.
Navigation dive:
Besides teaching me how to use a compass, my navigation course taught me how to be observant. Normally I am not observant at all.
I went on a dive with Matthias and two other divers at Punta Galinda, my nemesis of a dive site. I was preoccupied with other things when all of a sudden, Matthias signalled to me that I had to find the boat. How was I supposed to know where the boat was? I swam in the direction that I thought the boat was, I didn't want to look around because then Matthias would realise I was lost and I didn't want to fail. As a result I swam right past the anchor line and after a couple of dozen meters Mathias finally caught up with me, taking my hand and leading me back to the boat where the other two guys were waiting, holding onto the anchor line. Even in the red spectrum depleted environment, I am sure they could see me blush. Well, as always it taught me an important lesson and since that time I have not only lead numerous dives but have also taught others how to use a compass, and how not to get lost by being observant and mentally 'logging' the features.
Multi-level computer dive:
If I thought using normal dive tables was difficult on the surface nothing could prepare me for how difficult it was to use a dive wheel at depth. Not wanting to make a mistake again I practiced using the dive wheel whenever I had the time. When I finally had to simulate a computer failure during a deep dive I was prepared. Using a slate, pencil and the wheel I managed to resume our multi-level dive profile without too much trouble.
Enriched Air diving:
Enriched Air Nitrox or Nitrox for short is any mixture of oxygen and nitrogen when the percentage of oxygen exceeds twenty-one percent continuing up to forty percent. Oxygen becomes toxic at a very shallow depth and therefore diving with air that contains an unusually high blend of oxygen requires special training. This training must cover an understanding of why one would dive with enriched air, what precautions need to be taken and the physiological impact of breathing blends of compressed gasses while your bodies tissues are under pressure.
Why Nitrox?
I found myself asking this question before I enrolled on the course, why was it so important? I always thought that diving with Nitrox meant that I could dive deeper, which for me was the main attraction. The reason for diving with Nitrox however is not to go to a greater depth but to increase your allowable bottom time. Nitrox contains less Nitrogen than normal air, so the absorption rate into your tissues is slower and therefore bottom times can be extended.
Dive planning becomes slightly more complicated. Special precautions have to be taken with your equipment. Different dive tables are used for blends of 32 or 36 percent. Any other blend requires the use of a conversion table, which also accounts for the oxygen partial pressure exerted on your bodies tissues.
The most difficult part of my Nitrox course was carrying the 15 litre tanks which, apart from weighing 22kg (44Ibs) were longer than my torso causing me to either hit my head or my legs when I swam.
Wreck Dive:
My first wreck dive was on the Conga Wreck, so called because of the numerous Conga eels that inhabit it. The wreck is located between the island of Dragonera and the bay of Sant Elmo. There is a strong rip current and the water becomes uncomfortably cold as you near the bottom. We descend on the anchor line to the bottom some thirty meters down, as the vague shapes slowly take form. The Conga eels are unlike anything I have ever seen before, they are about a meter long and have an average diameter of 15 centimetres. Their faces are blunt and their eyes have an opaque appearance giving them a very distant look.
Unfortunately I didn't take any pictures but there are plenty on the internet. Soon our 'no decompression limit' had expired and it was time head back towards the surface and warmer water.
Cave Dive:
I dived in three different caves during my time at El Buceo. The first Cave dive and by far the best was along the west coast of Dragonera.
Eduardo the captain suddenly slowed the boat after racing along the first half of the sheer cliffs of the island. His well used navigational clues lining up on the rock, he told me to drop the anchor.
The sheer cliffs continued into the sea down to a depth of just over 20 meters. Near the seabed, an opening the entrance, barely visible against the dark rock. Beams of light from our torches scan the rock face surrounding the entrance and colours come alive once again. The tunnel however was barren of any flora, the only fauna present were translucent cleaner shrimp. We swam for about fifteen meters before ascending up a 'Chimney' into big cavern, stalactites hanging from the ceiling dripping lime soaked fresh water into the sea. One cannot experience total darkness unless in a cave. Even when at sea at night there is still the light from the stars, moon, navigation instruments, even phosphorus. In a cave there is no light, the darkness is heavy and oppressive, squeezing the air out of you.
As salt water is denser than fresh the water it sinks and therefore the first couple of millimetres of water in the cave is brackish.
Descending once again with Lothar we continued into the second cavern. This was slightly harder to get into and we had to remove our equipment. Luckily we both managed, I went second slowly pulling myself through the narrow opening. I got stuck and had to reverse and unhook some catches of my BCD. I pulled myself through on my back with my arms out in front of me. I got hooked up a second time but the opening was now so narrow that I couldn't reach my hand back and unhook myself. After stopping and signalling to Lothar that I had a problem I pushed myself backwards slightly and twisted my hips, knocking against the side of the opening but succeeding in freeing myself.
The second cavern was smaller but every bit as spectacular. The second cavern's bottom disappeared down yet another tunnel into the abyss. A tingle ran down my spine, what is down there. . .
The second cave was the Madonna Cave, so called because of a 50-centimetre statue of 'The Madonna', which marks the entrance. The Madonna is made out of some sort of rock and had a lot of sea growth on it obscuring part of the face which makes you wonder, how long it has been down there.
My tunnel dive was done at the end of the season and as a result the cave floor was littered with small brown bits of dead sea grass which, when stirred up reduces visibility dramatically.
That's what happened to me. I was last in a group of four and, by the time I was in the tunnel all visibility had disappeared in the cloud of sea grass the rest of the group had disturbed.
It obscured the beam of light from my torch and made it useless. I turned it off, and although plunged into darkness I hoped that I would be able to find my way out using the distant glow of the suns light. Unfortunately I had already turned a few corners and the suns rays were nowhere to be seen.
I realised that I was in fact in a maze of tunnels and getting lost was a very realistic probability. I decided that I would swim two or three meters down each tunnel keeping my starting point in sight. If I didn't find the exit I would control my breathing, conserving my air and wait, in such a small group my absence would be noticed soon.
None of that was necessary however as I spotted sunlight down the first tunnel that I tried. Finally back in the open I waited at the entrance of the tunnel, knowing that whoever came to find me would see my silhouette easily. I was found minutes later by the leader of the group, the relief on both of our faces obvious.
Primary and Secondary Care:
Have you ever been the first to arrive at the scene of an accident? Chances are you might have, but preferred to stand aside making way for those who knew what they were doing. Maybe you are the one who steps forward, eyes focused on the task at hand remembering your training and assisting to the best of your abilities.
One of the most widely known rescue/ medical skills is Cardio Pulmonary Resuscitation (CPR) but it will amaze you to find out that very few actually know how to perform it properly.
Even if you don't know exactly what to do, the general 'rule' is that, if a person isn't breathing they are in the worst state of health and anything that could be done would be better than nothing.
My CPR, Primary and Secondary care was taught to me by Matthias. I must say that because Matthias is a perfectionist, almost to the point of annoyance, he insisted that we use real life scenario and perform it on the street. The odd looks that I got when people saw me run over to Joe who was lying in the road and bending down at his side saying "Joe! Are you ok? Can you hear me?" Joe, by the way, is a training mannequin. I dragged Joe out of the road to safety and started performing CPR. Shouting for help I stopped a few passers by and Marcel who was acting as 'a casual passer by' ran over to assist me with my medical dilemma.
I think we actually got around of applause when Matthias finally satisfied with the speed and efficiency of everything announced that Joe would be fine and was on the road to recovery.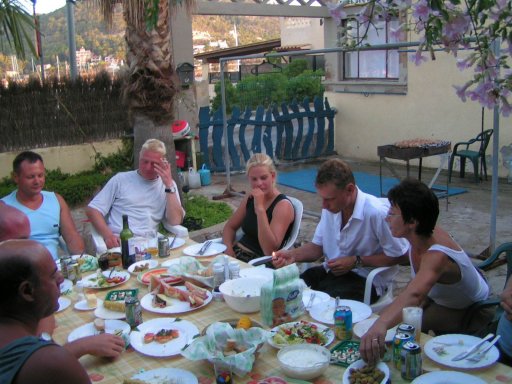 Rescue Diver
My Rescue Diver Course covered everything from cramp release and towing tired divers, to administering oxygen and saving those in potentially life threatening situations.
This is one of the most challenging yet rewarding things I have done in my life. If you have a passion for something you generally excel at it. Diving is my passion and completing my Rescue Diver training was a goal that I had set myself. I ended up reading the Rescue Diver Manual at least four times and sourced additional information from Divemaster friend.
My parents have also done the 'Ships Captain's medical course' and there is a lot of medical information, books and media on the boat which I devoured, absorbing as much as I could. The understanding of the theory was thanks to all the information I had gathered and lots of studying. The knowledge of the practical was thanks, not only to Matthias who instructed me in this course but to all the other dive masters and instructors at El Buceo who, gave me hell actually.
They drowned me, stole my gear, deflated my BCD, disconnected my inflator, loaded me up with lead and played every other possible trick you could think of to try to test my skills to the limits. For this I thank them.
Some of the simple skills included cramp release, towing tired divers and what techniques to use in differing conditions.
Searching for a missing diver requires teamwork, and the use of reels and a compass. Once found the (usually unconscious) diver needs to be towed to shore or to a boat while receiving rescue breaths every five seconds. Equipment has to be removed from both the rescuer and the victim while still receiving rescue breaths.
One of the last emergency simulations consisted of everything that I had learnt and was a real challenge.
The scenario was "A missing diver under water"
Dominik, a fellow diver, and I were on the boat talking when all of a sudden he saw an emergency float just breaking the surface of the water a couple of dozen meters away. We donned our equipment one at a time making sure the float was kept in sight at all times. At the float we descended and found that the line was anchored to a rock, our "Missing diver" nowhere to be seen. A circular search was launched from the last known position of the diver with Dominik as the midpoint while I orbited him in ever enlarging circles.
I soon saw Matthias, his BCD deflated and almost indistinguishable among the tall sea grass. When I approached him I shook him but received no response alerting me that he was now to be considered an "unconscious diver underwater". I tugged the line with which I was still attached to Dominik and he soon found us. Seeing the situation had changed he ascended to call for help and swam to the boat. Meanwhile I positioned the victim so that my right hand came up under his right arm and held his regulator in place. With my other hand I inflated my BCD and ascended to the surface at a fast yet safe speed. Surfacing I saw that Steven, another instructor, was standing by to take discarded gear. I dropped both of our weight belts and inflated both of out BCD's. Tilting his head back I listened for breathing, what I heard, however, was "I'm not breathing" with this information I began rescue breaths, one every five seconds. While I was towing him back to the dive boat I deflated his BCD slightly unclipping it and discarded it. My BCD was next and was slightly less complicated to get rid of as I just swam out of it. At the boat Dominik leant over the transom and gave rescue breaths while I got rid of my mask and fins, climbing on board I once again placed my right arm under Matthias's, this time grabbing his left hand. My left hand went under his left arm and held it against his body. Lifting with my legs, not back I raised him onto the platform and them onto the boat. Oxygen was then administered and our patient had recovered enough to complain about a Sting Ray barb is his leg. We then had to describe what the first aid treatment for a Sting Ray barb would have been before completing the scenario. By the time we weighed anchor I am proud to say that our patient was well enough to complain about the service he received while being lifted from the water. I had to explain that the platform was not big enough for both Dominik and I and if he cut down on a little more beer, our weight difference of twenty kilos would be slightly reduced and I would be able to pick him up a little easier.
The second scenario was much the same except for the fact that, half way to the boat my victim who was in passive panic and therefore frozen in a trans like state, switched to active panic and soon had me gasping for air as I was forced beneath the surface. Pushing upwards and deflating my BCD I kicked free and regained my regulator. Back at the surface and a few meters away I tried to calm the panicked diver who oddly, was killing himself laughing. As is common with panicked divers he paid no attention to my instructions to drop his weight belt and inflate his BCD. I tried to approach a few times from behind but he kept turning to face me and nearly succeeded in getting me again. Not wanting another regulator free trip below the surface I deflated my BCD and approached from underwater, grabbing his legs and spinning him to face away from me I ascended, firmly clamping his tank between my legs. I inflated his BCD, dropped his weights and he soon calmed down.
Training also included the study and identification of stress both physical and psychological and what causes it. Shock, what causes it, how to treat it, and how to identify it and many other things but I am afraid that I will have to start wrapping this up as its getting so long that half of you are starting to fall asleep and the other half are asleep.
Even after completion of my course and had received my certification, a number of staff at El Buceo took it upon themselves to give me the most practical experience possible and I often found myself in the middle on an emergency scenario while on other dives and while leading dive groups. Twice Matthias raised my blood pressure through the roof when he decided to act like an irresponsible diver while I was leading a dive at an unknown dive site. I expended so much energy during that dive, looking after customers and keeping Matthias from swimming to Ibiza along the bottom that I had to cut my safety stop at fourteen meters short as I had run out of air. The rest of the group had returned to the surface after a three minute stop at five meters. Matthias was sorting out the anchor and was too far away so the closest air was fourteen meters up. It is easy to tell when your air is low as it becomes difficult to breathe and is an obvious clue that your air is low. When I, however, had difficulty breathing I thought not that my air had run out but that Matthias had played yet another trick on me and had turned my tank valve off. By the time I swung my BCD off and discovered that my air was indeed out I had a choice. What would get me to the surface faster? Drop my BCD and weights and kick on an already tiring lungful of air or use the last of my air to inflate my BCD which, not only would keep my equipment together but if, for some reason I blacked out, the air in my BCD would keep expanding and make sure I got to the surface. I opted for the second.
My lungs were bursting for air by the time I reached the surface and it was a few seconds before I had my breathing back under control and could help the rest of the group who were still bobbing around chatting about all the things they saw and how relaxing the dive was, yeah right, relaxing!!!
Even in that situation Matthias took the time to teach me a lesson and, although I looked after the safety of the rest of the group I neglected to look after myself and that is the first step to looking after the safety of others.
Something I could have learnt in a text book but Matthias decided to teach me in a practical example, and it worked. After that day I made it my goal to have more air than the other divers in any group that I was in charge of. If, in the unlikely case that they ran out of air before the dive was over at least I knew I would have enough for BOTH of us to get back safely.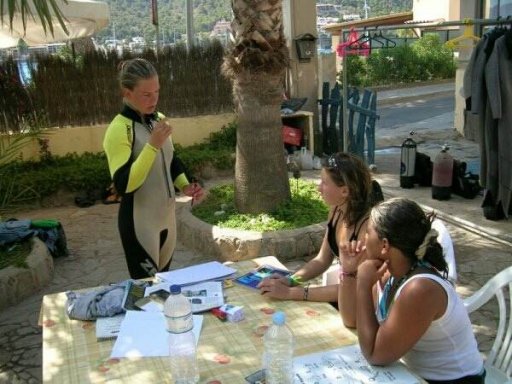 After my course I helped the Instructors and Dive Masters with their teaching.