&nbsp
Gilana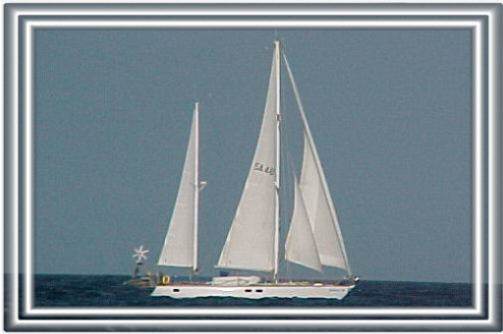 She was conceived on the drawing board of renowned Dutch naval architect E. G. Van de Stadt. The design is known as the "Pacific 2" It was so successful that the same design stretched three feet was manufactured by Trintella yachts, as the Trintella 53.
---
Gilana is built of Corten "A" Steel.

This steel has a yield point of 90 000 psi, its tensile strength is 100 to 130 000 psi, approximately 3 times that of mild steel. the nickel and chrome make it 2-6 times more resistant to corrosion. The downside is that the copper content increases it's conductivity, while this has advantages, it could be susceptible to electrolysis if careless electrical installations are undertaken in the future. It is not as high a risk as Aluminium or alloys.
A typical analysis of the steel is as follows; Carbon = 0.12% max, Manganese = 0.2 - 0.5%, Silicon = 0.25 - 0.75%, Copper = 0.25 - 0.55%, Phosphorous = 0.07 - 0.15%, Nickel = 0.65% max, Chromium = 0.36 - 1.25%.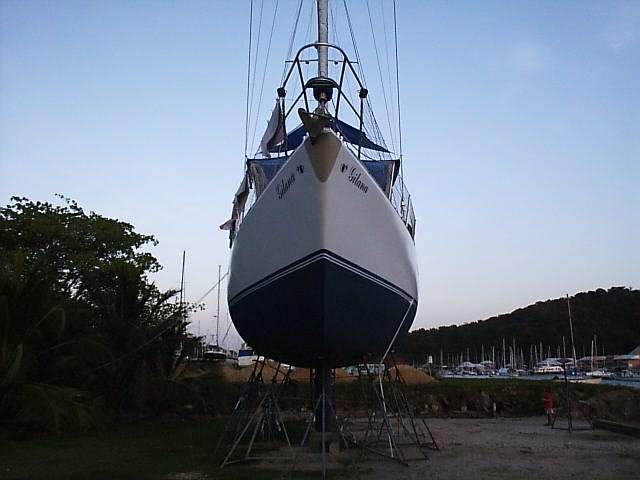 Gilana pictured here at Peakes yard in Trinidad (Jan 2000).
Even here no compromise was made and the sheets of steel were individually quality checked upon delivery and every stage thereafter. The rolling process was accomplished with some machines custom made for the task. This has left her with such fair lines that she is often mistaken for a GRP vessel. The welding was all done using MIG technology. As she was constructed indoors, and the arc was shrouded in an inert gas envelope, there is no oxidation in any weld anywhere on the hull! Coded welders did the welding work. The hull thickness is 20mm (3/4") at the thickest portions like keel shoe, down to 5mm (<1/4") in the lightest areas. All chain plates and bow roller assembly are contiguous with the hull, as is the propeller strut.

After the hull was completed, she was shot blasted to ANSI 2500, in preparation for the metallic zinc coating (Inorganic) which was accomplished in a continuous coating inside and out including all holes pre-drilled for later mounting of furniture etc. The only areas NOT coated were the insides of the diesel tanks as the zinc in solution is detrimental to diesel engines.

The protection was further enhanced as follows;

The Inside of the hull was coated with high solids epoxy paint sprayed onto a tie coat. Up to eight coats were applied depending on the location. Each coat had a colour variation to ensure sufficient overlapping and complete coverage.

SIGMA coatings' best products protect the outside of the hull below the waterline. (Sigma is used by the majority of commercial shipping in the world, see their web site http://www.sigmakalon.com for more info.)
First two coats of Sigmacover Primer 7413, this is an aluminium rich epoxy primer.
Next, one coat of Sigmaguard EHB high solids epoxy barrier was applied, this is the coating used in most tank cars you will find in a freight train, oil, acid alkali and petrochemical solvents are withstood.
On top of this two coats of Sigma TCN tiecoat was applied, (nothing else will adhere to the EHB under it) and finally up to eight coats of Titan antifouling paint was applied (May 2011) We expect to get 6 years on this paint as we have before. Above the waterline, SIGMADUR HSA two-part polyurethane was used. This unique product has incredible gloss retention, as proved on drilling and production platforms in the Gulf of Mexico, and is indefinitely overcoatable, making touch-ups very easy. With the correct maintenance, the hull life could be indefinite!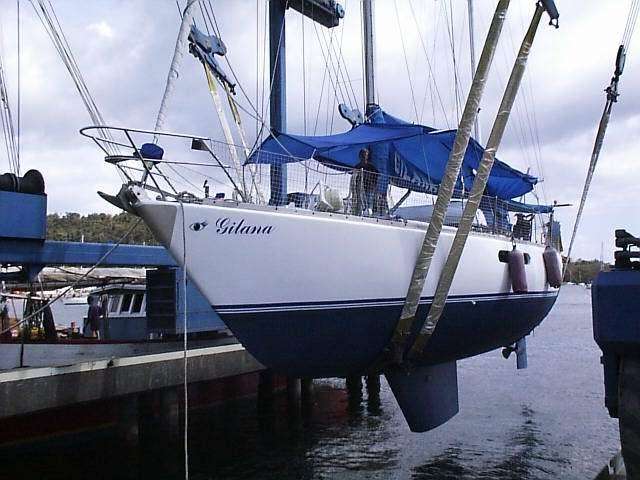 Gilana is lowered into the water in Trinidad, Feb 2000.
---
The hull internally is polyurethane foam insulated. Between 25mm and 50mm (1-2") of foam is coated from 1m (39") beneath the waterline up to and including the cabin top, providing for minimum condensation and a cozy environment in cold climates and high latitudes. It also reduces the internal temperature in the tropical sun.
---
The Keel contains 6000 Kg of lead; this was poured into the keel before being sealed with cover plates welded into place. Any "Dead Pockets" formed between frames and stringers, have been effectively removed, by overplating and filling with bitumen, with a filler plug provided. Small pockets were epoxy filled to the level of the limber holes.
Under the keel six pairs of m20 holes have been drilled and tapped. This is to allow the fixing of a steel plate with ringbolts to allow Gilana to place her own moorings with a chainblock. A block of 10 metric tons can be moved this way. The holes are filled with nylon studs when not in use. Naturally they do not penetrate to the inside.
The rudder is fully skegged, it has Vesconite bearings top and bottom and is moved by a 68mm (2 1/2") solid 316l stainless steel shaft. The hollow of the skeg itself was filled with bitumen and then sealed with a 25mm plug. Twin double redundant hydraulic cylinders operate the rudder with ease in any sea. The hydraulic hoses feeding the steering cylinders are mated at a solid manifold; this allows one or the other cylinder to be excluded from the circuit in case of failure in an emergency. A spare hydraulic hose is carried on board.
---
Internally the hull has two watertight compartments. The forepeak has a collision bulkhead 3 Meters (12') from the bow. This area can be pumped dry by any of two bilge and salvage pumps. The engine room is the other watertight compartment, it can be pumped dry in a number of ways. The other possible impact areas are also "double skinned" as the tanks are located in there. Any hole in these areas will result in full tanks as opposed to sinking.
---
Water tankage is 1600 litres (432 Gals) and the tank is integral with the hull. The diesel tanks are similarly constructed and hold 1000 litres (270 Gals) giving a range of 1400 nautical miles motoring. The diesel fuel lines are stainless steel and in accordance with Lloyds 100 A-1 scantlings have shut off valves external to the engine room. All tanks have removable lids with M8 stainless steel bolts into blind tapped holes pitched 38mm apart (1 1/2")

There is a 300 litre (108 Gal) holding tank, which can be pumped out overboard or through the deck into a dockside facility or the dockside facility can suck the tank dry.

A Tank Tender is installed to measure drinking water level.
---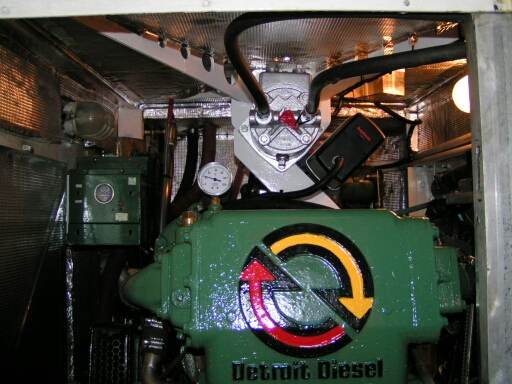 The engine is a Detroit Diesel 3/53 delivering 100 Hp. This reliable engine has just over 2332 hours and has been meticulously maintained. The engine has two alternators. All critical items are painted red for easy identification.
---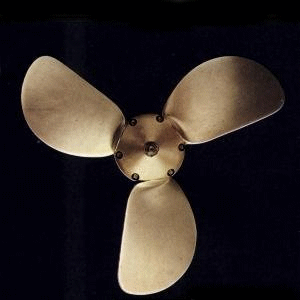 "Click"
Power is delivered through a PRM hydraulic gearbox and a HUNDESTED CONTROLLABLE PITCH PROPELLER. This propeller can be pitched from astern through to fully feathered, by means of an electrical motor and gearing operated at the helm. This allows the correct pitch to be selected in varying conditions, shallow for towing or pushing through a sandbar and coarse for high-speed motor sailing. The PRM gearbox is designed to allow trailing the prop. It can also change selection from forward to reverse at full speed! The Clutches were renewed in 2005. The reduction ratio is 3:1. The prop is usually feathered while sailing for less drag and it is quieter. In calm seas she does 5 knots at 900 RPM (300 at the prop)
---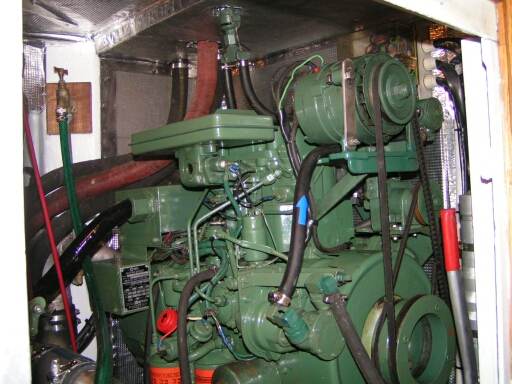 The generator is an Onan 6.0 MDJE with 900 (03/2006) hours. It is fully reconfigurable to be 230v 50hz or 120v 60hz when it will deliver 7.5 Kw. The generator has an auxiliary alternator fitted. The generators electronic control system has been re located to a bulkhead to remove it from vibration. In 2005 a new Generator engine was installed, for details see the 2005 button on the left.
---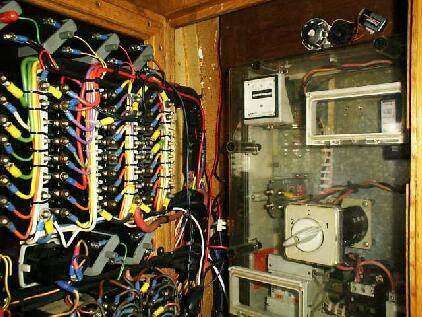 The main engine is designed to have a second AC Alternator attached, the electrical system is designed with a GEN1 <> GEN2 switch. The variable pitch propeller allows speed changes at fixed engine rpm in this case.
---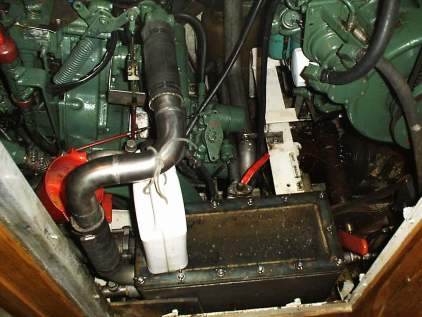 The entire vessel is served by ONE SEACOCK, (Shown here with red handle on right (aft) side) and a sea chest with transparent removable top and integral strainer. All engine, generator, and domestic seawater supplies are through this valve, including the fire hydrants! The engine raw water pump can be used to pump the bilges by simply changing valve states. All overboard discharges are above waterline, and all have anti siphon loops and vents. This includes Engine and Generator exhaust, forward and aft domestic discharge and bilge pumps.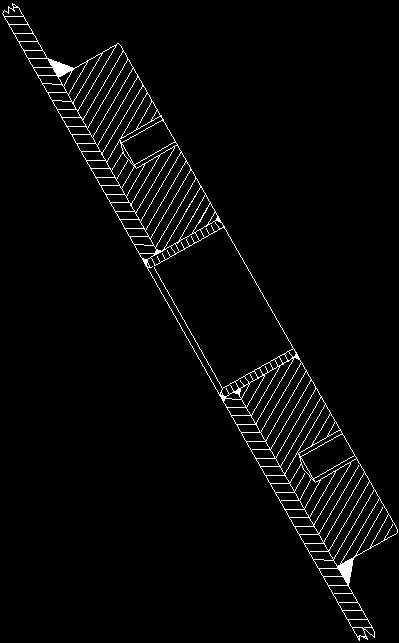 All hull penetrations are constructed in the manner of large ships. Although there is only one seacock serving all raw water demands through a seachest, there are a total of 11 "Thruhulls" where in other boats Skin Fittings are used. These are: Two B&G echo sounder transducers, One B&G log, One overboard discharge forward (black water, grey water and freezer condenser) Two cockpit drains, One seachest, One aft blackwater/greywater discharge, One salvage pump discharge, One each exhaust for engine and generator.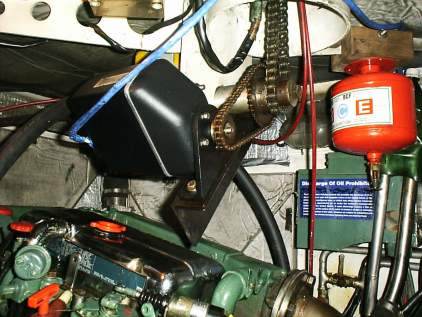 The engine room is protected from fire by a 6Kg CO2 extinguisher. Five removable panels giving access from all sides create the engine room and the cockpit floor is a soft patch allowing the engine or generator to be removed with the minimum of effort.
(This picture also shows the Genset Electronics box behind the fire extinguisher, and the autopilot drive in the foreground.)
---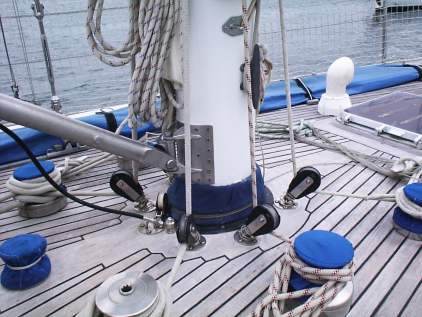 The deck is constructed with Burmese Teak and marine ply laid on the steel, the thickness of the Teak alone is more than 25mm (1") in most places, but no thinner than 19mm (3/4") at the thinnest point. It is fixed with no screws; rather an epoxy adhesive was used. The method also carries Lloyd's approval embossed into the "As Built" drawings. In construction the deck was laid one board per day. It is a "No Maintenance" deck and suffers none of the problems usually associated with Teak decks. The steel was cut away from all non-structural areas; large circles were cut out in a weight reduction effort. The deck has not been sanded and the height of the Teak adjacent to deck hardware shows the weathering speed of this durable species of Teak.
---
All hatches are Goyot, and the two accommodation hatches can open in forward or aftward position. The storage forepeak is served by a gas assisted Goyot hatch of 1m square (39") The six opening hull scuttles commonly called oval portholes, were custom cast by Kaz in Admiralty Bronze, they are glazed with 12mm (1/2") Lexan, and have deadlights fitted to the inside. These ports were designed by Kaz and approved by Lloyds before being installed. They provide wonderful ventilation when opened.
---
Gilana in the Azores 2002, 20kts of wind, 75 deg off Stbd bow, nicely balanced, 7.5 kts. Note the RIB in her "At Sea" position on the boomkin and aft deck. A good view of the rig at work.
Gilana is a cutter-ketch rig; Proctor in the United Kingdom manufactured masts and spars. The standing rigging is oversized to such a degree that it would be theoretically possible to lift her out of the water by the main mast. Cap shrouds are 1x19 Stainless steel of 16mm dia. The rig is split, meaning the main and mizzen will stand individually. The Triatic stay is part of an antenna, and is designed to shear away. There are new terminals on the caps, as well as a new Profurl LC42 on the new 14mm dieform forestay. All upward facing rigging terminals are of the Norseman type and those that face down only are swaged with the exception of the running backstays, this is done to prevent water entering the swaged terminals. The inner forestay is a quick detach system, and has a second roller furler.
The forestay and backstay are exactly the same length, and a complete spare stay is carried.

The Mainsail and Mizzen are housed in a stacking cover, with lazy jacks extending to the lower spreaders. Gilana has a full suit of sails, as follows;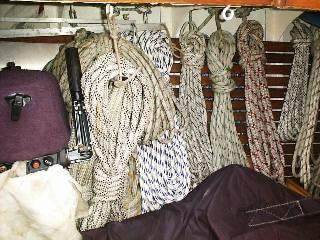 Heavy furling genoa
Light furling genoa
Wire luffed Drifter
Light furling Reacher
Spinnaker in sock
Storm jib
No' 2 Jib
Mainsail
Mainsail fully battened
Mizzen staysail
Mizzen
Storm Trysail



Some sails have not yet seen a week of work. There is one spinnaker pole and one reaching strut. Extensive running rigging is carried. Numerous sets of sheets, lines and guys are carried for any combination of sails. The winches are all Lewmar, there are fifteen winches as follows;

Port and Starboard pole topping lift/staysail halyard winches 2 speed
Port and Starboard Spinnaker halyard winches 3 speed
Port and Starboard Genoa Halyard winches 2 speed
Reefing line winch 1 speed
Main Halyard winch 2 speed
Mainsheet winch 2 speed
Primary Cockpit winches 2 x Lewmar No 65 2 speed
Secondary Cockpit winches 2 x Lewmar No 45 2 speed
Mizzen halyard winch 1 speed
Mizzen Stays'l halyard winch. 1 speed

All halyards are internal, there are two of each Spinnaker, Genoa, Main, and Pole topping lift. One each Stays'l, Mizzen, and Mizzen Stays'l. There is no topping lift as she is equipped with a hydraulic kicker/vang, which is operated from the cockpit and effectively controls main twist.

There are four headsail tracks with cars. Jacklines and numerous padeyes, turning blocks with jammers and lead blocks compliment the rigging.
---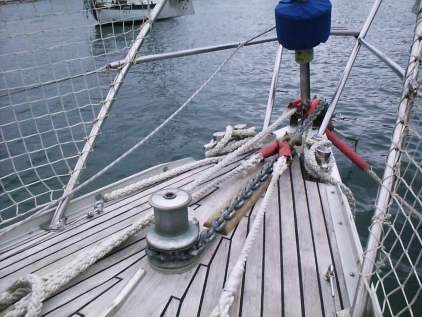 In Florida, all four anchors were in use as there was limited space to anchor in current.
The ground tackle consists of one Simpson Lawrence Dorado 24v 1500 watt vertical capstan windlass. The main anchor is a 30 Kg (65 Lb) Bruce connected to 100 metres (325') of 13mm calibrated galvanized chain (1/2") There are two secondary rope chain rodes of 15m (49')of 10 mm (3/8") chain spliced to 50m (160') of 25mm (1") Eight braid nylon rope. Other anchors include a 20Kg (45 lb) Cast Fisherman a 30 Kg (65 Lb) CQR and a 20Kg Bruce style. Chainclaws, bridles and snubbers are carried to make the tackle fast.
There are ample docking lines and sundry other lines. 8 Fenders are stored in the forepeak.
---
Electrical system.
The Shore power connection can be 240/120 volts. An Isolation transformer can step up or merely isolate the shore power. All equipment on board can run at 60 Hz or 50 Hz Except the Microwave oven and the freezer circulation pump these are easily converted. An Earth-leakage protection circuit breaker protects against electrical shock on board the boat. The Earth wire is left disconnected at shore, protecting against possible electrolysis.
The native AC power on board is 230v 50Hz provided by shore power or the generator or a Freedom 25 inverter/charger. Outlets are provided in the Galley, Workshop, Saloon, Forward and Aft Cabins.
The DC system is 24v with a 12v circuit for the radios. Charging is accomplished by any combination of the following;
2x 235watt Solar Panels providing 24v charging though a MPPT regulator and instruments to the house battery.
Freedom 25 inverter charger charging 24v at 60A to the house battery via a Link 2000R interface.
27A 24v additional alternator on Onan generator charging the house bank.
35A 24v alternator on main engine charging the house bank while motoring or motorsailing.
65A 24v alternator on main engine charging the engine start bank.
5A charging winding within the Onan generator charing the engine start bank while running the genset.

There are 16 batteries arranged as follows;
12x Trojan T105 6V 225 A/H that were replaced in January 2012
2 x 12v 95 A/H engine and Gen start batteries.
1 x 12v 65 A/H communications battery (dedicated to providing for the radios, GPS and other critical gear ONLY GMDSS)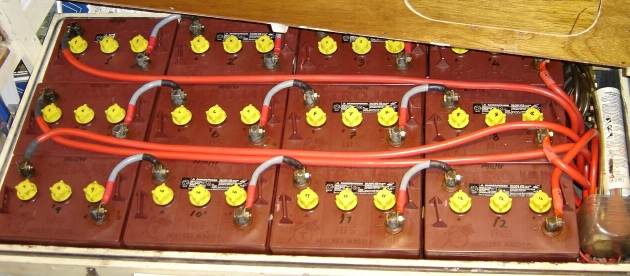 12 of the Trojan T105 Batteries in their hermetically sealed box, which is vented to the atmosphere via the swan-necks on the deck.

"Click"
The main battery has only cycled 2 times as at writing because the capacity is so large. She was designed for five days autonomy. Total Battery is 675 A/h at 24v. There is a Pathmaker Battery combiner that automatically combines the engine and house batteries on rising voltage, further increasing the bank size. It also disconnects the two banks in case of over voltage or falling voltage (ensuring sufficient to start the Gen or Engine) The batteries are monitored by a Link 2000R interface. The battery boxes are sealed, and vented to deck through flash protected swan neck tubes from the top and the bottom of the box.

There is complete instrumentation for all battery and mains status.
---
Cooking.Three Aluminuim LPG cylinders on the boomkin provide cooking, gas is controlled by a Xintex SA2 solenoid control with a sensor in the bilge. The galley range is a "Force 10" gimballed model. The original electrical system was installed as a Lloyds requirement, however the LPG system was subsequently fitted as a personal preference.
---
An Extra large Deep Freeze (220v) and a new (April 2004) seperate 24V refrigerator/freezer with 130 Litre capacity are fitted to the galley. The Freezer has a huge holdover plate filled with a 40/60 mix of ethylene glycol and distilled water. The freezer holds ice cream at minus 30 deg Celsius, and holds for 24 hours to minus 15 deg with a 2 hour run. Alternatively, a 15 minute per day run will maintain -9 deg C. The freezer run times coincide with generator battery charge times unless in a windy, sunny anchorage, when the solar panels provide all the power, the inverter then runs the freezer.
---
The interior is luxuriously appointed in light quarter cut Oak joinery. This task took a craftsman and his apprentice 18 months to complete. All cupboard doors are curved raised panel, all but the largest bulkheads are solid timber. The cabin soles are in traditional Teak and Oak strip planking, but 12mm (1/2 ") thick! plenty of material for future sanding. Most soles conceal storage under. There is a huge Saloon table to seat eight diners. A full size chart table and workshop with a vice on the workbench. There are two en suite cabins, Double aft and two single forward. The forward head is electric with macerator (Raritan Crown) and both heads have domestic sized bowls. The vanities in the head are of Corian in dark blue with light blue patterned Formica panels. There are red courtesy lights throughout the vessel including the heads. Dimmers allow mood lighting to be adjusted through the 20 halogen and LED light fittings. Cushions are sculpted by multi layer construction and are upholstered in dark blue.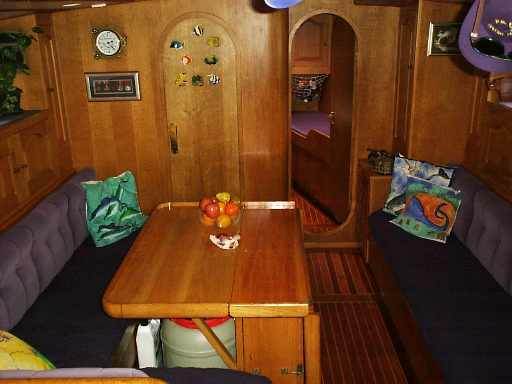 The saloon looking forward from the companionway. The barrel under the table is full of emergency items and is usually stored on deck while at sea.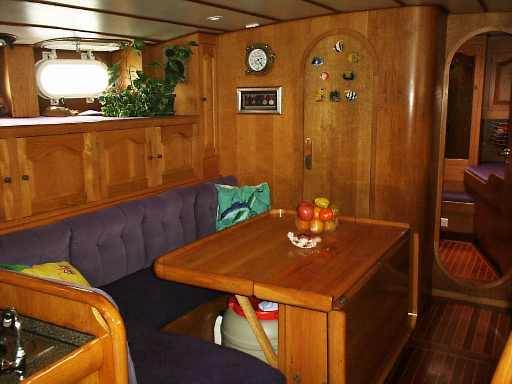 Two more views of the saloon.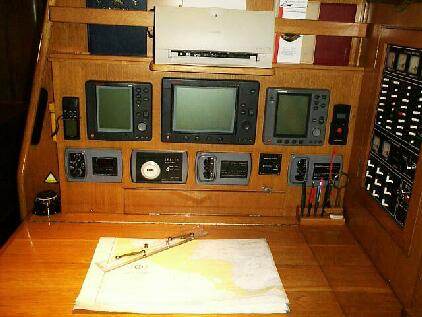 Another view of the Navigation centre. Centre top is the colour printer then from L to R, the red light watchkeeping torch, Garmin hand held GPS, Radar, Chartplotter, Fish Finder, Hand compass. Lower level, Course set compass, Echo sounder, Log, Remote compass, Course computer. A second wind instrument has now been fitted allowing the autopilot to follow a wind course.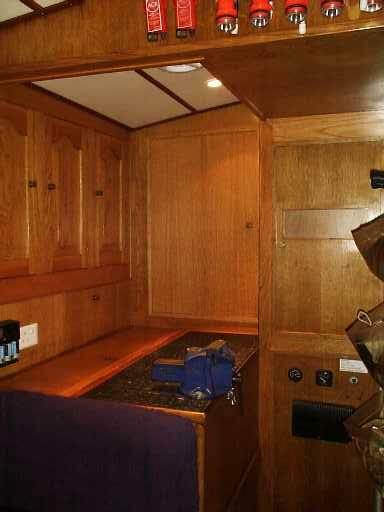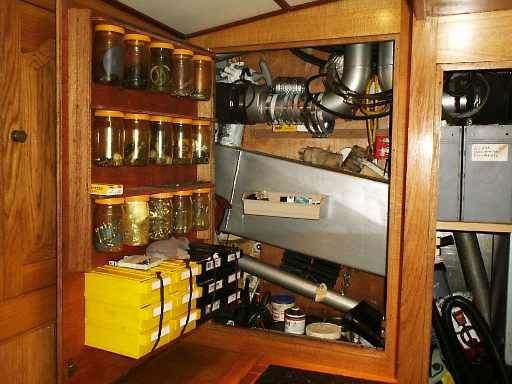 The workshop (left) is fully equipped for long term autonomy. The spares locker (opened) on right contains all the small items and certain special tools.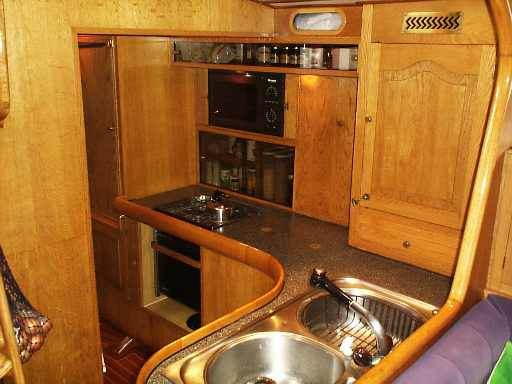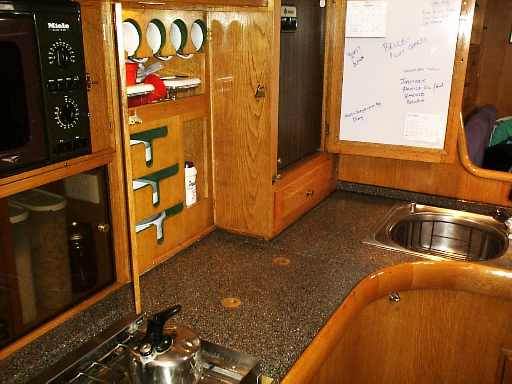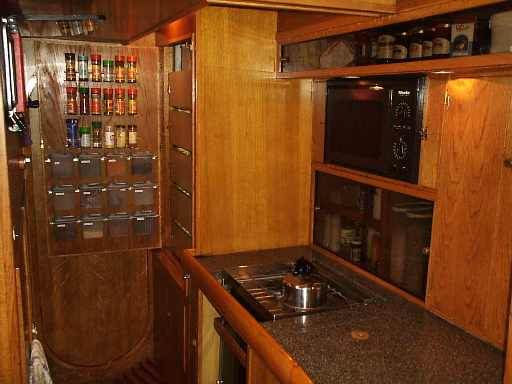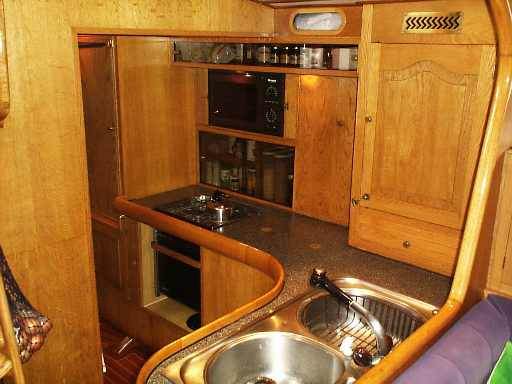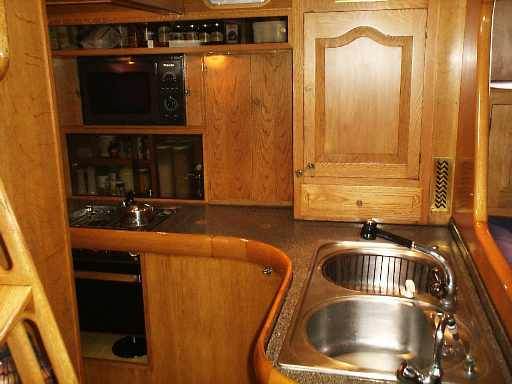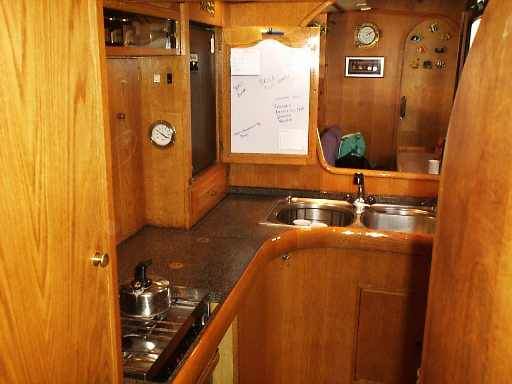 A collage of pictures of the galley.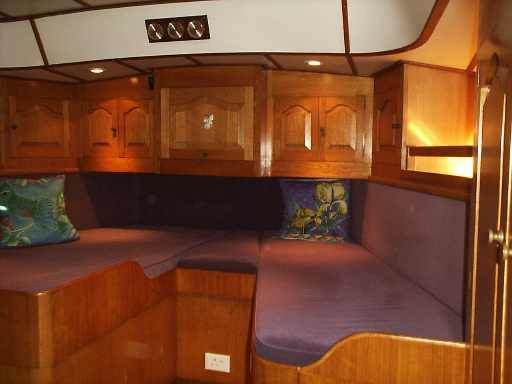 The Aft Cabin. The centre locker houses a 22" 1080p Full HD LED TV with a Smart CX-10 Hybrid Sat receiver and a surround sound system.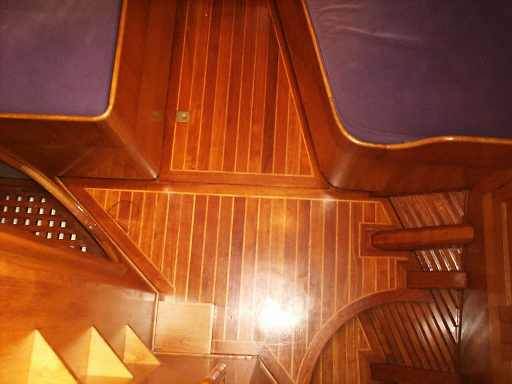 Looking down the Aft accommodation hatch, showing joinery detail.
There is a tremendous amount of storage space that was specifically designed to safely house all the requirements of long term cruising. Recent additions are modular and can be removed easily.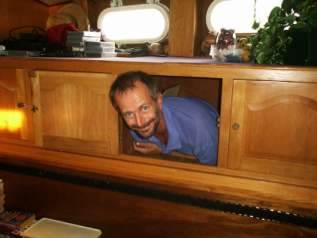 The cupboards are truly huge!
---
Entertainment;
A Pioneer MP3/WMA/FM//AM/CD feeds a 4x100w Jensen Amplifier powering the two internal B&W (Bowers and Wilkins) M1 speakers and the two external Quart ones. The Chartplotter screen is also a digital TV.
---
Communication;

An Icom M 600 Marine SSB is installed. It is capable of covering all Marine and Amateur frequencies Transmit and Receive.


An Icom IC-706 Mk 2 Mf/Hf/Vhf radio is also installed. It covers all of the previous frequencies as well as VHF ones in Marine, Amateur and Aviation bands. It also operates on FMW/FM/AM/USB/LSB/RTTY/CW modes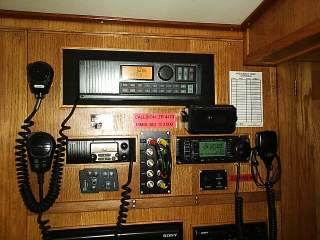 .........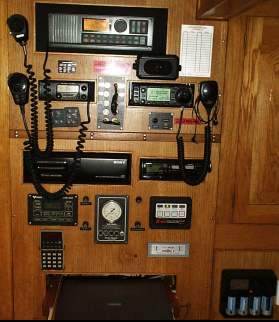 A Standard Horizon Matrix AIS+ GX 2150 VHF/AIS/DSC/Loudhailer/fog is installed
An automatic antenna coupler is installed, and the HF antenna is an inverted "L" and includes the triatic stay.
An antenna patch bay is installed for disconnecting during lightning and for reconfiguring the operation of the radios.
An SCS Ptc IIe multimode Pactor controller is installed. This allows Internet email, Weatherfax, Navtex and numerous other modes to be utilized via the 706 Radio. A slide out tray in the comms panel houses a Dell Latitude Laptop Computer for the weather and navigation.
---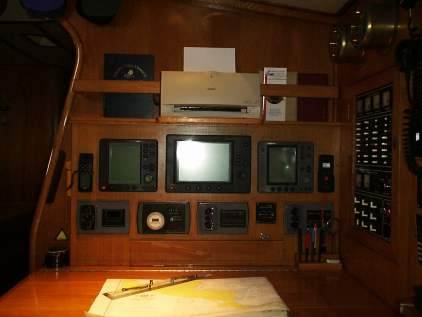 Instrumentation and Navigation equipment;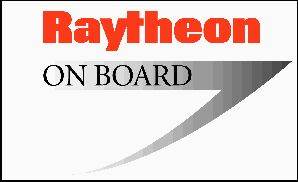 A Full suite of Brookes and Gatehouse equipment is installed and several spares are carried. The Sailing instruments are Depth, Boat Speed, Course indicator, Fine Apparent wind, Coarse Apparent wind, and Wind Speed. These original instruments have a dimmer and have glass lenses as opposed to plastic, which will not craze in the sunlight. The other sailing instruments in the nav centre are:
B&G Hecta echo sounder.
B&G Hornet Anemometer, Wind Direction, Boat Speed and Log.
B&G Halcyon Repeating Compass
B&G Hadrian Distance and angle off course computer.

The rest of the Nav equipment is from Raytheon.
An Autohelm/Raytheon Pathfinder SL72 LCD radar interfaced to
A Raytheon L755 Fishfinder / echo sounder / chartplotter
An Autohelm Active GPS.
A Raytheon Type 300 24v autopilot course computer, interfaced to the Laptop computer.
A Raytheon autopilot motor rotating the hydraulic steering system.
A Raytheon ST6000+ Autopilot and seatalk control head in the cockpit.
An Autohelm ST50+ wind instrument interfaced to the seatalk bus.
An Autohelm Fluxgate compass is installed up the mizzenmast.

A Canon BJC 250 colour inkjet printer is connected to the laptop and built in.

A Garmin handheld GPS
An Autohelm Personal Fluxgate compass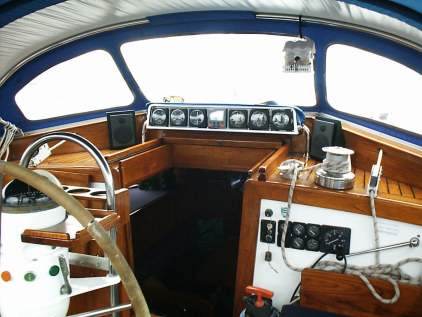 ---
Engine instrumentation is all from VDO MARINE, includes a Rev counter, Engine oil pressure, Gearbox oil pressure, Engine water temp, Engine hours, Engine battery voltage, Warning Klaxon.
The Generator also has a Temp and Oil Pressure guage mounted remotely
---
Two ships timepieces are installed, one for GMT one for local, there are also two marine barometers and a thermometer and hygrometer.
---
Safety equipment:
No compromise was made here. Bilge pumps include two electrical diaphragm type, one hand operated Whale Gusher 25, and an engine driven 2.5 " Jabsco 50270, pumping 22000 litres per hour. This also feeds the suction lines in 2.5" stainless steel are led to four areas of the vessel isolated by stainless steel ball valves. This pump can move a huge amount of water!
The engine raw water circulation pump, and indeed the generator one, can also be selected to evacuate any of the former areas, by simple selection with a valve. There is an engine room high water alarm and an automatic electrical bilge pump, as a leak in the virtually sealed engine compartment would probably go undetected for a while.

Safety was a consideration in the engineering of every system on board. No production boat could compete with the attitude pervasive everywhere on this vessel. Stainless steel 75mm (3") standpipes rise from the hull to the cockpit drains. These once drained the cockpit in the Southern Atlantic after a following sea toppled into it in a matter of seconds. These were extreme conditions and not expected to be repeated soon. On the other hand the large drains allowed a guest to lose their sunglasses through them.

A Beaufort 8 man Life raft in an insulated cover is installed on the deck aft of the cockpit. It has an inflatable floor. The Terhi Tender is also mounted in such a way as to be able to launch in less than 15 seconds. A list of other safety items is;
Offshore lifejackets x 8
Epirb 406Mhz/121.5Mhz x 1
Epirb 121.5 Mhz x 1
Horseshoe life rings x 2
Dan buoy x 1
Dan Lights x 2
Personal Strobes x 6
Dan bouy strobes x 6
Harnesses x 8
Bolt cutters x 1
Fire extinguishers x 5
Flashlights in strategic locations x 9
Flares (hh and rocket) x 36
Smoke canisters x 8
Dye markers
Whistles
Heliographs
First aid kits x 3
Searchlight
Emergency battery operated nav lights
The list continues with items too numerous to mention here from knives in strategic locations to wooden bungs.
---
Toys and auxiliary craft.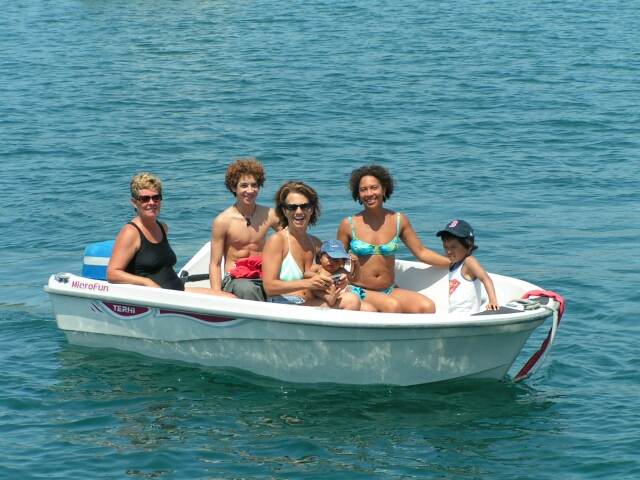 A 3.15 m (10') Rigid Terhi (UV resistant ABS) dinghy with a Yamaha 15 hp outboard motor is the main tender.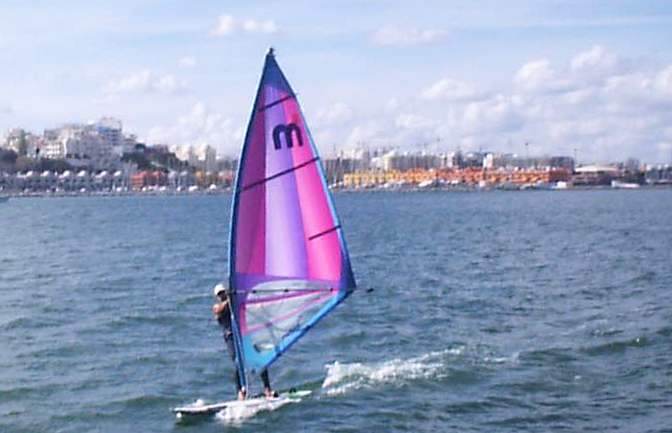 The sailboard is great for beginners and for kids of all ages to play on.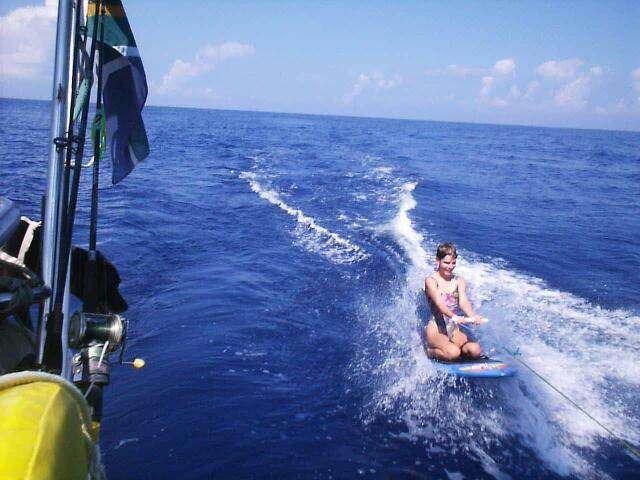 An O'Brien knee ski, and a Plano-Sub
---
Documentation Full detailed instruction manuals, covering all equipment on board are carried. They comprise four lever arch files full of data and information, and one box file of extra info. As built drawings, with Lloyds embossed approval are carried for detail.
---
Spares are carried for all on board equipment from winches to a spare heat exchanger for the generator. Impellers, belts, bearings, seals, kits, fuses, lamps, O-rings, gaskets, all too numerous to mention. Tools are carried as well as some special tools for unique equipment.
---
---
---