Port d' Andratx
39° 54.50 N &nbsp 031° 02.38.63 W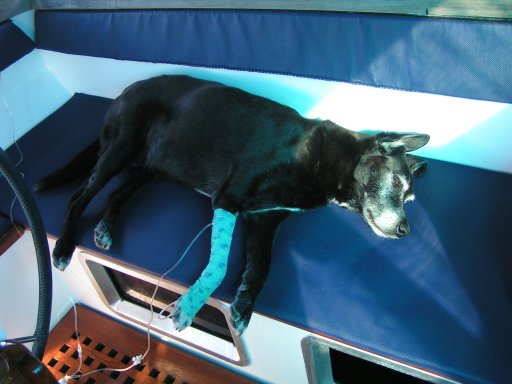 One afternoon, Jack had a strange attack. I stayed with him ashore, while Laura rushed back to Gilana to fetch the Oxygen cylinder. He was in acute respiratory distress. He was gasping so hard for breath that he inflated the stomach. It seemed like his throat was closing, and we thought it might be an allergic reaction. We rushed him up to the Vet, Gabriel, in Andratx, who was absolutely wonderful, staying with him for 2 1/2 hours after closing time. He put up a drip, and administered a cocktail of drugs that gradually settled the poor old dog. He lost control of his bodily functions, and had bad O2 saturation, despite the 8 Litres a minute we were aiming at his throat. On our way back to Gilana he passed out again, and we thought we had lost him. He revived, and this picture was taken the next day while he recovered. Nil per mouth, and no stress for 48 hours. We gave him 4 Litres of Ringer's Lactate, and his blood finally stopped showing signs of necrosis. Gabriel worked miracles! he prescribed and supplied "Ventolase" (Clembuterol) which has given Jack a new lease on life. He is now acting like a 10 year old, not 15 going on 16. Gabriel is a great man, he does not even need to work but does so for the love of animals.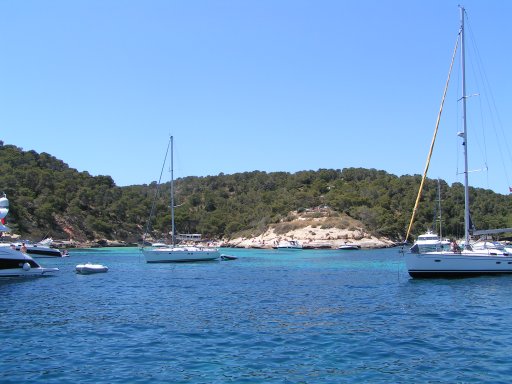 We spent a day in Portals Vells.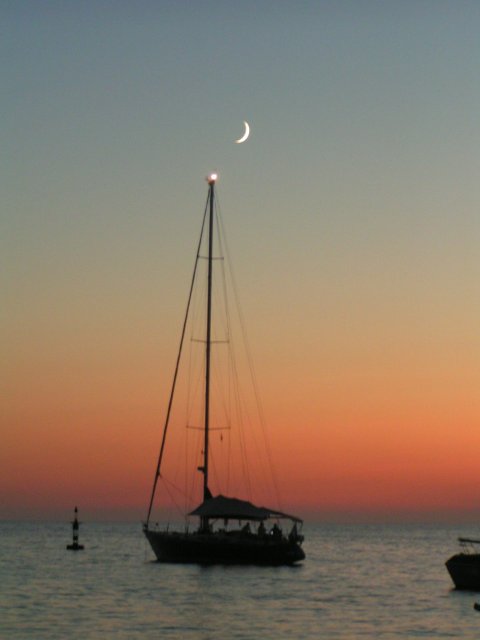 Just an interesting sunset, like the Turkish flag.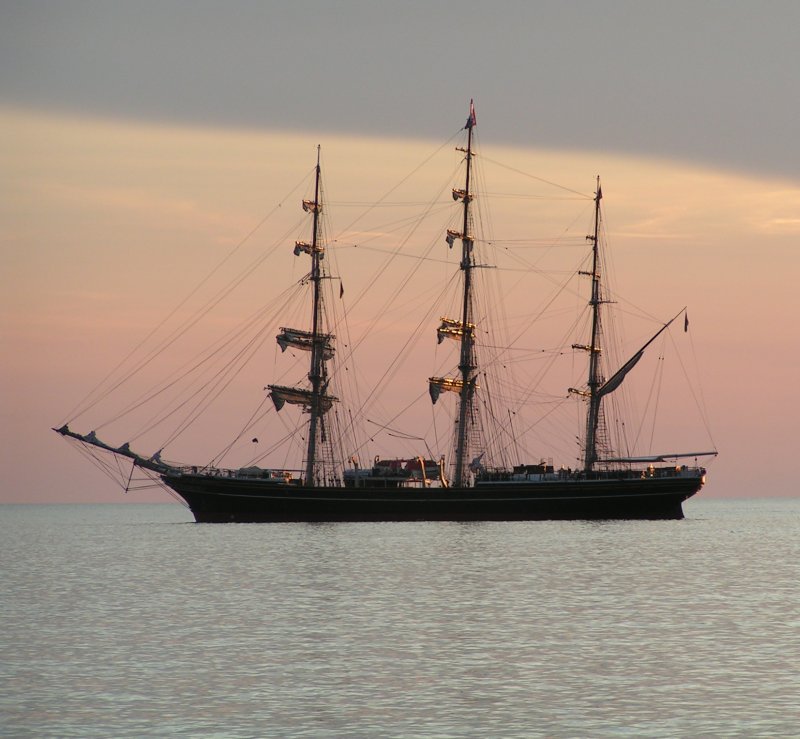 We last saw this vessel and photographed her in St Maarten, thats twice now and we never got her name.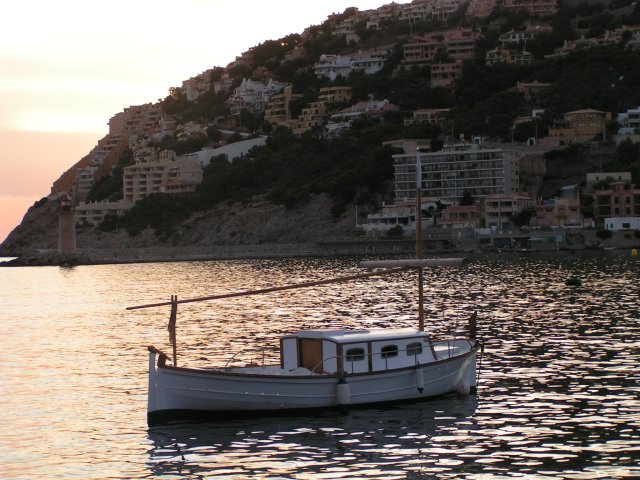 Our neighbour, a traditional planked Mallorquin Llaut, named "IRENE"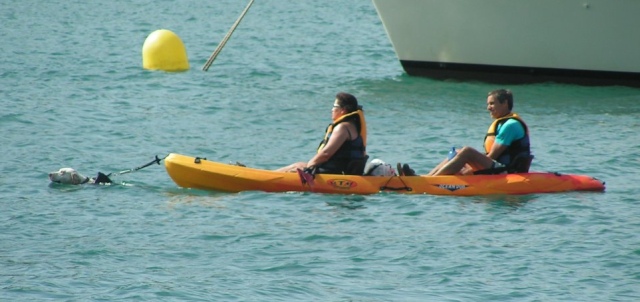 One day this couple came past with their dog towing them in the canoe, we had to take this picture.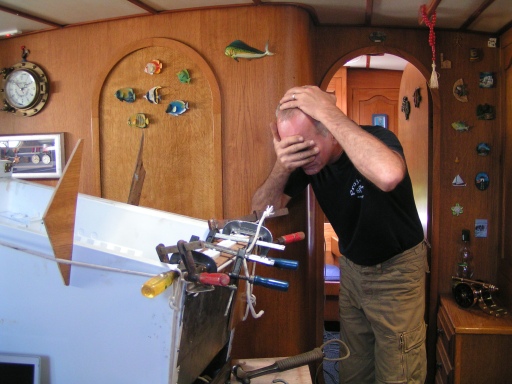 One of three larger jobs tackled. We noticed the fridge was dripping condensate from its bottom, it was always damp there. We removed it from its cupboard and "undid" (cut sawed bent and broke) the bottom panel. We found that the insulation was waterlogged, and so removed it all and blew new foam inside. Anyone who has worked with PU foam will know how it exerts quite a force as it expands. This is how I clamped it so that it would not grow, and still fit into the same cupboard.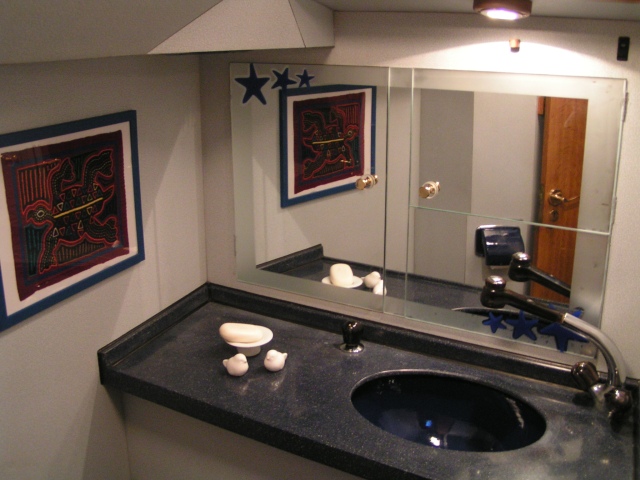 Another job was to redecorate the aft heads. new mirrors, new Mola in frame, handbasin painted, new knobs, new solar powered vent, and a few other things.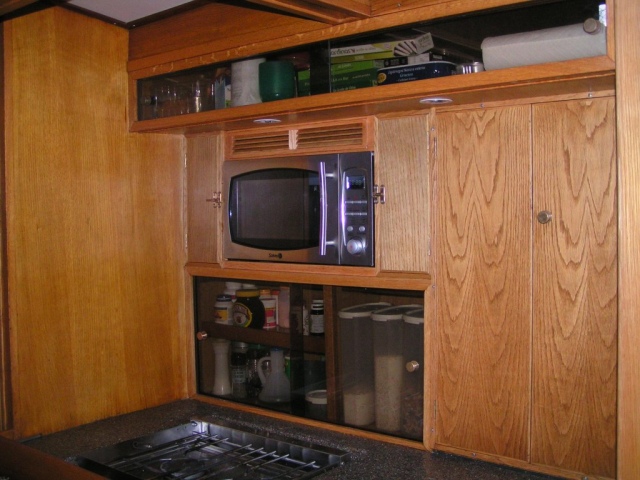 We had some friends aboard (see following pages) for 11 days, and did a trip around Mallorca with them. A week later "El Corte Ingles" deliverd this microwave, a gift from them. The old Miele Microwave was donated to a friend, and I set about making new wooden cupboards left and right, a new louvre vent above, and fitting it in. It uses much less electricity, Can grill, bake and microwave, and occupies less space, and weighs about half. A very nice gift. Thank you Juan, Eva, Luis and Sunsi.