St Helena
15° 52 S 005° 43 W
| | |
| --- | --- |
| Page 1 of 1 | 21 May 1999 - 29 May 1999 |
St. Helena
St. Helena is a pretty yet small island. There are many monuments scattered around the island. In the town of St. James, Jacobs' ladder towers high above the town. The ladder was used for hauling goods to and from Jamestown. The ladder has 699 steps. Emperor Napoleon Bonaparte died here in 1821, he was initially buried here but his body was exhumed and returned to France in 1840. Many years ago mariners would leave their letters under a stone called a "Poststone" to be collected by other mariners heading in the opposite direction. St.Helena's small blue and white jail can hold 20 prisoners. There were three when we were there. The St. James church is in the middle of Jamestown. Built in 1774 it is the oldest Anglican church in the southern hemisphere. The island is 47 square miles in area, 10.5 miles long and 6.5 miles wide. The highest point is Diana's Peak at 2685 ft. The temperature in St James range from 20-32 deg C in summer, and 15-26 deg C in the winter.

Liz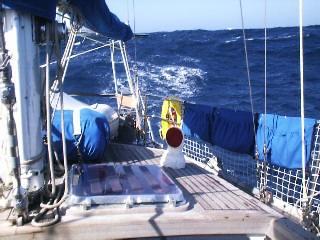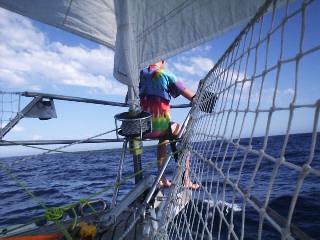 Two views underway to St Helena, Somewhere behind is South Africa, and Liz waits for the first glimpse of St Helena.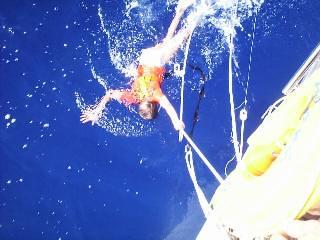 "MOM I CAN'T SEE THE BOTTOM" Liz snorkelling in 3800m of water 400 miles from land, note safety harness and two grab lines streaming aft.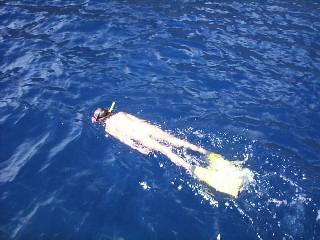 Snorkelling in 100 ft viz.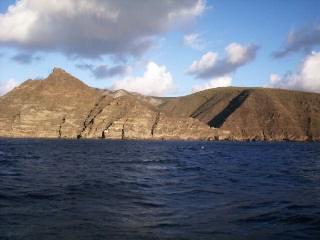 "Like a bit of Karoo in the South Atlantic"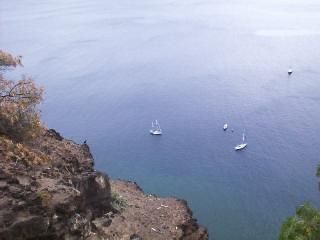 Gilana from cliff on St Helena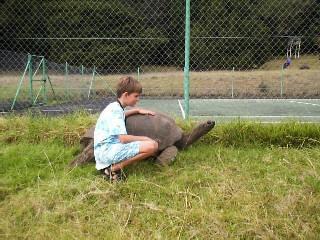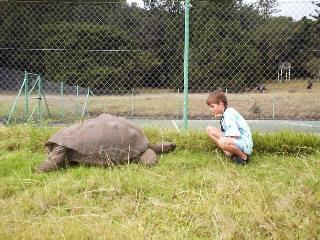 Liz meets Napoleon's tortoise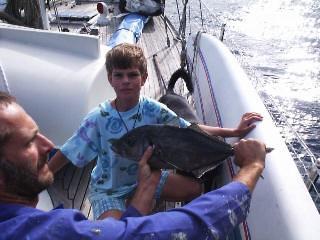 Fish, yibbida-yibbida folks (apologies to Rex Hunt)