Morrocoy National Park
10° 51 N 068° 17 W
| | | |
| --- | --- | --- |
| Page 1 of 1 | | 30 September 2000 - 08 October 2000 |
Ensenada el Placer:
Which is a little lagoon in the maze of mangroves that is known as The Morrocoy National Park. Anchored in the mangrove maze you are protected from wind and swell. In the middle of the bay there is an island that is home to over 200 Scarlet Ibis. The juveniles are black and as they grow up they become black with scarlet blotches and then the brilliant scarlet of their parents. We came to this mangrove maze to prepare for "Hurricane Joyce" which turned into a tropical storm then just a depression. There is a little lagoon off to the right of where we were anchored with a small shallow entrance. The water in that lagoon is like glass and great for skiing at 34 deg C!

Boca Seca:
The little island of El Sombrero has twisted paths along the tan coloured beach. The people under the little palm frond roof are really helpful and try to make your stay as exciting as possible. There is a big white buoy on the reef were we saw out first sea horse. We took photos of it and then let it go, exactly where we found it.

Liz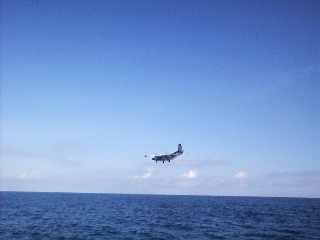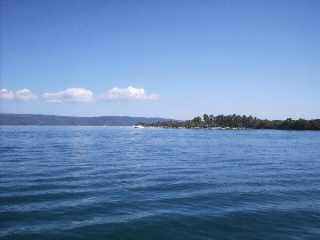 We were in Los Roques when Hurricane Joyce was tracking directly towards us. We, along with several other boats decided to run away to the Morrocoy National Park, on the Venezuelan mainland. On our way in the pilot of this maritime reconnaissance plane gave us a great show. (Right) The entrance to the mangrove island maze of Morrocoy.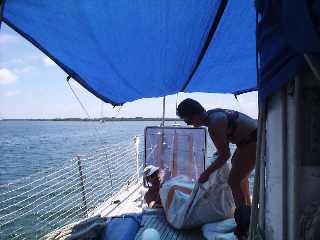 Preparations for the onset of the hurricane involved reducing windage and increasing holding. Our 65 Lb CQR anchor was set on 80 metres of 13mm chain. The 90Lb Danforth was made ready with 30m of chain and 1" nylon rode flaked out on deck ready to drop by cutting a lanyard. The Genoa was removed from the furler, the mainsail was lashed with a running hitch, the inflatable was brought aboard and weighed, and then Hurricane Joyce fizzled out to a drizzle. Too Bad, NEVER regret hurricane preparations.
| | |
| --- | --- |
| Liz gets snappy and takes a few portraits of Jack. | Huh! |
| | |
| --- | --- |
| Liz has this little arrangement of stuff that she had found while diving or beachcombing. | Andy & Joan from "Silver Heels" our good friends, who are on their way to New Zealand. Thats the last time we saw them. Hey guys, Miss ya! |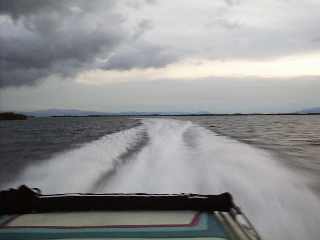 We met this guy who had a fast boat. Wiseguy here says "Ill take the camera" truth be told, I was too scared to take my hand off the rail until we were in flat water. 2 V8 engines delivering 575 Horsepower each! 26 foot fibre boat, 75KNOTS top speed, We went up to 65 Knots, and the photo was taken at that speed in flat water, but this guy kept the throttles open in the open ocean, we flew, MAN we flew! I have never been this fast on a boat. Liz and I were laughing uncontrollably when we returned, there is no other reaction that is appropriate, Beserk I tell you, like an hallucination.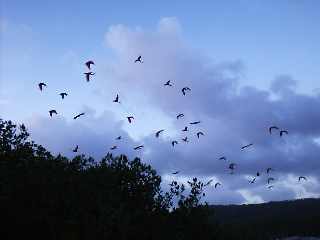 The Scarlet Ibis were plentiful here. These birds are really red.
Liz was ashore when this Park Ranger guy comes to her and says "El Caballo de mar" and he has this Seahorse dying in his hand. Liz gets a glass of water and revives the poor guy and then we went to snorkel out to the reef and take him home. Yay one up for the good guys.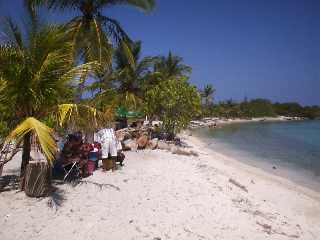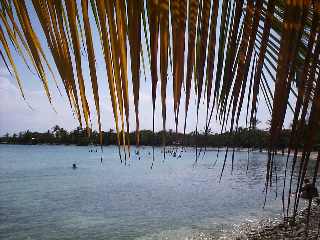 Beach scenes around Boca Seca where the locals come to chill-out, in 32 deg water!! like wimming in swizz!