Cayman Islands
19° 17 N 081° 23 W
| | | |
| --- | --- | --- |
| Page 1 of 1 | | 20 November 2000 - 27 November 2000 |

The Cayman Islands are made up of three islands, Grand Cayman, Little Cayman and Cayman Brac.

We went to Grand Cayman, the main and biggest island. The water surrounding Grand Cayman is clear and full of life. In Georgetown, there are different bouys, each one is located above a great snorkeling spot. We snorkeled on a bouy called Tarpon City, which lives up to its name because I dived down and looked into a cave, there I was face to face with one of the biggest fish I've seen in my lifetime, which now that I've mentioned it, is not long at all. We also fed some Chub (a kind of fish) and after a while they start to get cheeky and bite your finger instead if the ham. Dad sent me up the bosun's chair later on in the day to go up and fix the steaming light. Then we went and snorkled on a wreck where some divers were and one man was taking a picture of a lady posing infront if a coral garden so I swam down and as the man took the picture I pulled a face so you get a model, a coral garden and a child pulling a face as the photo was taken. Later that day, my dad and I were talking about the "ultimate mean machine fish" and we ended up with a cross between a "Barracuda with a Sergant Majors attitude". Grand Cayman is very well known for Sting Ray City. We left Gorgetown to take a day to look at the Turtle farm and then to go to Stingray City, but as we were arriving I saw in a magazine that it costs CI$10 wich is about 100 rand to go and see the turtles and then another R50 to let a turtle go into the wild, because that is the amount of money they sell the turtle meat for in the restaurant, so we steered a course straight for Stingray City. But also upon arrival saw, or rather felt it was too shallow and we ran aground so you can just imagine how cross my dad was so we turned around and headed back. We anchored back in Georgetown and low and behold, we jumped into the water and there was a baby sting ray which we swam with for a while.
Liz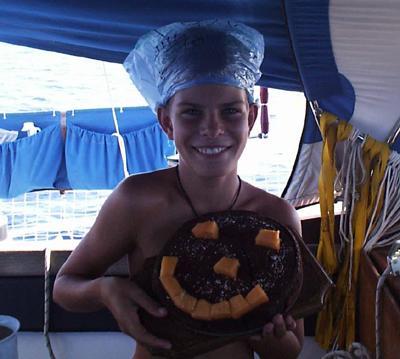 Liz bakes us a cake, wearing her Chef's hat.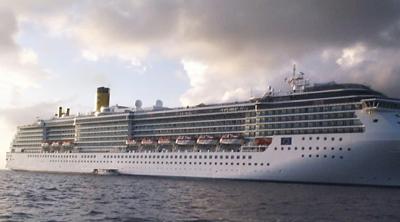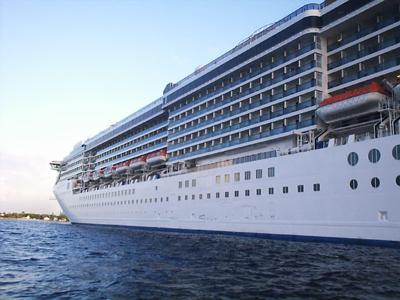 This was the biggest Cruiseliner we saw ever, Italian flagged,
at anchor in Georgetown.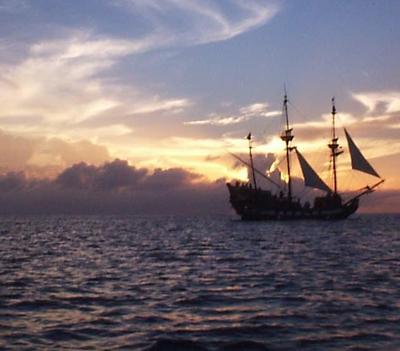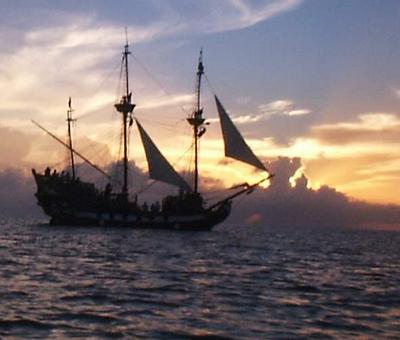 This pirate ship replica lived near us, and did wonderful
trade at sunsets, packed with tourists.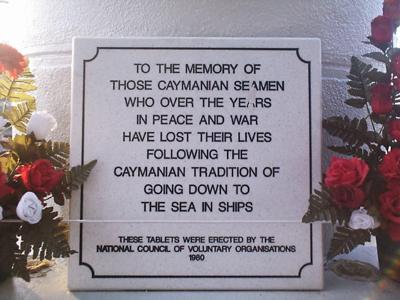 A Memorial, in stark contrast to our experience when we
arrived, with Jack.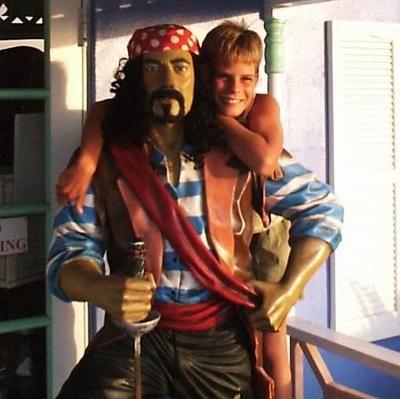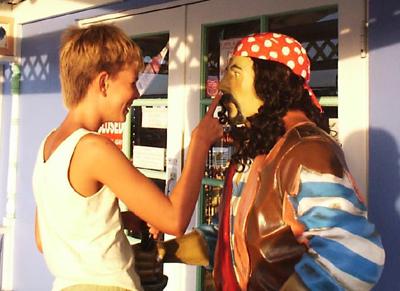 Liz gets to know a pirate.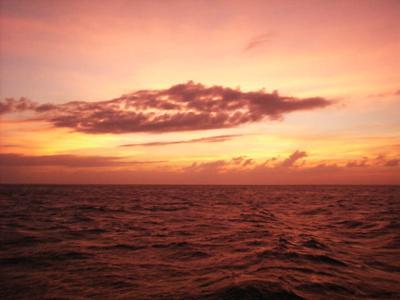 A Caymanian sunset, for a change.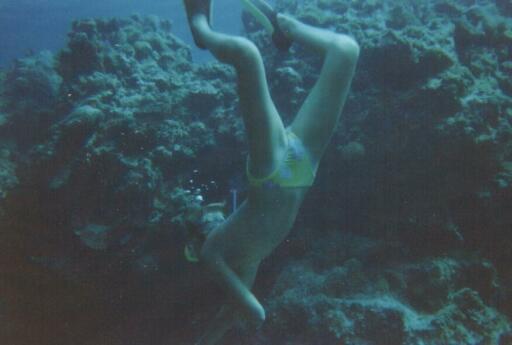 Liz snorkeling on "Tarpon City"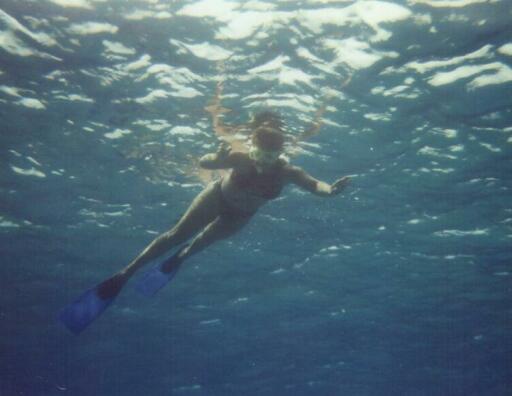 Laura (Incredibly graceful underwater) watches our baby Liz.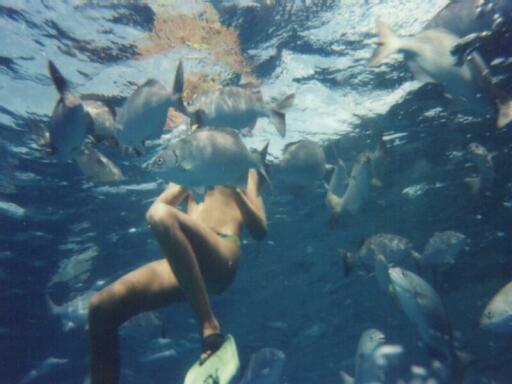 Liz feeds Chub at "Tarpon City"