Georgetown (Bahamas)
23° 31 N 075° 45 W

02 March 2001 - 14 March 2001

Swings that are draped over branches on Volley Ball Beach, Georgetown, sway gently as they get caught in the occasional breeze. Time slowly creeps on to two o'clock, by five past two the beach is filled with children as "Childrens Day" begins.

A "Quarter Hunt" starts the day, children dart this way and that in the sand uncovering buried treasure. Next "Water Ballon Volleyball" gets everyone wet. Then, grab your boats and everyone into the water, when the boat race begins, ten or more boats race to the opposite bank. Following that is the potato sack race, three legged race, pudding eating, egg tossing, water-pouring race, then off into the sea to clean up. Afterwards it was face painting and to close the day a game of Tug 'o War. There is always something happening in Georgetown. One day we built a bridge of dinghies across the bay and passed the Bahamian flag across from one end to the other as a tribute to the opening of the regatta.

Then later at night there was a "Lip Sync" contest, which was very funny, and would you believe a "Conch Blowing" contest. We had an extra crewmember when we left Georgetown. Chris, who won a valentine day competition for a voyage on a sailboat. People now call her competition a perfect storm not a perfect voyage. Anyway we left a few days later bound for Little San Salvador, another island in the Bahamas.
Liz
| | |
| --- | --- |
| Liz and friends at the start of the model boat race. | The Kids, Volleyball beach, Georgetown. |
| | |
| --- | --- |
| Liz goes ape! | Three legged race. |
| | |
| --- | --- |
| The water pouring race, object fill the bucket. | Chocolate pudding eating, no hands allowed. |
| | |
| --- | --- |
| Liz was clean compared to ..... | ....this kid. |
| | |
| --- | --- |
| Tug'o war | ?, ?, Chris, Maryke, Laura, Goliath, moms tug'o war. |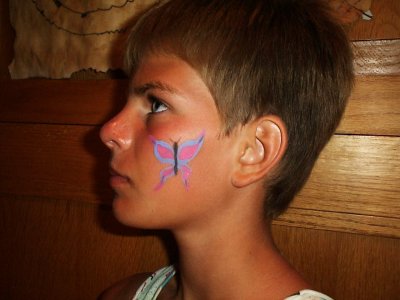 Face painting.