West Palm Beach
26° 46 N 080° 02 W

| | | |
| --- | --- | --- |
| Page 1 of 3 | | 31 March 2001 - 12 March 2002 |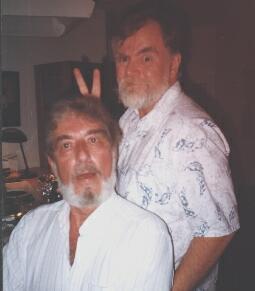 Why West Palm Beach?.....It's a long story, but the gentleman seated above is to blame. He is Retired USN Chief Petty Officer (Submarines) John Clews, or to his friends KD4EC, or even Clewge. He and Ed Petzold (K1LNC), pictured behind him, had been speaking to Gilana by radio for almost two years together with George Cooke (ZS1JD), and W2RBK, W4CKD, KA1ERN, and some others who came up from time to time. John and I had a lot in common and we joked a lot on the "wireless" When we mentioned that we were coming to Florida, he immediately volunteered his friend, Jim Collins'(KB4FYN) dock on Singer Island. This was to prove to be a great location, we made so many great friends, and that is mainly the reason we stayed right there for so long.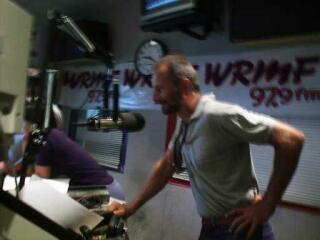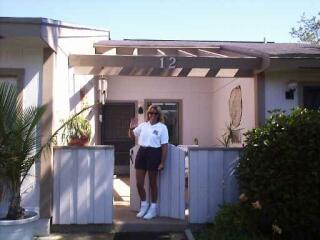 Mike being interviewed on WRMF. We had met Chris in the Bahamas where she had landed up after winning a radio competition, to sail around the world on a yacht. For one reason or another things did not work out. We offered her a lift back to West Palm Beach. Upon arrival the radio station being the sponsor of the competition wanted to meet us all. Chris was wonderful to us, we met almost her whole family, and were spoiled by them. Here Chris is pictured outside her house on one of the rare occasions she was not doing something for someone else.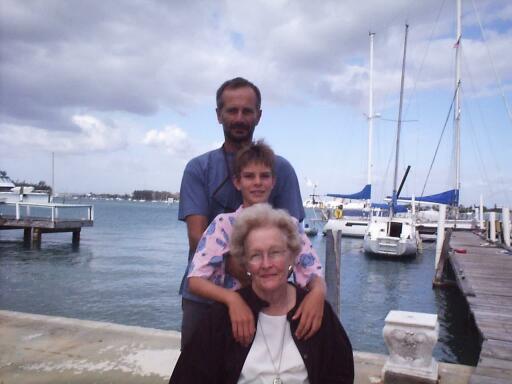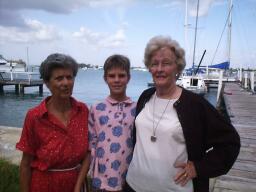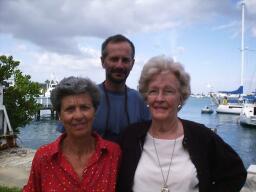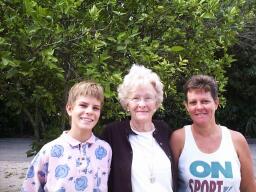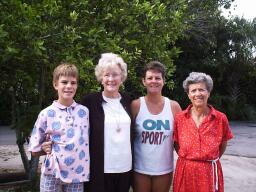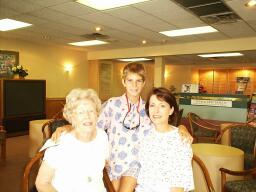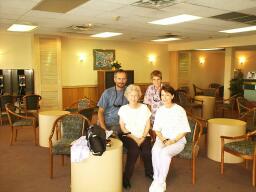 This is the whole family. Mikes mother Edna and sister Carol flew over to visit us. We had not seen them for two years. Pictured here at Jim's dock and in his garden, Mike's mom Edna, Laura's mom Edna, Mike's sister Carol, Laura, Mike and Liz. They spent a fortnight on board with us and then moved to a hotel, before treating Liz to Disneyworld in Orlando. Thank you for the visit!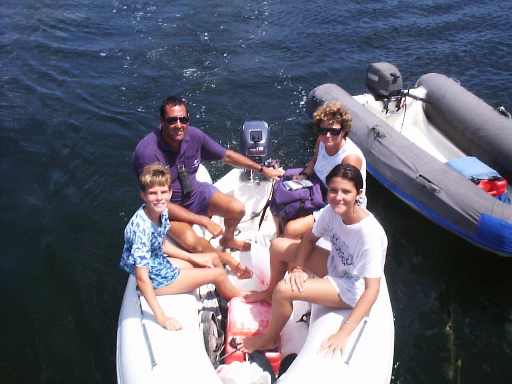 We bumped into Des, Carole and Lee-Ann from the catamaran "Island Fling" whom we had last seen in Las Aves, Venezuela. Liz spent a couple of weeks with them going on down to Miami, where the boat was sold and they are now in Cape Town. No more bouncy tables Carole!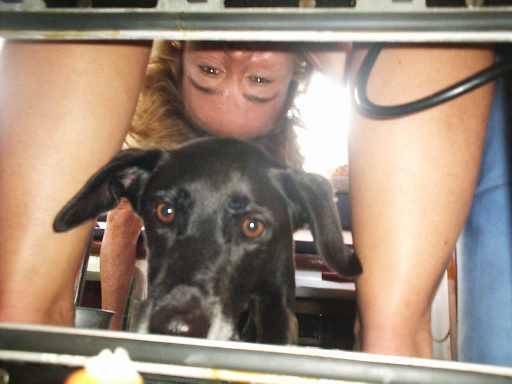 We made some very special, no, incredible friends in West Palm Beach, here Jack and Kim get on down to peeping through the cockpit scuttles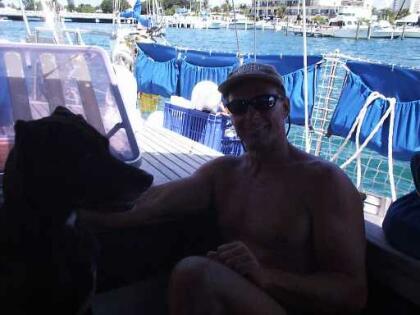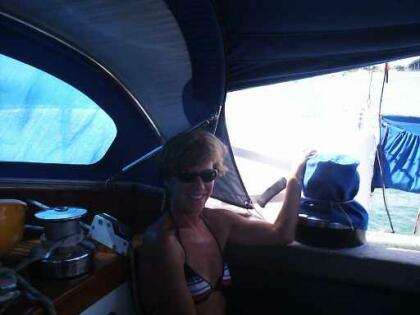 Bruce from "Twilight" and Anne from "Murph" spend a relaxing day with us at anchor just south of the Blue Heron Bridge. "Who-hoooo"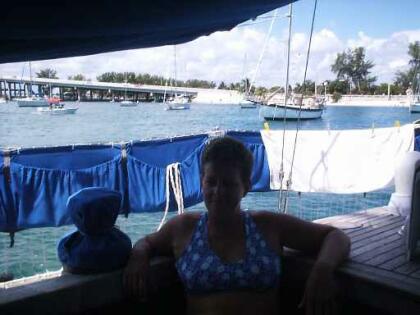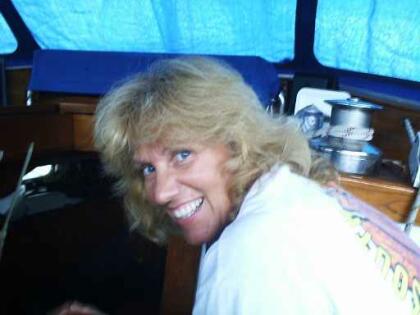 Laura and dear Chris.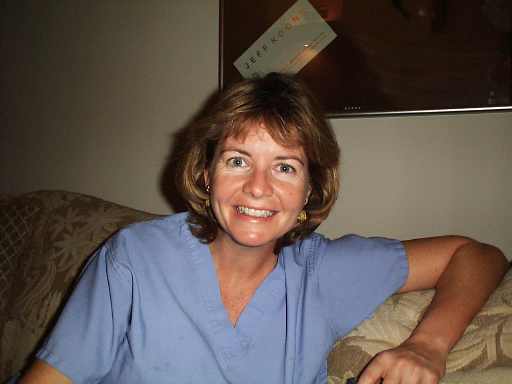 This is Darlene, who is in the process of preparing her Morgan 42 "Cool Change" to go cruising. (amonst other projects) We spent many hours together. We miss her and Kim so much, but we have a feeling we will be together again sometime in the future.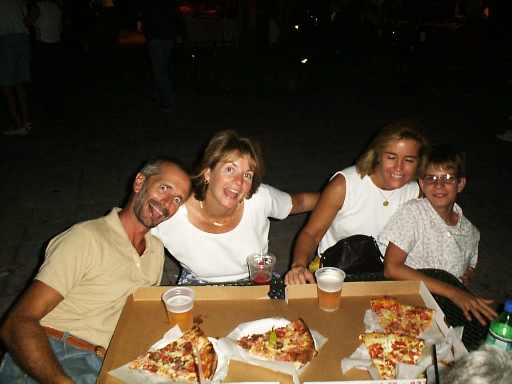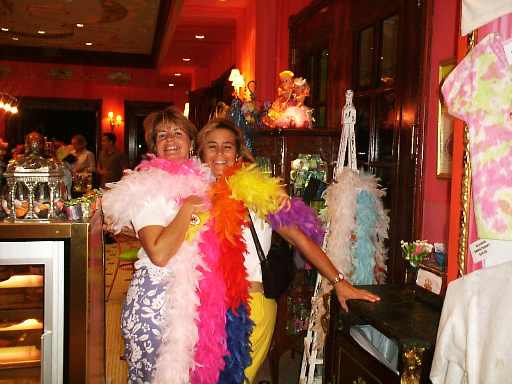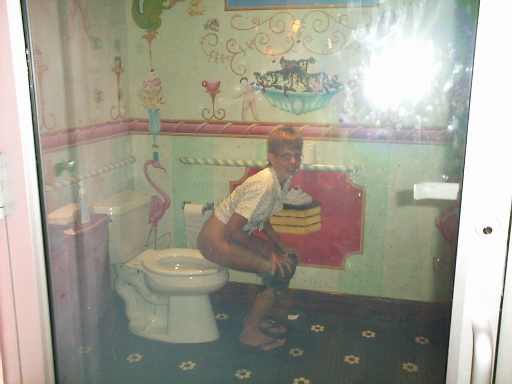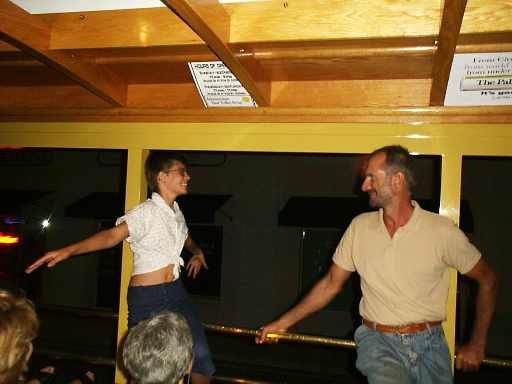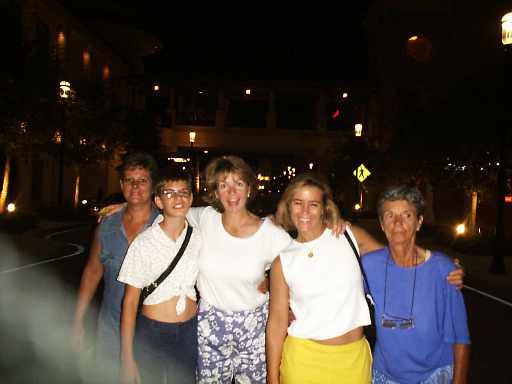 West Palm Beach has a new "downtown" called "City Place" It vies for traffic with the famous Clematis street, where live jazz and wierd people hang out on most nights, but on Thursdays vehicular traffic is rerouted and pedestrians rule! These shots are of us larking about with our friends among the rich and not so famous. The glass panel in the toilet is supposed to become opaque as you lock the door (Its LCD) but it sometimes malfunctions (LSD).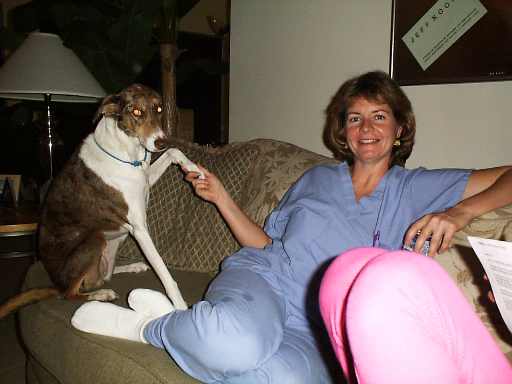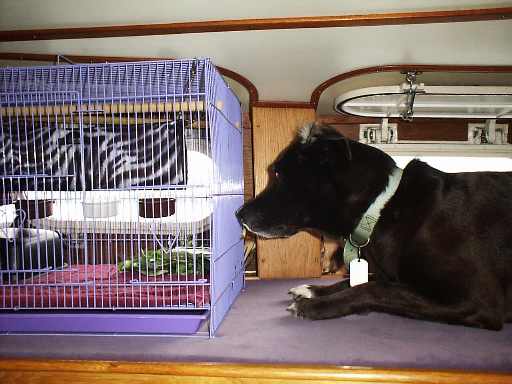 Mango, Jacks friend, poses with Darlene, while Jack on the right meets Sweetie (A Sugar Glider) while we babysat her for Chris.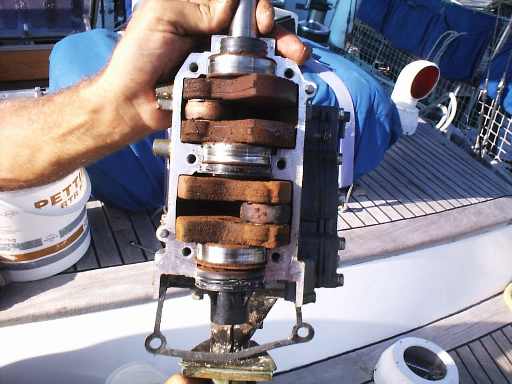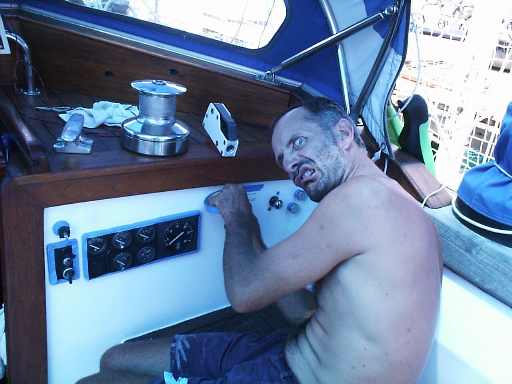 It wasn't all fun-in-the-sun in Florida. Amongst many other jobs, we rebuilt the 15HP Outboard, and painted the cockpit.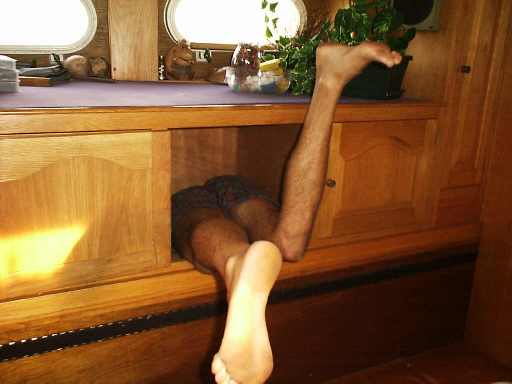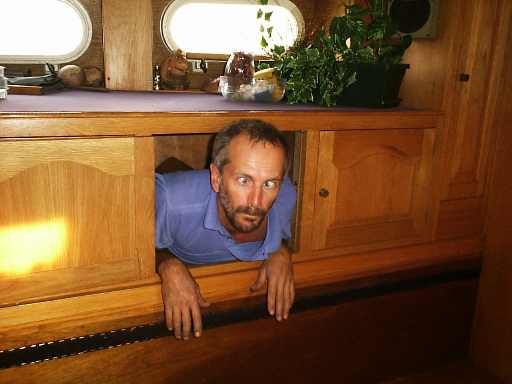 We always clean the lockers before restocking. Sometimes we lark about a bit too, below are the stores that went into that locker.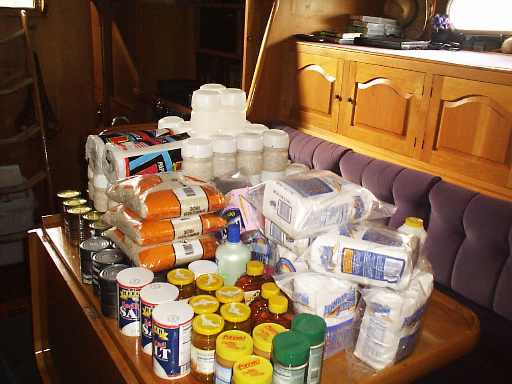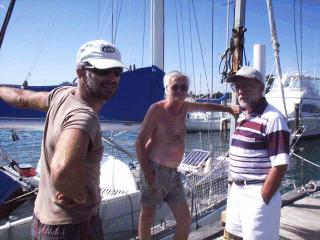 Mike, Jim Collins and friend "chew some rag"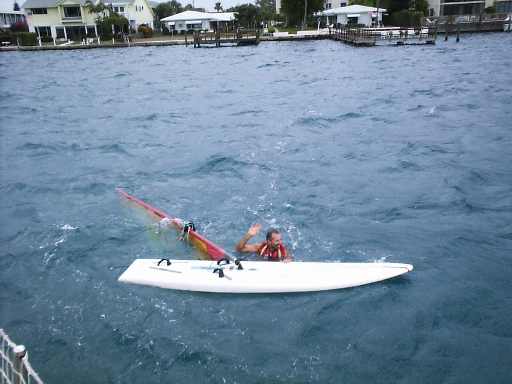 I did windsurf quite often on the old board, I also spent a lot of my time swimming.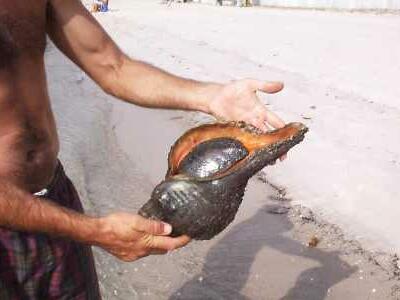 I found this "Horse Conch" at the beach and returned it to deep water as soon as the modelling assignment was over.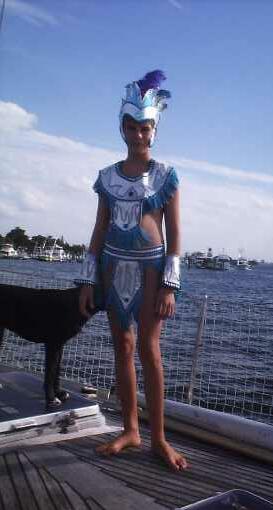 Liz tries on one of her Trinidad Carnival costumes.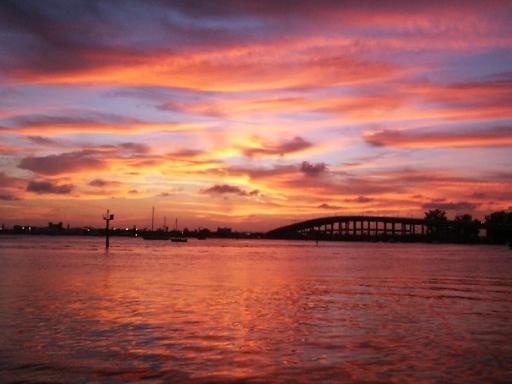 Sunset over "Blue Heron Bridge"