Spring and Summer 2005

| | | |
| --- | --- | --- |
| Page 3 of 3 | | 1 February to 31 July 2005 |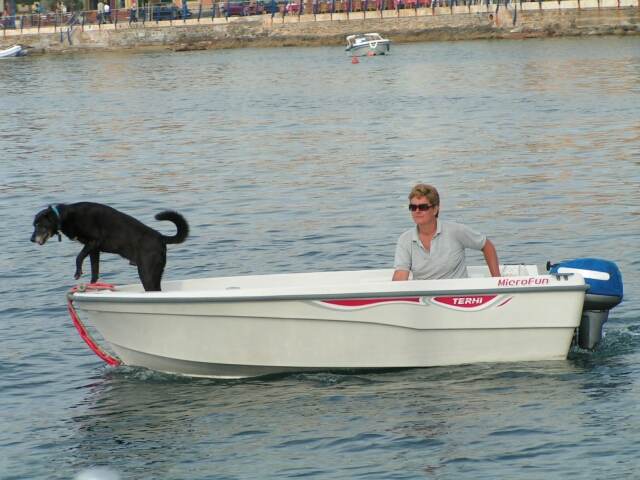 This is our new Dinghy. Our trusty Prestige Semi-Rigid finally saw its last waves this winter. On the 14th February there was a bit of a storm here. I was up and about at night laying new anchors for some other boats that were left unattended. That was how we met our neighbour. My sea-boots filled up with water at one stage, and I returned to Gilana to get dry socks. The dinghy was tied up at the inside of the floating dock, in a gust of wind, the whole dock moved and crushed the dinghy beyond repair. Here then is the new one. A "Terhi Micro Fun" We are thrilled with it, it is a fantastic boat. Click on the link to find out more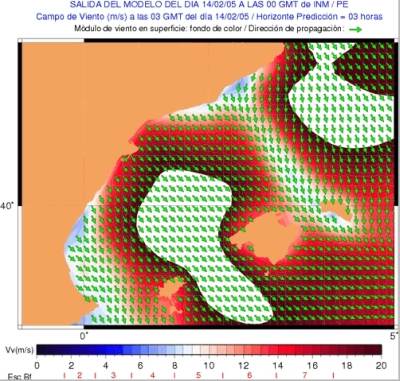 This is the weather forecast for the storm mentioned above. The white areas are off the scale, ie stonger than Beufort 9. For comparison the current chart is shown next. Pictures courtesy ofInstituto Nacional de Meteorologica.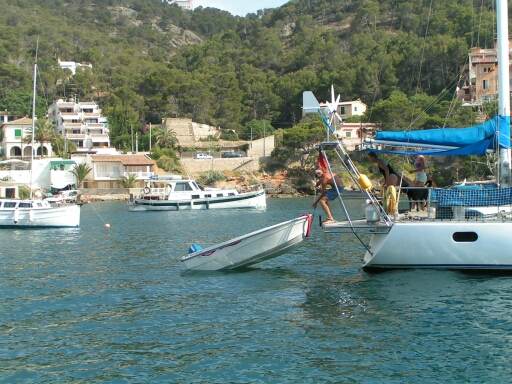 Many people have asked how we stow the dinghy for sea and slip her into the water, this sequence explains it.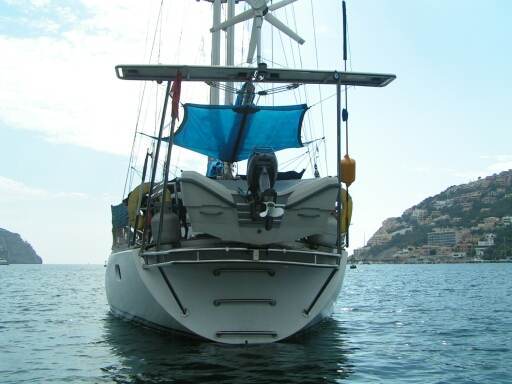 Stowed for sea.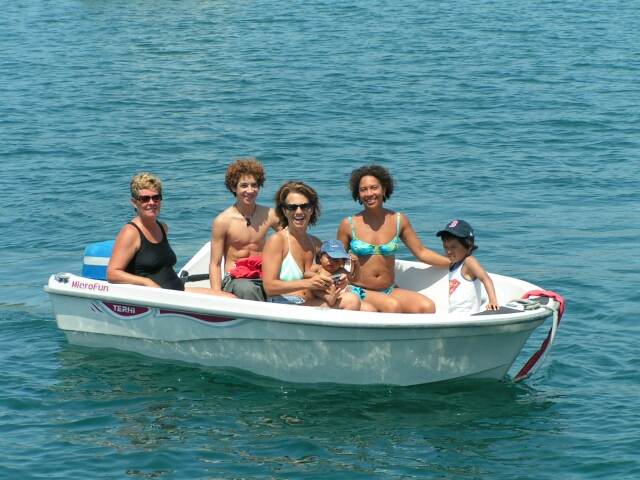 One of the main reasons we love cruising, is the wonderful people we have the opportunity to meet. Here are a group of just such wonderful people; Theo, Cheryl, baby Sam, Constance, and Louis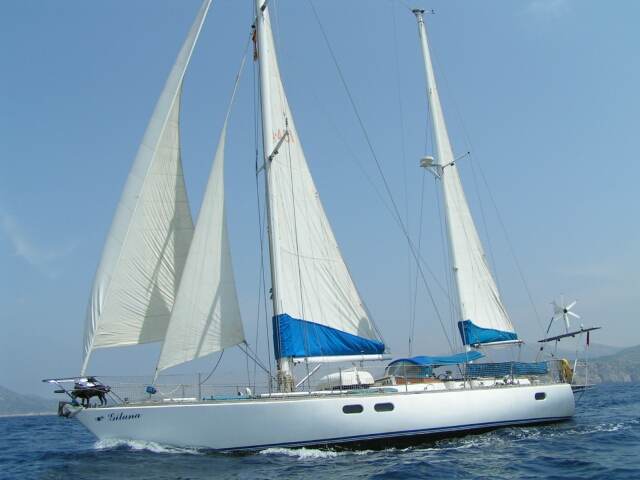 Gilana on a Sunday afternoon sail.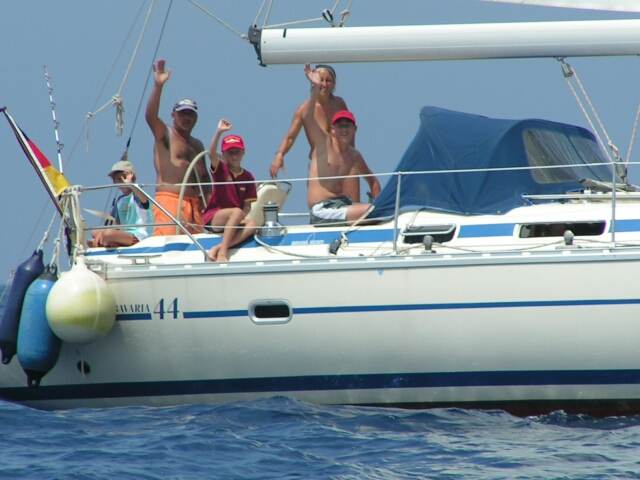 Our closest friends here in Mallorca, on their new yacht:Tony and Mari, with their great kids.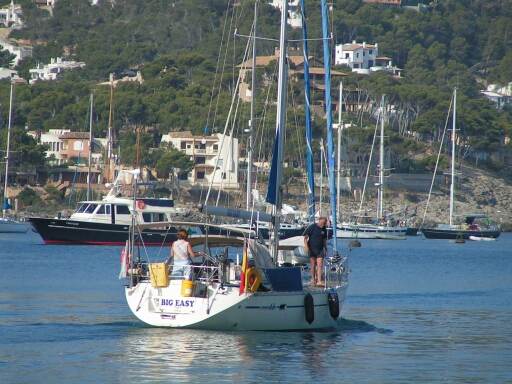 Jesus and Dori popped in to Porto Andratx and it was great to see them again.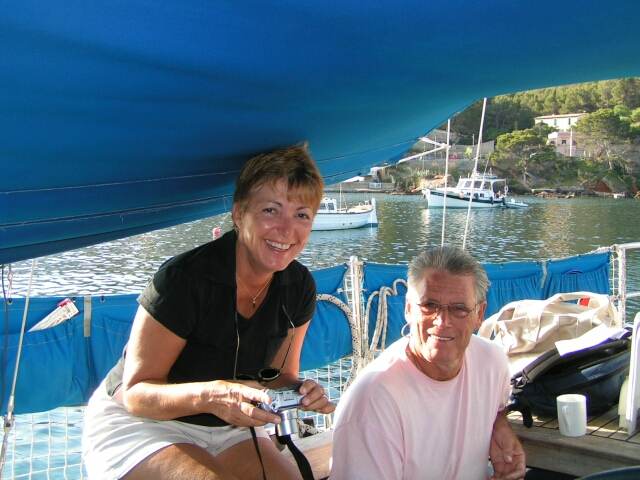 And surprise of surprises! Here Norm and Ellie, whom we had last seen in West Palm Beach also popped in to Mallorca and came to see us. We had sailed through Venezuela with them in 2000. They feature in some photos of Las Aves.
Liz and Jack are inexorably drawn to the front of the boat while underway. Also in the picture, our new roller furling staysail. The furler was second-hand and given to us by Brett in return for some work on their boat. It has been refurbished and is in almost new condition.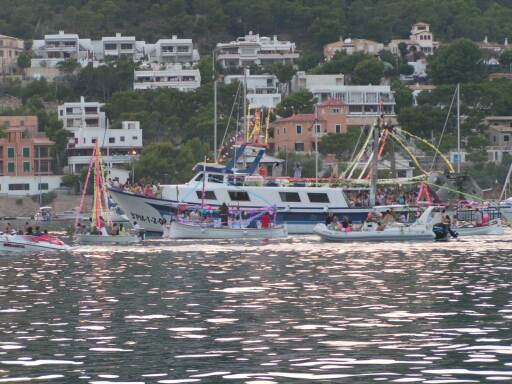 Part of the Andratx Fiesta, where they take a Madonna from the village church, carry her down to the harbour, and board her on a fishing boat. They then parade out of the harbour tossing palm fronds everywhere and return an hour later and put her back in the church till next year. It is called the blessing of the fishermen......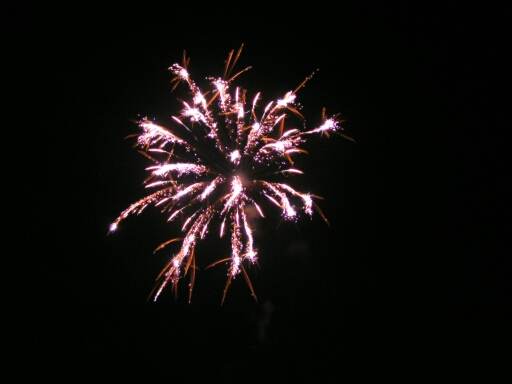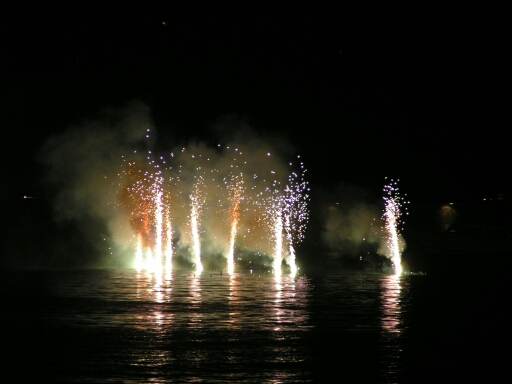 ...and is followed by fireworks later that night.
Mommy's boy loves his biscuits.
Here he tackles a Jamon bone given to us by Tony.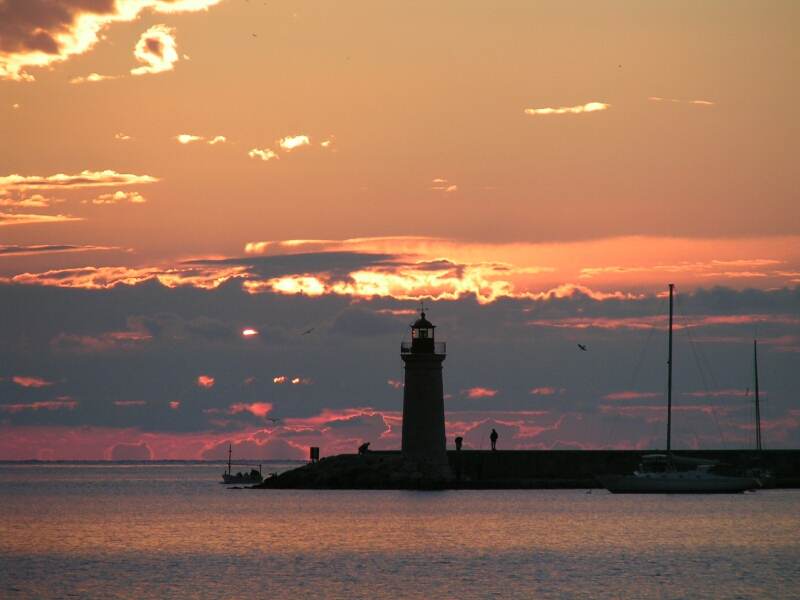 And another perfect sunset.