Leaving Mallorca and my trip to South Africa
and on to meet Gilana in Curacao
| | | |
| --- | --- | --- |
| Page 1 of 1 | | August - October |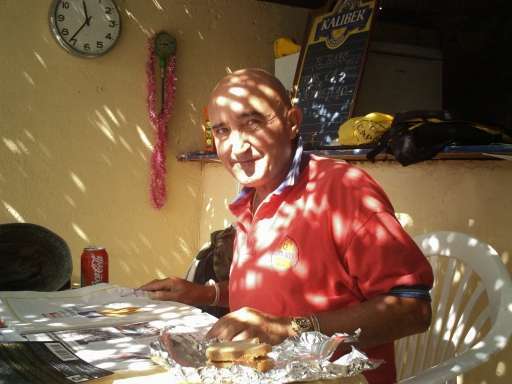 Eduardo, one of El Buceo's dive boat captains. Also, my Spanish teacher while at the school.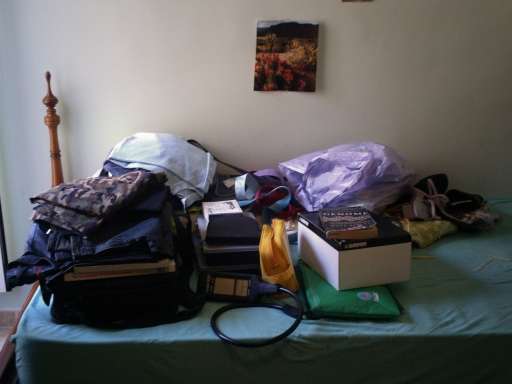 WHAT A MESS!!!
Who said packing was easy, anyway?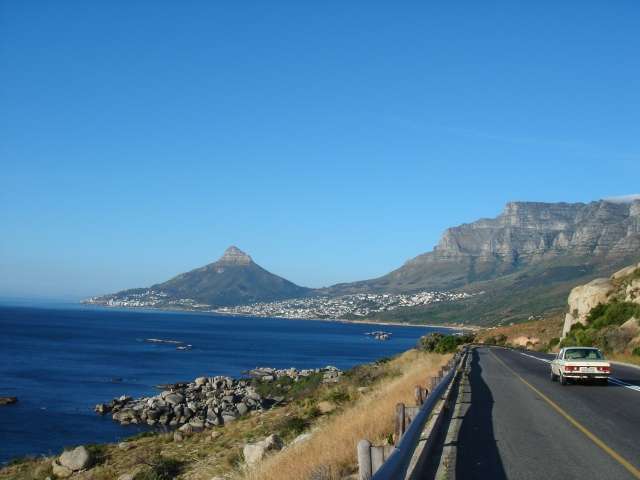 View of Lions Head, Table Mountain and the Twelve Apostles, Cape Town, South Africa.
After leaving El Buceo I decided to take a side trip to South Africa to visit family and friends.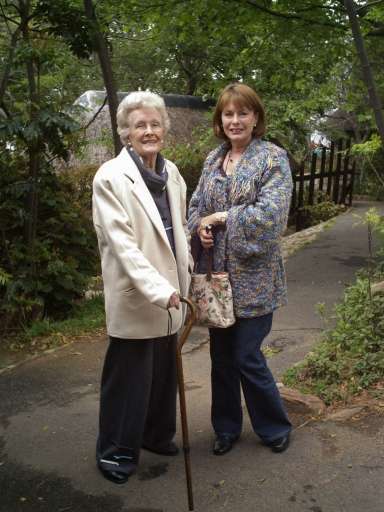 My Grandmother and Aunt on my dad's side of the family.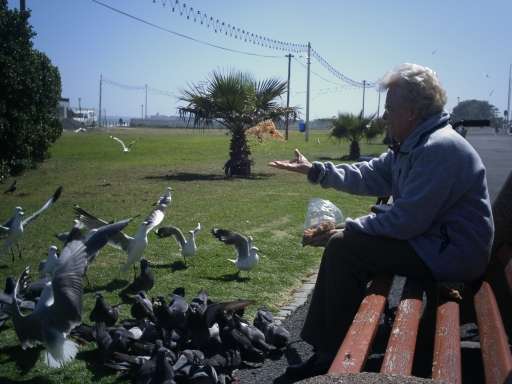 Old fashioned bird feeder.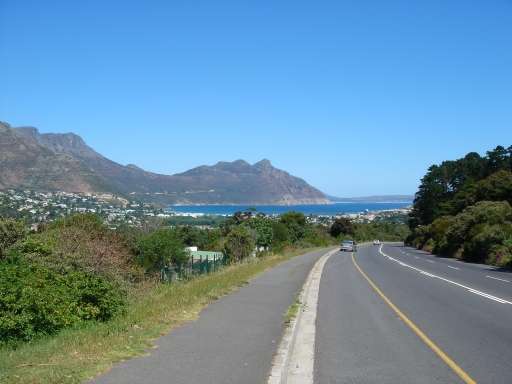 View of Hout Bay, where I lived for ten years.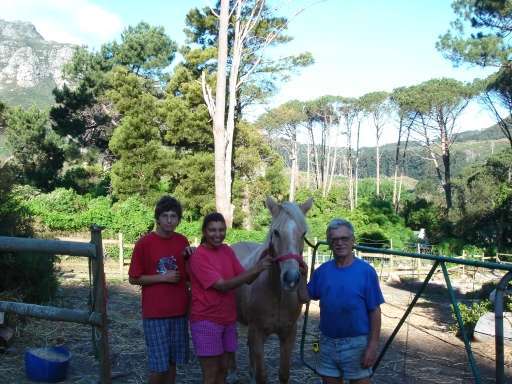 Christoph, Carmen and Otto. Family friends I have known since before I can remember. Christoph I last saw when he was six. My how time flies!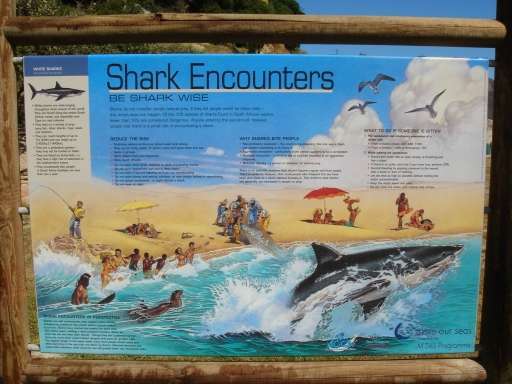 Notice board at the local beach. Although the writing is too small to read I am sure the picture is worth a thousand words.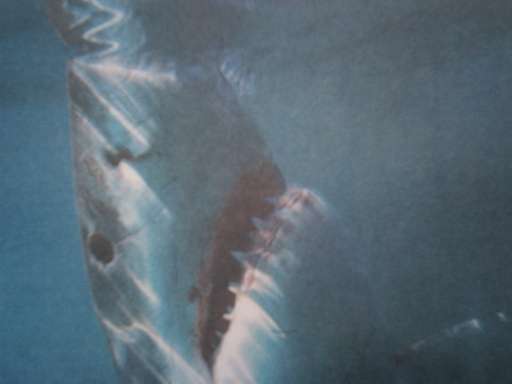 Like I said. This is a pic from the local newspaper. I was lucky enough to swim with one of these amazing animals. Not this close though.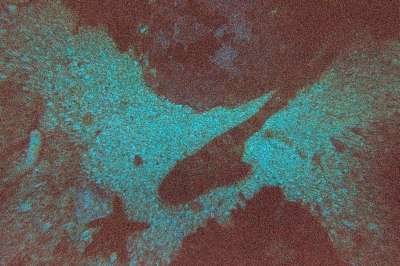 I enrolled on a National Geographic course while in South Africa. This picture of a Pyjama Shark (I think?)was taken during a diving treasure hunt. Some 200 divers participated from recreational divers, to pro's, Navy Divers and salvage experts. For me the different equipment was mind boggeling.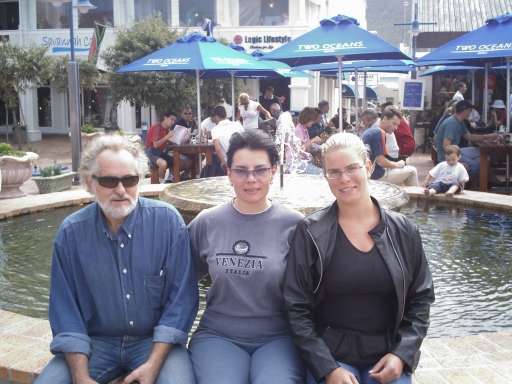 Dave and Katrin 'adopted' me for a couple of days. Here we are in Hermanus Whale watching.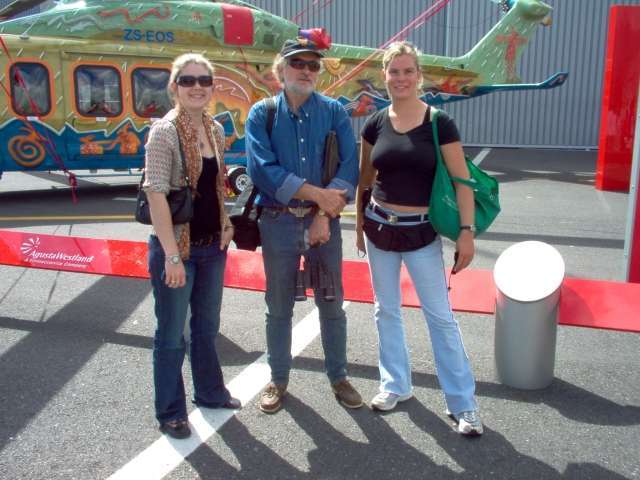 Eve (Dave's daughter), Dave, Katrin and I went to an air show. Here we are infront of a heli that was decorated by what looks like the local kids.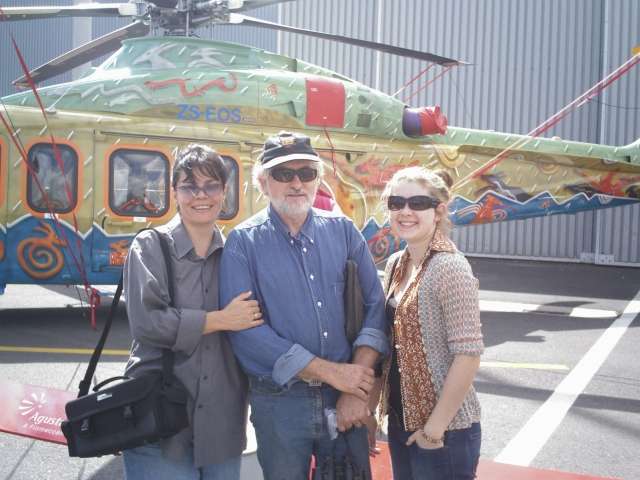 Katrin, Dave and Eve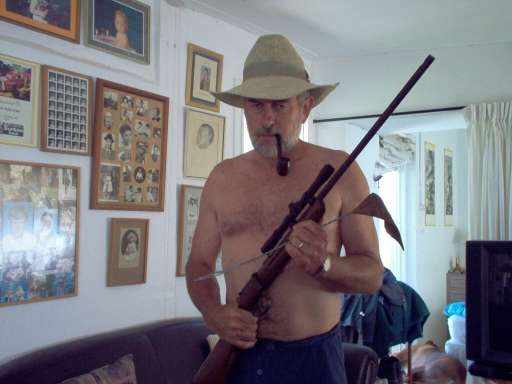 Africa is home to the Big 5, here Dave hunts for Africas most abundant of animals, the fly.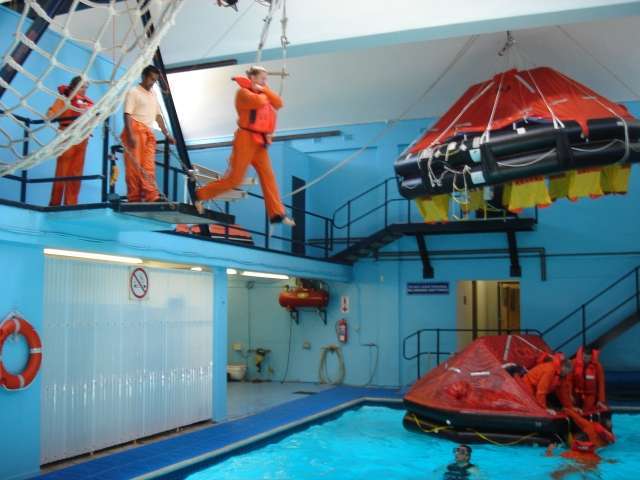 I enrolled in a 5 Day off shore survival course which included Fire fighting, First aid and HUET training. HUET or Helicopter Underwater Escape Training.
Here we are 'evacuating' from a height into a life raft which has just been righted.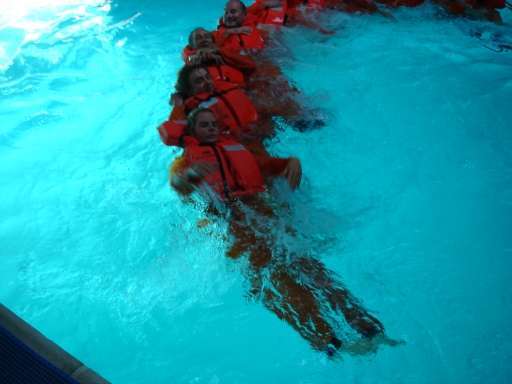 Working as a team, after arms are hooked through the loop at the top of the life jacket the group swims as a whole towards 'safety'.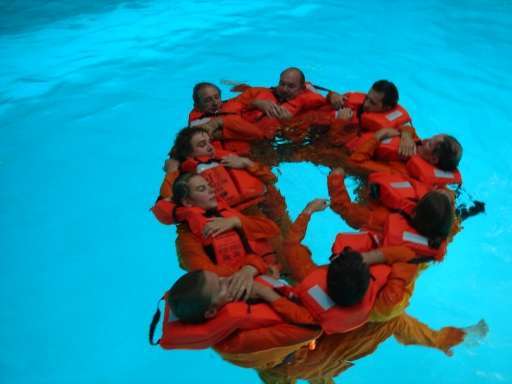 If swimming is not an option the group forms a ring. A decrease of water movement helps keep 'survivors' warm.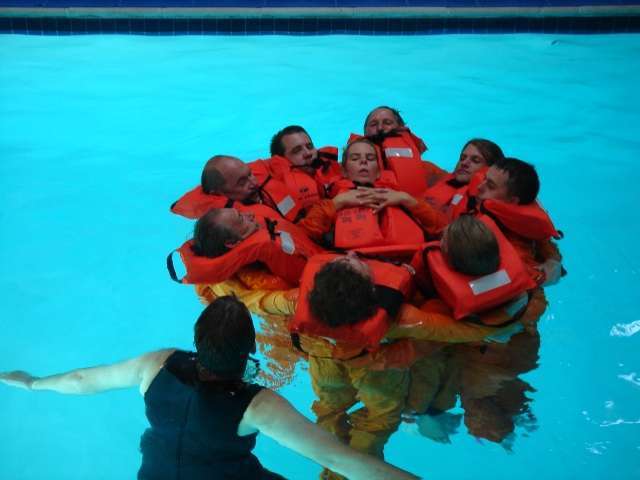 If there is an injured person or someone suffering from Hypothermia they are placed in the centre of the ring where they are warmer, safer and are not as exposed to the elements.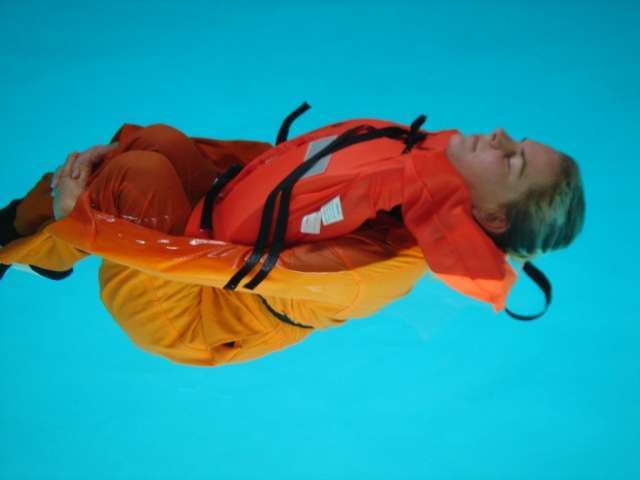 HELP position. Heat Escape Lessening Posture. This is, believe it or not more difficult to preform that it looks.
HUET training.
Here we have a simulation of a helicopter sinking. Placed above the pool we are told to 'BRACE' followed by assuming the escape position. The helicopter is lowered into the water and turned upside down. Once all movement has stopped we are allowed to undo our harness and escape. The escape exercise is done a number of times. During the final simulation an escape must take place when the helicopter is upside down and the escapees have blacked out masks.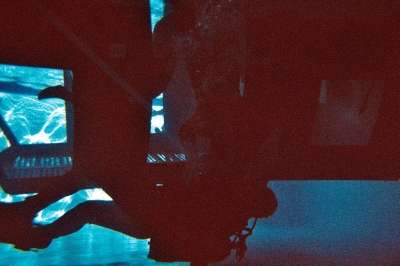 Two divers stand by in full SCUBA gear to assist in the event of any problems.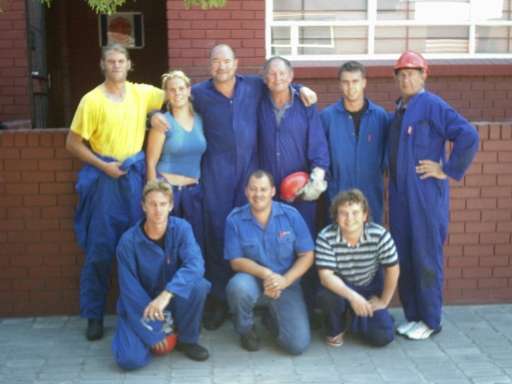 This is the class after the practical fire fighting exercices. I have no photos of the fire fighting as we were working in conditions that would melt my digital camera.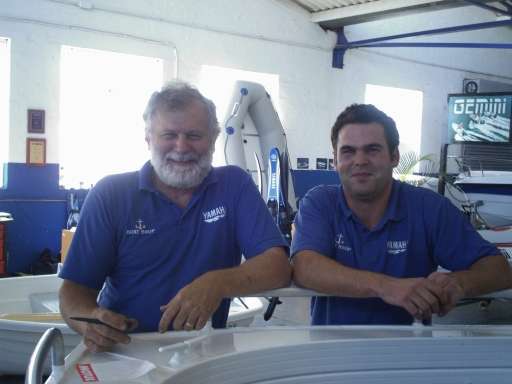 Of course one of the best things about going back to South Africa is meeting up with friends. Here are Dudley and Niel. Dudley and my dad have been friends since 1976.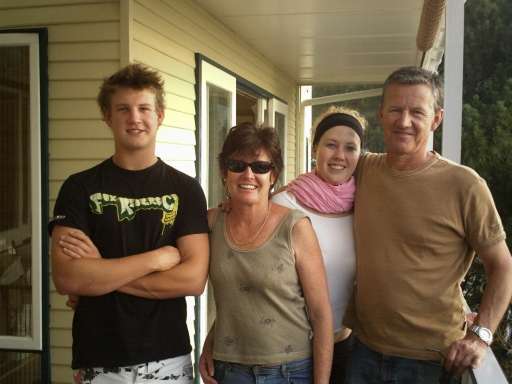 First night I ever spent on a boat was on Alison and Barrys boat 'Cloud Burst' in 1996. Needless to say Matt and Tory have grown up since I last saw them in 2004. Can you believe I used to pick on Matt? Wouldn't go there now.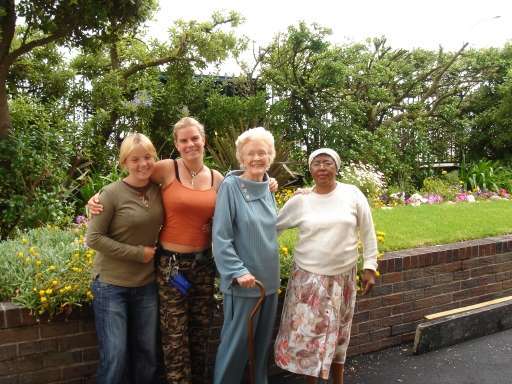 Kayleigh (Moony), Liz, Granny Billy and Miriam outside Granny's on my last day in South Africa.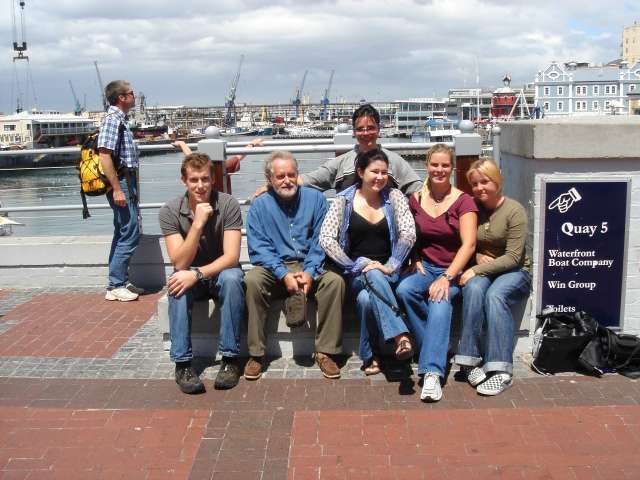 Richard, Dave, Katrin (behind), Eve, Liz and Kayleigh. Liz's last day spent at the Waterfront.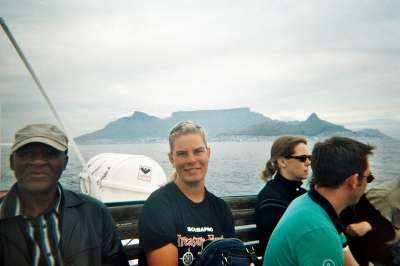 Then I was gone...
Off again on a different adventure. Thank You so much to everyone who made me part of their lives during my stay. I will miss South Africa, the little things that one normaly misses but I will be back.
Until then I'm off, more things to do, more things to see....