Liz's Journal - Caernarfon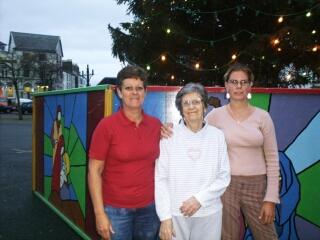 Page 41
I was so excited about going to see Granny that, about three weeks before we actually left I started buying stuff for her. When we phoned Willow Hall the home at which she is staying, we asked one of the ladies in charge how Granny was and what things she would be needing. The lady immediately said 'Clothes, your Grandmother needs lots of clothes as she has put on a lot of weight and is about a size fourteen'. I couldn't believe it, when granny was on the boat she must have been a size eight or something as she was smaller than me! The lady also told us that Granny 'couldn't walk' and was 'incontinent'. Now although these things happen when people get older you must understand that we were utterly shocked, eighteen months earlier she was at the top of the Sierra Navada, a mountain range in mainland Spain, and two years ago she was looking down into the crater of an Azorean volcano.
Sooo, with all this in mind we bought her big clothes and me, thinking she couldn't walk started putting together little things that would make her room more interesting. When we arrived in Wales not only did my grandmother stand up and WALK over to us but she was thin, ok maybe thin is a bit of an exaggeration but she was smaller than my mom and just a bit bigger than me, width wise that is. As far as height goes I think my grandmother is four foot eight inches, which, not only made the pants huge but also made the top look as though it was hanging off a wire coat hanger.
Our days in Caernarfon were spent going for walks around the square and shopping. To our surprise we found that a lot of things were a lot easier to get here than in Mallorca and were quite often found at a better price. One day we decided to take Della, grannies friend with us for a cup of tea at a lovely little teashop that we found along the main road. Della is ninety-five and point blank refused to go in a wheel chair as she says "Wheel chairs are for old people who can't walk' we tried to reason with her saying that the roads were bad and even we had trouble walking on them. We also mentioned that people don't get much older than ninety-five and that no one would laugh at seeing her in a wheel chair. Eventually we managed to persuade her to come along and we set off, mom and I pushing granny and Della in their wheel chairs. We were exhausted by the time we finished having tea, which took a total of two hours. After taking granny and Della back for lunch mom and I went back to the bed and breakfast where we stayed for our lunch. Over the few days that we spent with granny we managed to get her up and walking and by the time we left she was up and about walking everywhere with us and not slowing us down.